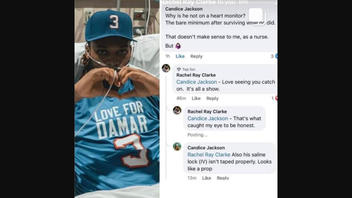 Does a photo showing hospitalized Buffalo Bills football player Damar Hamlin without a clearly visible heart monitor prove that he did not undergo cardiac arrest during a January 2, 2023, football game? No, that's not true: A visible heart monitor in a photo would potentially violate the hospital's legal obligation to safeguard the confidentiality of patients' medical information, the director of a nurse practitioner program told Lead Stories. Moreover, many of today's cardio monitors are compact devices that can be worn under clothes.
The claim appeared in a post published on Facebook on January 10, 2023. It contained a screenshot of another post that showed a cropped version of Hamlin's picture on the left and users' comments on the right. One of the users said:
Why is he not on a heart monitor?
The bare minimum after surviving what he did
That doesn't make sense to me, as a nurse.
But
This is what the post looked like on Facebook at the time of writing: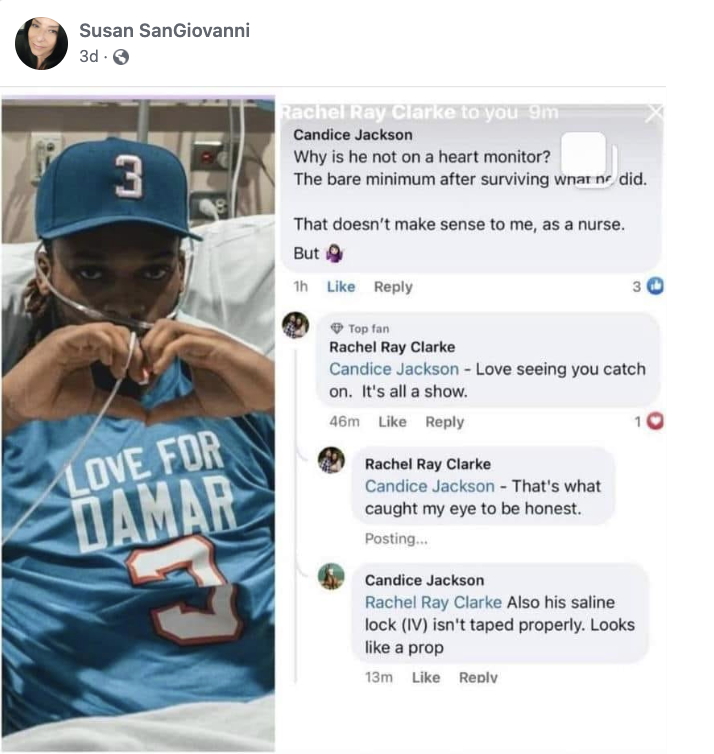 (Source: Facebook screenshot taken on Fri Jan 13 15:31:51 2023 UTC)
Lead Stories asked a hospital nurse who cares for patients with cardiovascular illnesses, Mary Brennan, the director of the Adult-Gerontology Acute Care Nurse Practitioner Program at NYU Rory Meyers College of Nursing, to review a higher-quality, pre-cropped photo of the same scene that was posted by NBC News.
In a January 12, 2023, email, Brennan told Lead Stories:
In this photo, a heart monitor is not visible, but that does not mean he is not attached to a heart monitor or continuous electrocardiogram readings. His clothing may cover cardiac leads which are typically applied to the patient's chest and connect to the heart monitor. Displaying the heart monitor in a photo would have revealed personal health information such as his heart rate per minute, his blood pressure, or his oxygen levels. This information is protected health information for patients and would not be revealed to the public.
Not all heart monitors are large machines. Some are "about the size of a pager," according to the National Library of Medicine's MedlinePlus reference site, and, therefore, could be easily worn underneath a T-shirt. The first lightweight devices of this type were produced as early as 1983.
Brennan noted that Hamlin's "cardiac arrest was witnessed," and that, "according to reliable reports," he received the standard treatment for cardiac arrest -- "immediate cardiopulmonary resuscitation (CPR) on the field by a medical team and emergency providers."

After spending nearly 10 days in the hospital after collapsing during a televised January 2, 2023, game against the Cincinnati Bengals, the 24-year-old Buffalo Bills safety was discharged on January 11, 2023, to continue his rehabilitation at home.
Lead Stories previously has debunked other claims that the story of Hamlin's cardiac arrest is a fabrication. One such claim, based on the same photo that is the subject of this fact check, alleged that a disconnected IV line raised questions about Hamlin's medical condition and treatment. As Lead Stories reported, however, disconnecting an unused IV line is standard practice in hospitals.

Lead Stories debunked here and here allegations about the ambulance that transported Hamlin from the football field in Cincinnati.

As NPR noted, Hamlin's sudden collapse also "fueled anti-vaccine conspiracy theories." Lead Stories fact checks of a wide range of claims about COVID-19 vaccines can be found here.