Is there evidence that the croton plant "helps" kidney disease? No, that's not true: An expert told Lead Stories that there is no such proof. There are no medical or scientific studies that show the croton plant can help kidney disease. In fact, a peer-reviewed study says that high doses of a specific croton oil can cause potential toxic effects in the kidneys.
The claim appeared in a video on Facebook on December 28, 2022. A person wearing what appeared to be leaves on their head began by saying:
Anybody who suffer from kidney disease. If you suffer from high blood pressure, the leaf I have on my head help with kidney disease. It's very important that we know our plants, right ... if you have kidney disease, the plant that I have on top of my head, it is called croton. And croton is very good for kidney disease. This plant here is very good. It has about 18 different color and it helps with kidney disease. Very useful for people who are having kidney disease.
This is what the post looked like on Facebook at the time of writing: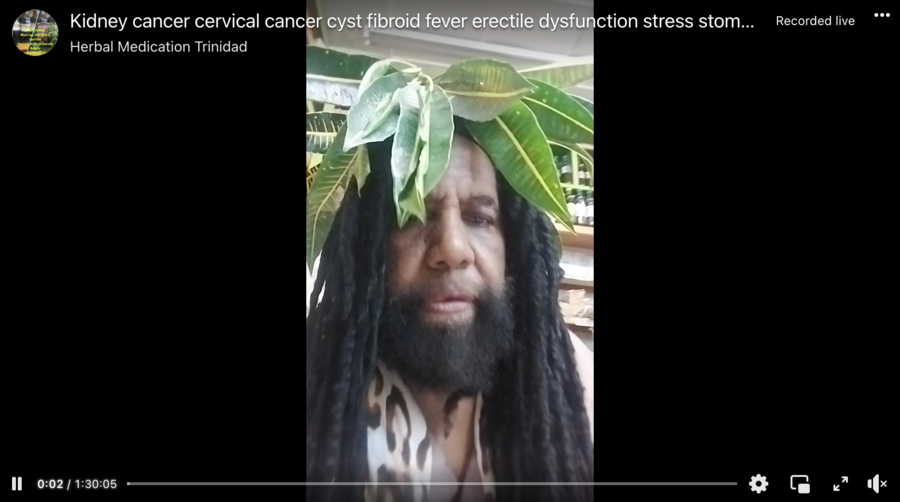 (Source: Facebook screenshot taken on Thu Dec 29 21:49:22 2022 UTC)
Medical practices have recognized some health benefits of herbal medicine. However, there are no scientific studies that show the benefits of croton in treating kidney disease. The man in the video offers no evidence to back up his statements about croton.
However, a study has showed high levels of a specific type of croton oil could produce toxic effects in humans.
Lead Stories spoke with Melissa Prest, a Chicago-based registered dietician nutritionist who works at the National Kidney Foundation of Illinois and is a spokesperson for the Academy of Nutrition and Dietetics. In an email sent on January 4, 2022, she said most of the research on croton plant extract has been performed in animal studies, not human studies, and therefore croton is "not something that is widely used for treating kidney disease."
Prest told Lead Stories that more research is needed to establish a connection between the plant and treatment for kidney disease:
In animal models, there was some benefit to smaller doses of croton root extract and improvement in urea and creatinine levels. This improvement may be due to the antioxidant properties of the croton root extract. However, high doses of croton oil have been found to be toxic to the kidneys and cause tubule-interstitial injury in animal studies. It remains to be known if these effects are the same in humans. More research is needed to know if there is a benefit to humans.
Lisa Yuan, with the office of communications and public liaison for the National Institute of Diabetes and Digestive and Kidney Diseases, told Lead Stories via email on December 30, 2022, that they did not find any NIH-funded research on croton plant leaves and kidney disease.
A study published in July 2021 by the peer-reviewed journal Plants found that high levels of the essential oil of croton zehntneri -- a croton species name synonymous with that of croton grewioides -- could have toxic effects on humans and amphibians:
The essential oil of Croton zehntneri (EOCZ) and its major compounds are known to have several biological activities. However, some evidence shows potential toxic effects of high doses of EOCZ (>300 mg/kg) in amphibian and human kidneys.
The study did recognize the beneficial effects of the croton oil:
The essential oil of Croton zehntneri (EOCZ) and its major compounds are known to have antifungal, anti-nociceptive, anti-inflammatory, gastroprotective, and anesthetic properties. EOCZ also enhances wound-healing capacity. Despite these beneficial effects, little attention has been given to the possible effects of EOCZ treatment on the kidneys.
The study said its results "suggest that indiscriminate use of EOCZ for the treatment of different illnesses is ill-advised without health professional supervision."
The Herbal Medication Trinidad page on Facebook, where the video was posted, provides a link to a website Buy Caribbean Herbs LLC where herbal medicine is sold, ranging in price from $300 to $800. A search of the word "croton" on the site did not yield any results. Trevor Sayers, the man in the video, has a long history of claiming that he can cure ailments like Ebola or conjunctivitis, as news outlets have reported.