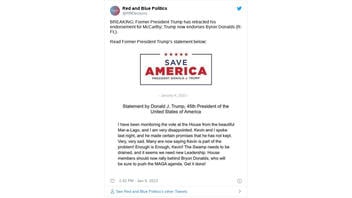 Did former President Donald Trump endorse Florida Rep. Byron Donalds for House speaker? No, that's not true: Trump, himself, says the claim is false. He described the statement making the claim as a forgery and a fake. Trump has publicly endorsed California Rep. Kevin McCarthy for the coveted House position.
The claim appeared on Twitter (archived here) on January 4, 2023. The post included what looked to be an official Trump statement on "Save America" masthead and opened:
BREAKING: Former President Trump has retracted his endorsement for McCarthy; Trump now endorses Byron Donalds (R-FL).
Read Former President Trump's statement below:
This is what the post looked like on Twitter at the time of writing:
(Source: Twitter screenshot taken on Wed Jan 4 22:42:53 2023 UTC)
Trump's alleged statement, which misspelled Donalds' first name, read:
I have been monitoring the vote at the House from the beautiful Mar-a-Lago, and I am very disappointed. Kevin and I spoke last night, and he made certain promises that he has not kept. Very, very sad. Many are now saying Kevin is part of the problem! Enough is Enough, Kevin! The Swamp needs to be drained, and it seems we need new Leadership. House members should now rally behind Bryon Donalds, who will be sure to push the MAGA agenda. Get it done!
Shortly after the statement began circulating on social media, Trump posted a denial of it on Truth Social, his preferred platform. He wrote that the purported endorsement was "a forgery and a fake. Please disregard it entirely.":
Later, he added that Donalds "is a young man with a great future! With that all being said, the story and statement that was just put out that I endorsed Byron for Speaker of the House is Fake and Fraudulent. He will have his day, and it will be a big one, but not now!":
Trump has publicly endorsed McCarthy, who -- at the time of writing, January 4, 2023 -- has lost six votes amid unprecedented GOP upheaval. The House speaker position remained open at the time of writing.