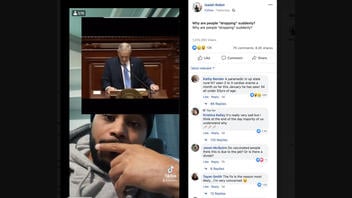 Does a collection of video clips show people "dropping suddenly" because of the COVID vaccine? No, that's not true: Almost all of the clips in a post making that implication predate the vaccine, meaning there is no way the people seen stumbling or fainting in the videos did so as a result of the shot.
The claim appeared in a Facebook post (archived here) published January 28, 2023. The post appeared to be a TikTok video by @kraizay. It included clips showing people collapsing and a caption that asked:
Why are people "dropping" suddenly?
This is what the post looked like on Facebook at the time of writing: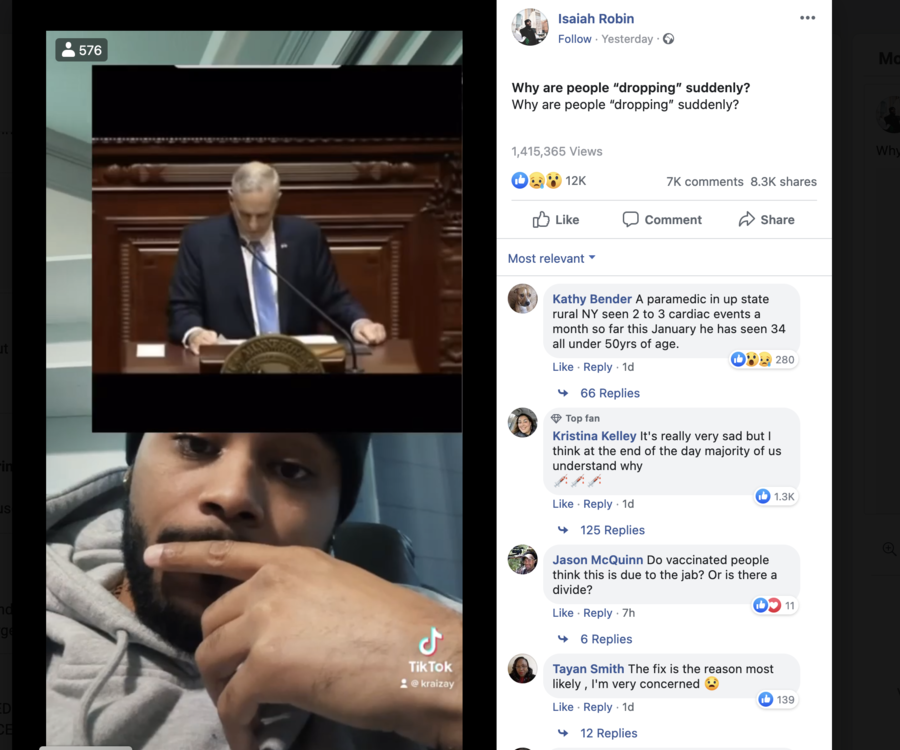 (Source: Facebook screenshot taken on Mon Jan 30 16:50:45 2023 UTC)
As the video clips in the post play, a man speculates, around the 1-minute mark:
Now, what is the reason many people are just dropping suddenly? What do you guys think [it] could possibly be? Different heart conditions is going on -- suddenly. Different young people dropping in sports -- suddenly. And what's even more interesting is they don't really blow that up on the media. What could possibly be the reason?
The clear implication is that the people seen collapsing in the videos did so as a result of the COVID vaccine. Many people who commented on the post blamed the shot. One wrote:
I'm so glad that me and my family never got the jab!
Another said:
It's not happening in the unvaccinated! Insane that we can't have an open honest conversation about this!
But the clips can't be related to the COVID shot because almost all of the videos in the post predate the vaccine.
For example, the video shows then-Minnesota Gov. Mark Dayton collapsing while giving a speech in 2017; it shows then-U.S. Air Force Maj. Gen. James Martin Jr. fainting during a news conference in 2016; it shows the president of Portugal collapsing during a speech in 2014; and it shows the foreign minister of Burkina Faso collapsing at a podium in 2013. The post also shows someone fainting in front of then-Prince Charles in July 2020 and a Danish official fainting during a press conference in April 2021.
COVID wasn't discovered until December 2019, and health officials in both the United States and the U.K. did not approve a COVID vaccine until December 2020, meaning there is no way the people seen stumbling or fainting in the videos did so because of the shot. Even the Danish official who fainted in April 2021 could not have done so as a result of the vaccine because, at the point of her collapse, she had yet to receive the COVID vaccine, according to multiple reports after the episode.