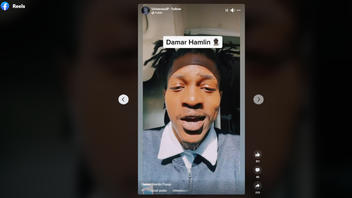 Did football player Damar Hamlin die on the field in early January 2023 and is the NFL covering it up? No, that's not true: Hamlin, a safety for the Buffalo Bills, did collapse in a game against the Cincinnati Bengals but was revived by medical personnel before being taken to the hospital. Hamlin posted to his Instagram account while hospitalized and has since recorded a couple of videos that appeared on social media too. In addition, he appeared publicly at a Bills game and was shown on TV nearly three weeks later cheering on the team from a suite at the stadium.
The claim appeared in a video on Facebook published on January 24, 2023, under the title "Damar Hamlin Psyop." The narrator in the nearly minute-long video says:
Alright, I wasn't going to say nothing about this Damar Hamlin situation, but I got to now. So, we all should agree, if we all witness a death on the field, they'll be facing millions of [unintelligible], millions of lawsuits and the NFL probably bankrupt. Anyways, y'all see how fast he came back. Anyone that have a cardiac event while exercising isn't going to be back no time soon doing anything if they even survived it, because it's always more worse than you just randomly having one. But I'm sure y'all noticed how well he came back and he got all the strength to put his arms up and hold up a heart, right? Y'all already know, they got to capitalize on this. Now watch he about to be the spokesman for heart health. Tell people to go check their hearts, their blood pressure, everything to prevent heart attacks and strokes. ... Basically, to try to calm people down when they sitting there and their heart racing. You know what I mean. They like, 'hold on, something ain't right here.' Maybe it was that hot sauce. Then they going to see this man on TV and they going to feel okay. Love you, guys. Peace.
This is what the post looked like on Facebook at the time of writing: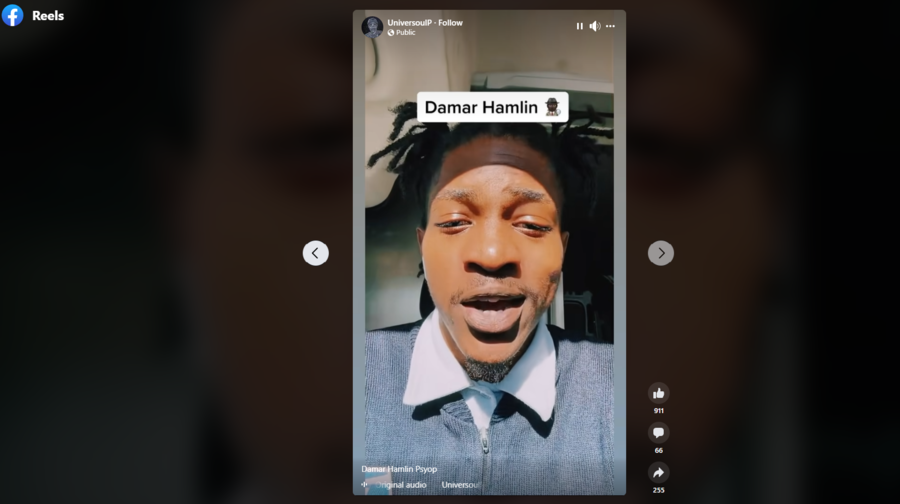 (Source: Facebook screenshot taken on Wed Feb 1 16:11:47 2023 UTC)
Hamlin's whereabouts have not been a secret since he collapsed during the Bills-Bengals game on January 2, 2023. He spent the first seven days of his recovery at the University of Cincinnati Medical Center before being transferred to Buffalo General Medical Center/Gates Vascular Institute in New York. A post to his Instagram account on January 8, 2023, showed him in his hospital room: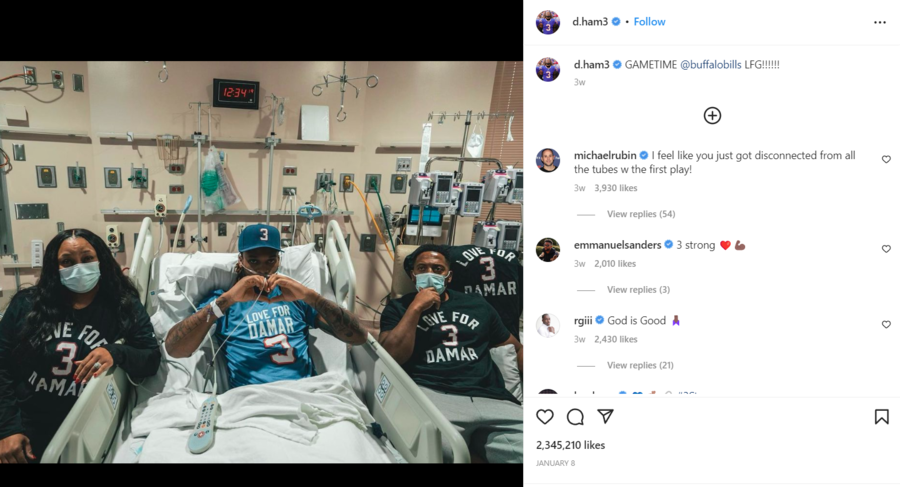 (Source: Instagram screenshot taken on Wed Feb 1 18:41:57 2023 UTC)
Hamlin's first public appearance followed less than three weeks after his on-field collapse. Social media posts from both the Bills and the NFL showed him at Highmark Stadium in Buffalo for the Bills-Bengals playoff game: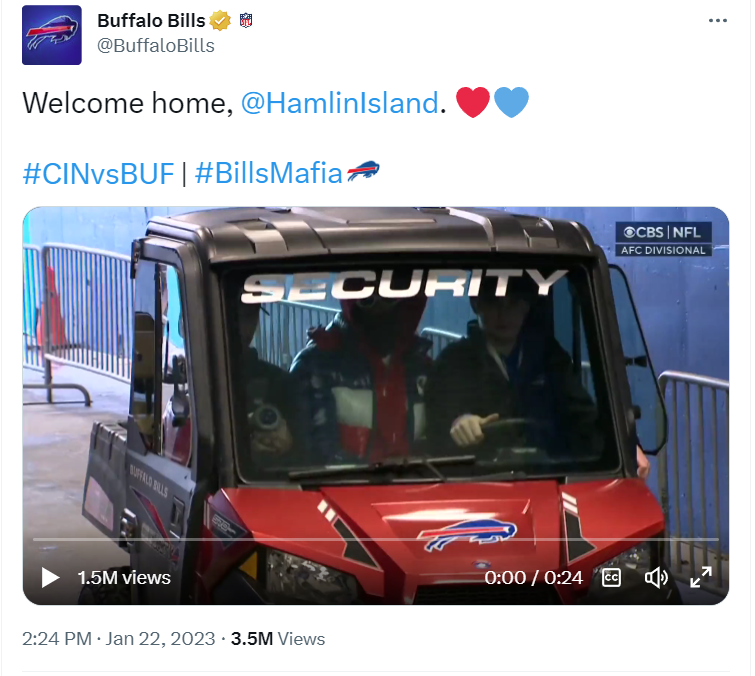 (Source: Twitter screenshot taken on Wed Feb 1 19:05:12 2023 UTC)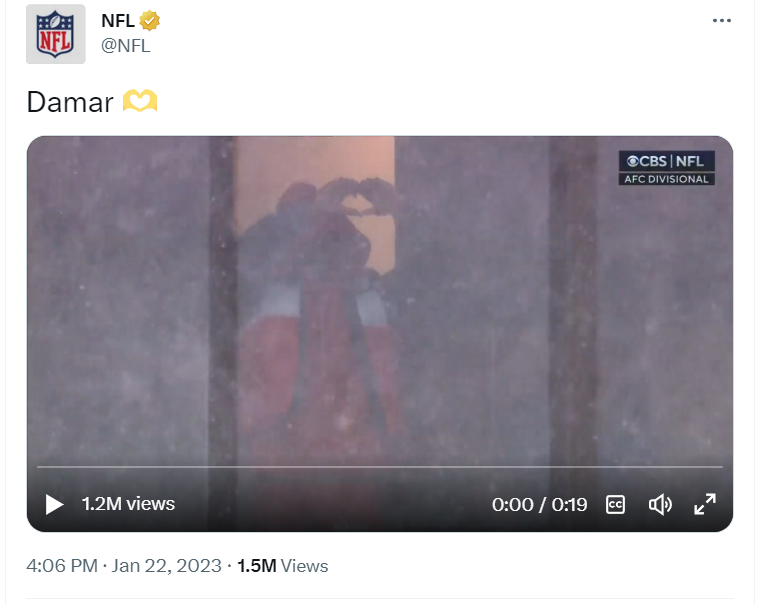 (Source: Twitter screenshot taken on Wed Feb 1 19:09:48 2023 UTC)
The Bills also published a similar version of the video on TikTok:
Almost immediately, theories began to swirl that a body double was subbing for Hamlin because his face couldn't be seen in any of his appearances on TV. A day later, on January 23, 2023, Hamlin posted to his Twitter account, seemingly to mock those who questioned whether he had survived his cardiac arrest three weeks earlier. Along with his picture in front of a mural of himself, he simply says, "'Clone' 🥷🏽.":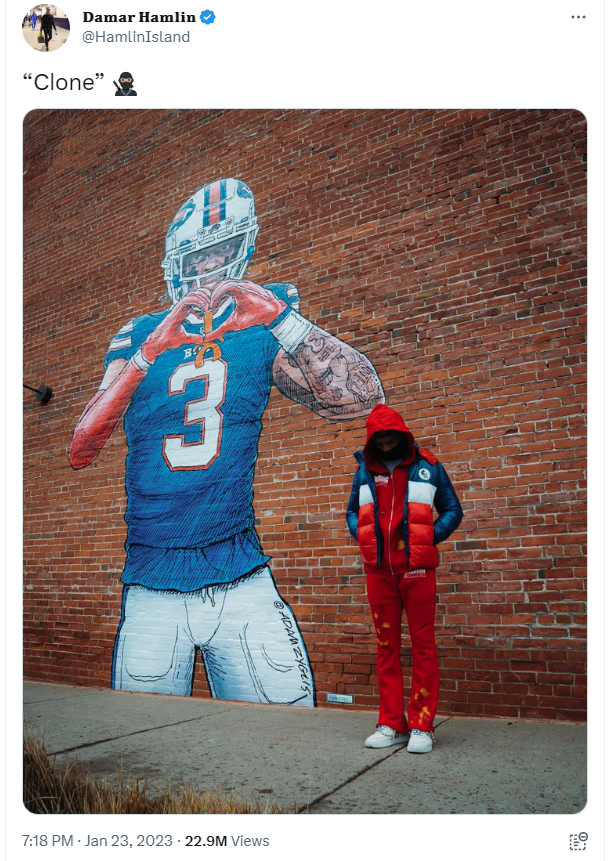 (Source: Twitter screenshot taken on Wed Feb 1 19:28:12 2023 UTC)
To further prove the point, Bills quarterback Josh Allen appeared on January 24, 2023, on Kyle Brandt's Basement, a daily podcast on the NFL, and addressed the question of whether Hamlin was at the game. "He was in the locker room with us pregame. Yes, that was Damar.":
.@JoshAllenQB reacts to the "Damar Hamlin body double" conspiracy theory.

🔗: https://t.co/C8MpyK4NfV pic.twitter.com/Cugk8Nd3PV

-- Kyle Brandt's Basement (@KBBasement) January 24, 2023
At the very end of January 2023, Hamlin followed up with a pair of video messages on social media that show he is alive. The first is from the Bills TikTok account and is called "A special message from our guy @d.ham3. 🫶.":
The second message, posted on January 31, 2023, shows him teaming up with the American Heart Association for the "Damar Hamlin's #3forHeart CPR Challenge.":
Health professionals performed CPR on him after his heart stopped on the field.
Additional Lead Stories fact checks of claims about Damar Hamlin can be found here.