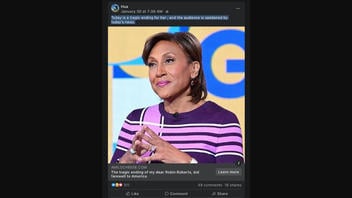 Did Robin Roberts, the longtime co-host of ABC Television's "Good Morning America" (GMA) die on January 30, 2023? No, that's not true: As of February 1, 2023, Roberts remained alive and well, and actively posting on Instagram from New Zealand. The post implying that she had died is a ruse to get readers to an ad for CBD products.
The claim appeared on Facebook on January 30, 2023, under the title "Today is a tragic ending for her , and the audience is saddened by today's news."
Here's how the Facebook post appeared on the day of writing: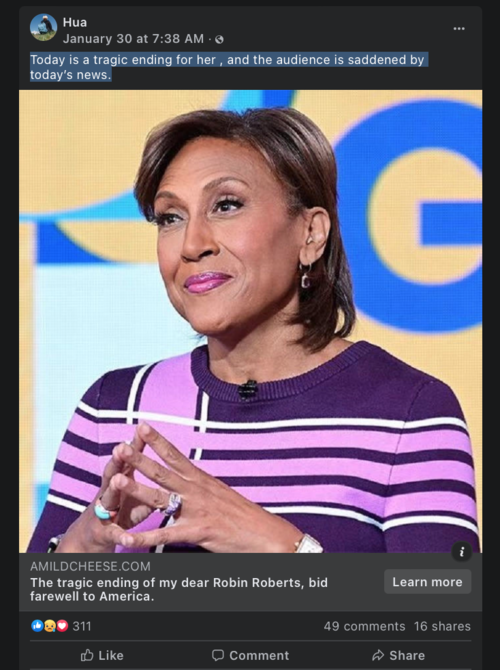 (Source: Facebook screenshot taken at 16:29:58 2023 UTC)
The post included a photo of Roberts atop what appears to be a news story about her passing and the purported reactions of fans.
Roberts, a GMA co-host for more than a dozen years, was traveling in New Zealand for the show and began posting from there on her official Instagram account -- robinrobertsgma -- on January, 30, 2023, the same day the post appeared implying she had died. The post on her Instagram account showed Roberts in a helicopter flying above snow-capped mountains in Queensland, New Zealand.
Here's how Roberts' post appeared: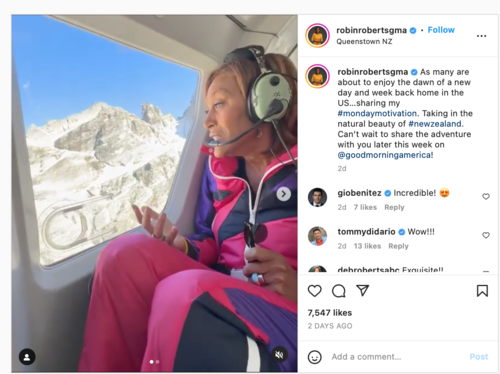 (Source: Instagram screenshot taken Wed Feb 1 at 21:45:05 2023 UTC)
Roberts, 62, also posted to Instagram from New Zealand on January 31, 2023, and on February 1, 2023. Her later post said:
Good Wednesday morning from #Queenstown NZ...yes it's already Wednesday here! #GlamFam and I sharing a bit of #WednesdayWisdom you #rabbitrabbit😉
The Facebook post implying her death used redirects to send readers to other fake stories about Roberts. Clicking on the post's "Learn more" icon led Lead Stories to two different stories on what purports to be the "www.amildcheese.com" website, although efforts by Lead Stories staff to connect to that URL were unsuccessful. A Google search by Lead Stories found no evidence that "www.amildcheese.com" is a working website.
Some clicks on the icon on February 1, 2023, took readers to a story about Roberts' battle with cancer (archived here); at other times it led to a fake piece about Roberts leaving television to promote CBD gummies. That piece included a link to a webpage for the product. Lead Stories captured a screenshot of the latter story here: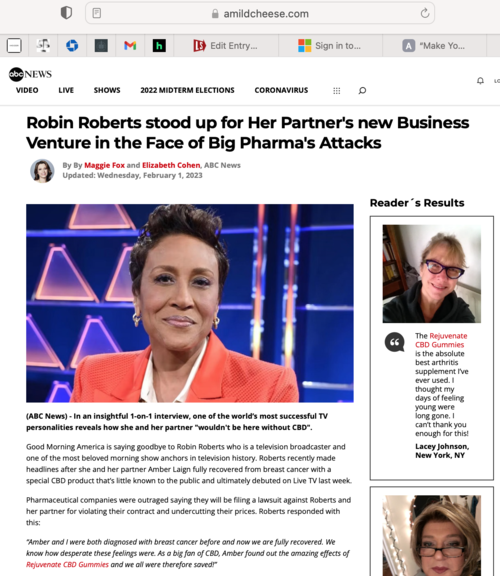 (Source: buyrejuvenatebrands.com screenshot taken Feb 1 at 23:21:54 2023 UTC)
Roberts, who survived both breast cancer and myelodysplastic syndrome, grew up in Alabama and is the daughter of Tuskegee Airman Col. Lawrence Roberts, who died in 2004. She rose to fame in the 1990s as a broadcaster for ESPN's "Sportscaster." She joined GMA in 2005 and recently announced she would marry her longtime partner, Amber Laign, a massage therapist from San Francisco.
Other Lead Stories articles about celebrity death hoaxes can be found here.