STORY UPDATED: check for updates below.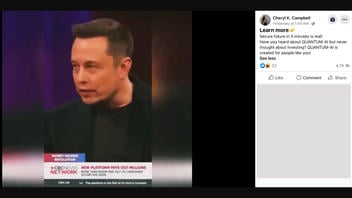 Did business mogul Elon Musk and Canadian celebrities endorse the "new" cryptocurrency platform Quantum Ai, according to a video supposedly from the CBC? No, that's not true: CBC News told Lead Stories that they did not publish the video making the claim; Musk is not the founder or owner of the cryptocurrency trading system Quantum Ai, and he and the Canadian celebrities in this video are not endorsing the platform.
The claim appeared in a video (archived here) on Facebook on February 1, 2023. The video opens with a man, an apparent TV news correspondent or anchor, talking in a setting with the logo for the CBC in the background. The man says:
'It is a whopper. I've never seen this before and I'd have to check the records.'
This is what the post looked like on Facebook at the time of writing: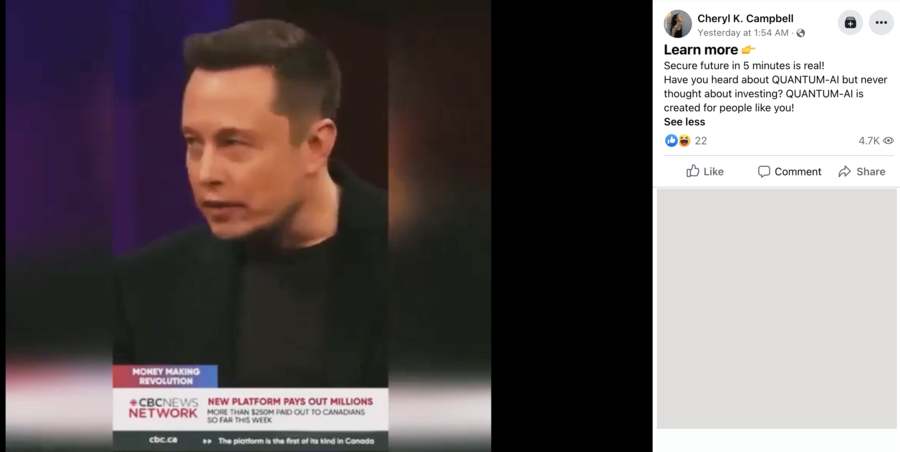 (Source: Facebook screenshot taken on Thu Feb 2 22:58:52 2023 UTC)
The caption on the post read:
Learn more 👉
Secure future in 5 minutes is real!
Have you heard about QUANTUM-AI but never thought about investing? QUANTUM-AI is created for people like you!
The opening scene in the 42-second video scene appears to be a CBC News broadcast. B-roll footage then shows people getting excited at good news, while a chyron, bearing a look-alike CBC News logo, reads, "CBC NEWS NETWORK NEW PLATFORM PAYS OUT MILLIONS MORE THAN $250M PAID OUT TO CANADIANS SO FAR THIS WEEK."

CBC News did not publish a story about Quantum Ai, Kerry Kelly, director of public affairs for the network, told Lead Stories via email on February 3, 2023:
I can confirm that CBC did not publish this article. We are aware of a number of recently posted fake images and stories attributed to CBC News and are working with Social Media providers to flag and remove these false and inflammatory manipulated images.
Seven seconds into the video, a voice says, "Elon Musk is ready to pay out $1 million to anyone who want earn on his new platform. The platform became active in November, however, thousands of Canadians have already started earning more than $800 daily, and their profit grows every week."
At the 0:25 mark in the video, footage shows Musk saying, "reasons why you get up in the morning and you want to live." This is actually footage from a TED2017 conversation between Musk and TED head curator Chris Anderson. The transcript of the conversation contains no mention of Quantum Ai or cryptocurrency.

At 35:04 in the video on YouTube, Musk says, "There have to be reasons why you wake up in the morning and want to live." Musk is not referring to Quantum Ai or cryptocurrency.
The cryptocurrency trading company Quantum Ai says it is not endorsed by Musk. The "FREQUENTLY ASKED QUESTIONS" section on its website explains:
1. Did Elon Musk Invest in Quantum AI?
We do not disclose the identity of our clients, and hence the rumour is not in any way associated with us. Elon Musk hasn't said anything about Quantum AI. The claims that he has invested in us are, therefore, fake news.
Musk is not the only celebrity the video on Facebook claims has endorsed Quantum Ai. At 0:28 in the video, the narration says, "A lot of well known persons have also tried the new platform and officially verified its quality," while clips of Canadian rapper Drake, actor Ryan Reynolds, actress Rachel McAdams and a still image of actor Keanu Reeves are shown. None of the celebrities' voices are heard in the video.

The footage of Reynolds comes from his August 9, 2022, appearance on Jimmy Kimmel Live. He did not mention Quantum Ai during the conversation. The still of actress Rachel McAdams dates from her February 7, 2012, appearance on "The Ellen DeGeneres Show," at least four years before Quantum Ai says it was founded.
Lead Stories' previous debunk about Quantum Ai is here.
2023-02-03T22:22:55Z

2023-02-03T22:22:55Z

Date of Ryan Reynolds' appearance on Jimmy Kimmel Live corrected