STORY UPDATED: check for updates below.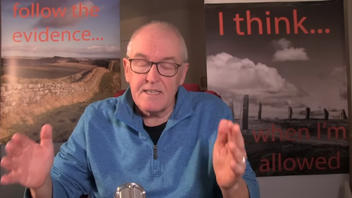 Does a study released in early 2023 provide conclusive proof that vitamin D greatly reduces the risk of being admitted to a hospital's intensive care unit due to COVID-19? No, that's not true: While vitamin D is known to have a role in the body's immune response, there is "no clear picture of how or if vitamin D should be used in the prevention or treatment of COVID-19," according to Dr. Daniel C. DeSimone, an infectious disease specialist at the Mayo Clinic. The study's authors also say that "further studies are needed."
The claim appeared in a video on YouTube (archived here) published by John Campbell on February 1, 2023, under the title "Vitamin D, now conclusive." Four seconds into the video, Campbell says:
Now, we now know that vitamin D supplementation provides substantial benefit in terms of reducing the risk of admission to intensive care during the coronavirus pandemic.
This is what the post looked like on YouTube at the time of writing: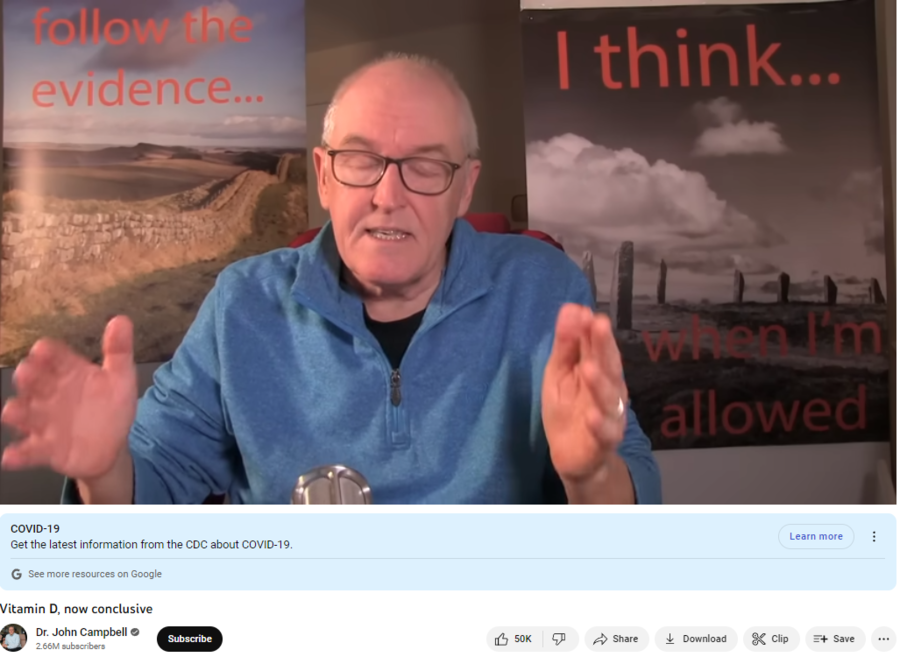 (Source: YouTube screenshot taken on Fri Feb 3 17:01:52 2023 UTC)
In the video, Campbell cites a January 16, 2023, study titled "Protective Effect of Vitamin D Supplementation on COVID-19-Related Intensive Care Hospitalization and Mortality: Definitive Evidence from Meta-Analysis and Trial Sequential Analysis."
About 50 seconds into the video, Campbell continues with his interpretation of the study:
I now believe it's unethical for authorizing bodies -- Medicines and Healthcare [products] Regulatory Authority and FDA and people like this around the world -- not to advise vitamin D supplemention for poorly people and, arguably, for the whole population ... They are recommending treatments that are less efficacious, but they're not recommending vitamin D.
Ten days after the study came out, DeSimone responded to a similar question on the Mayo Clinic website called "Can vitamin D protect against coronavirus disease 2019 (COVID-19)?" He said it's uncertain if vitamin D supplements help prevent COVID infection, but added that there are some already proven ways to safeguard against the virus:
You can help prevent infection from the COVID-19 virus by following these steps:

Get vaccinated.
Avoid people who are sick.
Wash your hands often with soap and water.
Don't touch your face.
Disinfect surfaces you touch regularly.
Improve airflow, also called ventilation, when indoors by opening windows or turning on exhaust fans.
Wear a face mask, especially if COVID-19 community levels are high in your area.
In a February 3, 2023, email to Lead Stories, Dr. Stuart Ray, a professor in the Division of Infectious Diseases at the Johns Hopkins University School of Medicine, said the study is far from conclusive. He added:
From early in the pandemic we've hoped vitamin D, among many other treatment candidates considered, might reduce risk of severe COVID-19. It's a cheap drug, and if taken carefully it can be used safely (but in large doses without proper supervision it can cause significant side effects). This interest was magnified when it was noted that people with severe COVID-19 tended to have lower vitamin D levels - but that doesn't answer the question of using it as a drug for prevention or treatment, because low vitamin D is also more common in people with other risk factors for severe COVID-19. Correlation doesn't prove causation ... So, it really doesn't provide a compelling answer to whether this treatment is beneficial.
Ray said a major flaw in the study outlined in the video is that it's a study of existing studies. It wasn't designed from the beginning to come to a possible conclusion on the use of vitamin D to treat COVID. He added that it employs "poorly-executed methods."
In a February 7, 2023, email, Dr. James Lawler with the Division of Infectious Diseases at the University of Nebraska Medical Center told Lead Stories that vitamins like D, C and B12 are essential to maintain health. He continued:
Deficiency does result in adverse health consequences. While these (and other vitamins and essential nutrients) have had multiple advocates touting the healing virtues of additional supplementation (including two-time Nobel laureate Linus Pauling for vit C) none of these claims have ever really panned out. I have seen no evidence to suggest additional supplements of vitamin D dramatically change your risk of severe COVID.

What DOES dramatically reduce your risk of getting severe COVID is - not getting COVID. You can do that by avoiding enclosed and crowded indoor environments, wearing a face mask when indoors in public places, limiting close contact with others indoors, and being up to date on the COVID vaccine. Even if you get COVID, you can dramatically reduce the risk of severe COVID and ICU admission if you are up to date on your COVID vaccine. All of these measures are supported by sound data - even if people do not want to believe it.
DeSimone agreed with Ray and Lawler that there's "no clear picture on how or if vitamin D should be used in prevention or treatment of COVID-19." He noted that the evidence isn't straightforward:
But researchers think that not having the amount of vitamin D your body needs, also called vitamin D deficiency, might put people at higher risk of getting COVID-19 and lung, also called respiratory, illnesses overall.

Having enough vitamin D also may help people get the most out of their COVID-19 vaccination.

If you're concerned about your vitamin D level, ask your health care provider about getting it checked. And if you have a vitamin D deficiency, talk to your provider about how to get your levels up.
Ray's email offered a similar suggestion:
The available evidence, at this point, doesn't tell us that we should take vitamin D to prevent severe COVID-19. It's a good idea to find out whether someone has low vitamin D, and to consider supplementation (with guidance) if so.
Ultimately, Campbell in his video comes to a stronger conclusion about the benefits of vitamin D than do the authors of the study, who say:
The current evidence supports the benefits of vitamin D interventions in patients hospitalized with COVID-19 due to the protective effect provided by vitamin D against ICU admission and mortality. A meta-analysis per se does not allow us to state whether the results are truly positive or false-positive. ... further studies are needed to assess the utilization of vitamin D regarding the risk of death in patients hospitalized with COVID-19.
About John Campbell
Campbell is a popular YouTube host with more than 2.6 million subscribers to his channel. Campbell is not a physician but a retired emergency department nurse. According to the About section of his YouTube channel, his Ph.D. "focused on the development of open learning resources for nurses nationally and internationally." Since starting his channel in 2007, he has posted thousands of videos on a variety of medical topics but has focused primarily on COVID since the start of the pandemic. He has promoted unproven treatments like ivermectin, spreading misleading death statistics minimizing the number of victims and misinterpreting data about vaccine safety.
Campbell's YouTube channel's about page (archived here) features a disclaimer saying:
These media including videos, book, e book, articles, podcasts are not peer-reviewed. They should never replace individual clinical judgement from your own health care provider. No media-based material on this channel is suitable for using as professional medical advice. All comments are also for educational purposed only and must never replace advice from your own health care provider.
Additional Lead Stories fact checks about Campbell can be found here.
2023-02-08T15:49:04Z

2023-02-08T15:49:04Z

Adds comments and context from Dr. James Lawler with the University of Nebraska Medical Center.