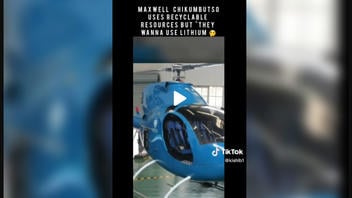 Did Maxwell Chikumbutso, an inventor from Zimbabwe, develop a technology to turn radio frequencies into free, unlimited, green electricity that can power a car that never needs charging, a television or even a neighborhood? No, that's not true: There is no evidence that Chikumbutso's inventions work as described. Although there have been public showcases of some of Chikumbutso's "microsonic energy devices" introduced as early as 2015 in Harare, Zimbabwe, under the company name Saith Technologies, there is no evidence of independent research to document if, or how, this green power technology works. Former web domains saithgroup.com and saithtech.com are now listed for sale, and the company's social media accounts have been deleted or are dormant.
A video introducing Chikumbutso and his inventions was posted on TikTok on January 20, 2023, by the account @kishlb1. That same video was reposted to the Instagram account of @tarinas.simonministries on January 24, 2023, with a reaction video beside it. The post was captioned:
Though this is dated and partially accurate, (don't think he has created the helicopter and car YET). I truly wonder what updates there are to this man's work.

This is what you call UNLIMITED! May our lives this year be so fueled by the Spirit of God that truly we disconnect from this world and live lives of #limitlesspossibilities in #jesusname #amen #tarinassimonministries #TSSM #jesus#jesuschrist #zimbabwe #maxwellchikumbutso #technology #greenenergy
This is how the Instagram post appeared at the time of writing:
(Image source: Instagram screenshot taken on Mon Feb 13 19:51:02 2023 UTC)
The text captioning from the original TikTok video reads:
MAXWELL CHIKUMBUTSO USES RECYCLABLE RESOURCES BUT 'THEY WANNA USE LITHIUM 🤔
The scope of this fact check is not about comparing the hypothetical recyclability of Chikumbutso's inventions with lithium-ion batteries (the current standard for electric cars), but rather if his inventions are functional. On February 6, 2023, Lead Stories reached out through direct message to Chikumbutso's Twitter account, where he had not posted since August 31, 2022. Our questions were regarding the status of the business and if the inventions had gone into production. We received a reply that same day:
Hi how are you? Sure we are still working and making progress everyday. Because of serious security threats on my life we found it safe to lay low but moving as fast as we can. Not everyone is happy with the work we are doing.
Follow-up questions requesting evidence and names of companies that had conducted research on the devices went unanswered.
On July 21, 2015, Saith Technologies hosted an open day to showcase what was described as a self-powered electric car, a helicopter and a drone in a showroom in Harare, Zimbabwe, and the press was invited. Techzim.com wrote an article announcing the event and days later published another article reporting that the devices are said to generate electricity from radio frequency. That article ended with, "... it is also prudent to take the claims with a pinch of salt."
The South African Broadcasting Corporation filmed a segment at the open day that was posted on YouTube on August 18, 2015 (embedded below). Footage and still photos from this 2015 event continue to appear in subsequent reporting from other outlets, including the 2023 TikTok and Instagram videos in this fact check. At 57 seconds into the clip, the narrator describes Chikumbutso's explanation -- that he was not able to patent his invention because it defied the laws of physics and was classified as a perpetual-motion device.

One aspect of Chikumbutso's story that he speaks about freely, but that is not included on most of the articles that tout his inventions, is that he has no formal secondary education and says he got the blueprints for his inventions in visions from God. In a video posted to YouTube on July 23, 2015, titled, "Saith Max's Story," he describes at the 2:04 mark how these visions allowed him to develop the "Greener Power Off Grid Machine" over the course of a decade.
Chikumbutso's story played a large part in a follow-up to the controversial 2011 documentary, "Thrive: What on Earth Will It Take?" A second film titled, "Thrive II: This Is What It Takes" premiered on September 26, 2020. It includes scenes showing the filmmakers Foster and Kimberly Gamble traveling to Zimbabwe in the spring of 2019 with electronics engineer and researcher Nils Rognerud to vet Chikumbutso's devices.
The featured device nicknamed "Big Blue" is a stand-alone generator, a "green power off grid machine" and a "microsonic energy device" said to be able to power 300 homes, which would be tested by running one welding machine. This dialogue can be found in the PDF of the Thrive II script (archived here) starting on page 17. This portion of the documentary is presented on YouTube, in Part 5 of 6, starting at the 13:27 mark.
At the 21:22 mark, Gamble describes how after the initial meeting the encounter turned cold, how he was put off for days, told to leave Zimbabwe and eventually how he was put on the spot to buy the batteries required for Chikumbutso's device to be tested. How did Chikumbutso even know that the device worked if he had not outfitted it yet with all the required components? And why would the batteries be Gamble's responsibility to purchase? Although Rognerud declared the test a success, Chikumbutso never really explained how it works.
At the 24:18 mark he says:
No, we're not using solar energy because this one it's not even affected with clouds, light and things like that. It just works.
(Image source: YouTube screenshot taken on Tue Feb 14 00:25:56 2023 UTC)
There is a warning about Saith Group (archived here) on the Innovator Updates page of the Thriveon.com website:
Note: While we do vouch for the efficacy of the technology that we vetted as seen in Thrive II, Foster Gamble and ThriveOn make no claims about the business aspect of Saith Group or any other inventors. We are not involved in their business dealings and are not responsible for any contractual outcomes.

As of mid-June 2021, Saith Group is seriously delinquent on delivery of devices internationally. Therefore, we recommend that potential customers and licensees wait on commitment of resources until there is evidence that these prior orders are fulfilled.
Rognerud has also posted a similar warning on March 20, 2022, in comments on his author page on electrogravityphysics.com (archived here).

I did some testing on the machine of Maxwell. The machine worked when we saw it, at that time.
However, Max seems to have some delivery issues. I recommend waiting with purchasing this machine until he has completed his first delivery.
The technology of Radio Frequency Energy Harvesters (RFEHs) is real and is developing (example here in Sciencedaily.com) but at the time of writing the new technology is limited to very small low power devices like sensors and medical devices. The current technology to harvest energy from radio waves does not come close to meeting the requirements to move a car or power a neighborhood as Chikumbutso's inventions are said to do.
Some clickbait articles from years past suggest that Chikumbutso was recruited to move to the United States by the U.S. government or by former President Donald Trump himself, but there is no evidence of this. On June 6, 2017, the website pindula.co.zw reported that the headquarters of Saith Technologies moved to California, but Lead Stories found no evidence of this.
A review of registered California businesses, both active and terminated, does not return any of the names Saith Technologies, Saith Group or Saith Holdings Inc.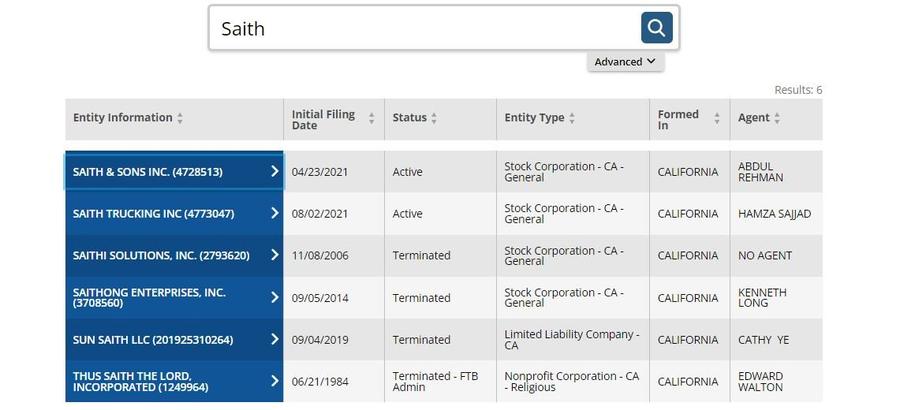 (Image source: sos.ca.gov screenshot taken on Tue Feb 7 19:23:55 2023 UTC)