STORY UPDATED: check for updates below.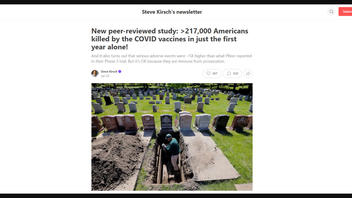 Did a peer-reviewed study find that at least 217,000 Americans have died after receiving a COVID-19 vaccine? No, that's not true: A published study that suggested "the total number of fatalities due to COVID-19 inoculation may be as high as 278,000" has been flagged by the journal's editorial board for making "unsubstantiated" claims and for possibly violating standards of peer review.
The claim originated with a study written by Mark Skidmore published in the medical journal BMC Infectious Diseases on January 24, 2023, titled, "The role of social circle COVID-19 illness and vaccination experiences in COVID-19 vaccination decisions: an online survey of the United States population." This study has been used by some online users to further suggest -- without corroboration -- that COVID-19 vaccines have caused hundreds of thousands of deaths. One such example includes a newsletter posted to the self-publishing website Substack that was written by Steve Kirsch and published on January 25, 2023, (archived here):
New peer-reviewed study: >217,000 Americans killed by the COVID vaccines in just the first year alone!

Here is how the Substack post appeared at the time of this writing:
(Source: Substack screenshot taken Tues Jan. 31 03:54:00 2023 UTC)
The findings in the study published in BMC, Kirsch argued, were "entirely consistent" with surveys he conducted, however, it is not clear which survey Kirsch is referring to. He did not include hyperlinks in his January 24 post, nor did he explain how he determined the 217,000 figure.
As our newsroom reported in January 2023, Kirsch previously used a scientifically flawed measure of data to conduct such "surveys":
Responses were not reported in a legitimate scientific journal, nor were they reviewed by scientific peers to determine the quality of the data and the veracity of the conclusions drawn. To be considered scientifically sound, researchers must be transparent with the data that they collect and study. Kirsch provided no further information about the responses he said he received, including how he controlled for external variables like lifestyle or previous health conditions, whether he vetted the claims made by respondents, the demographic data of the respondents (including age, ethnicity, race, sex and geographic location) or whether he verified that the death and cause of death reported were authentic. Additionally, the value of surveys using self-reported information from participants, especially a survey of readers of an anti-COVID-vaccine blog like Kirsch's, is limited as a method of gathering public health statistics about Americans overall.
It is not clear where Kirsch came up with the 217,000 figure or how it relates to the flagged study published in BMC.
BMC study flagged by journal publishers over legitimacy concerns
At the time of this writing, the study published in BMC is under further editorial review after readers have raised concerns over the quality of the research. Below is an editor's note that appeared at the top of the study website:
26 January 2023 Editor's Note: Readers are alerted that the conclusions of this paper are subject to criticisms that are being considered by editors. Specifically, that the claims are unsubstantiated and that there are questions about the quality of the peer review. A further editorial response will follow the resolution of these issues.
In an email to Lead Stories received February 1, 2023, Ruchita Mistry, editorial support at BMC, acknowledged concerns over the legitimacy of the study but declined to comment on the ongoing investigation.
Primary data was collected using the CDC VAERS system
The study published in BMC cited several limitations that are worth noting. First, the study author pulled information from the Centers for Disease Control and Prevention (CDC) Vaccine Adverse Event Reporting System (VAERS). It is not a measuring tool. It is an early warning system that monitors self-reported and physician-reported events involving patients using available vaccines, including the four approved or authorized for COVID-19. Anyone can report an adverse event to the VAERS system, and reports are not vetted by medical experts or professionals. A disclaimer from the CDC website notes:
VAERS accepts and analyzes reports of possible health problems--also called "adverse events"--after vaccination. As an early warning system, VAERS cannot prove that a vaccine caused a problem. Specifically, a report to VAERS does not mean that a vaccine caused an adverse event. But VAERS can give CDC and FDA important information. If it looks as though a vaccine might be causing a problem, FDA and CDC will investigate further and take action if needed.

Anyone can submit a report to VAERS -- healthcare professionals, vaccine manufacturers, and the general public. VAERS welcomes all reports, regardless of seriousness, and regardless of how likely the vaccine may have been to have caused the adverse event.
As such, information gathered from VAERS submissions is used as a surveillance tool to identify potential concerns and future research, not to suggest causation between an event and a given vaccine.
Survey data is inherently flawed
Between December 18 and 23, 2021, the study author then conducted an online survey of 2,840 participants who self-reported COVID-19 health experiences and "reasons for and against... inoculations." These responses were not vetted by official records or scrutinized by medical experts or health officials. Information garnered from these surveys concluded that:
Those who knew someone who experienced a health problem from COVID-19 were more likely to be vaccinated...while those who knew someone who experienced a health problem following vaccination were less likely to be vaccinated...34%...reported that they knew at least one person who had experienced a significant health problem due to the COVID-19 illness. Similarly, 22%...of respondents indicated that they knew at least one person who had experienced a severe health problem following COVID-19 vaccination.
The study author then extrapolated the above data to conclude that:
With these survey data, the total number of fatalities due to COVID-19 inoculation may be as high as 278,000...when fatalities that may have occurred regardless of inoculation are removed.
This 278,000 figure has not been confirmed in any official reporting database, nor has it been recorded in any capacity by leading healthcare agencies, including the CDC and the World Health Organization.
Included in the "study" are several limitations worth noting:
The limitations of the study are threefold: (1) The sample of 2840 respondents is small; (2) reported COVID-19 illnesses and COVID-19 vaccine adverse events are not diagnosed in a clinical setting; and (3) health survey responses are biased. For example, there are limitations with using a survey to collect COVID-19 health information, particularly for a politicized health issue. Respondents often interpret events with bias due to perceptions based on history, beliefs, culture and family background. For example, a respondent who self identifies as Republican may offer a report that is different than a person who identifies as Democrat.
The study author also wrote:
...that there is "significant bias in the sense that each subgroup (vaccinated and unvaccinated) has an incentive to validate personal health decisions."
The Centers for Disease Control and Prevention (CDC) tracks mortality statistics and publishes this data. Lead Stories analyzed CDC mortality data and contacted the CDC National Center for Health Statistics (NCHS), we will update the article accordingly with death tolls considered to be related to COVID vaccines.
2023-02-02T17:00:30Z

2023-02-02T17:00:30Z

Adds comment from BMC.