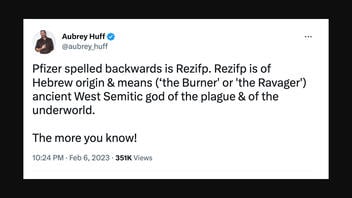 Is Pfizer spelled backward -- Rezifp -- the god of the plague and the underworld? No, that's not true: Rezifp has no meaning. The god of the underworld that social media posts are referring to is spelled Resheph. Pfizer, Inc. is named after Charles Pfizer, who founded the biotech and pharmaceutical company, then named Charles Pfizer & Company, in 1849.
The claim originated in two social media posts (here and here) that suggested that Pfizer spelled backward is the name of the ancient god Resheph. One of the posts was shared on Instagram on February 6, 2023, with text that read:
Get this shit: Pfizer name backwards is Rezifp- God of the Plague and Underworld wearing a tall pointed Goats Head
A similar iteration of the claim also appeared on Twitter on February 6, 2023. It read:
Pfizer spelled backwards is Rezifp. Rezifp is of Hebrew origin & means ('the Burner' or 'the Ravager') ancient West Semitic god of the plague & of the underworld.

The more you know!
Here is how the two posts appeared at the time of writing:


(Source: Instagram and Twitter screenshots taken Wed Feb. 8 18:22:37 2023 UTC)
The two names are not the same thing. Pfizer spelled backward is Rezifp, which is not Resheph, an ancient deity dating to at least Egyptian times who was described as having a gazelle head or gazelle horns, according to a 2017 review published in The Journal of Egyptian Archaeology. Britannica described Resheph as an "ancient West Semitic god of the plague and of the underworld" as well as a "war god" who was represented by a "bearded man brandishing an ax, holding a shield, and wearing a tall, pointed headdress with a goat's or gazelle's head on his forehead."
Other experts reject that Resheph has an etymological connection with "fire" or "plague" and that he is a god who instead "'hears prayers' to whom a private and humble person can come with his sorrows and hopes."
Regardless of the exact origins and meanings of the name Resheph and what his godly intentions were said to be, this name is most certainly not "Pfizer" spelled backward.
Born in the former German state of Württemberg as Karl Pfizer on March 22, 1824, Charles Pfizer immigrated to the U.S. in the 1840s, according to the online American history project Immigrant Entrepreneurship. With his cousin Charles Erhart, Pfizer founded Charles Pfizer & Company in 1849 in Brooklyn, New York, notes the biotech company.
Other Lead Stories fact checks about Pfizer can be found here.