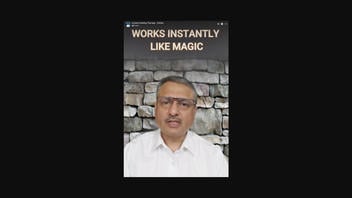 Can "quantum healing" work by sensing your body's biofield and harnessing energy for an instant cure? No, that's not true: Physicists and medical doctors say using quantum physics terminology as the basis for medicine-free healing is hucksterism and quackery.
The claim appeared in a video (archived here) on Facebook on January 5, 2023. It opens with Sachin Karve, a self-described quantum healer, saying:
If you suffer from any health issue but you want to treat yourself on your own without going to a doctor or without taking any medicine then listen to this carefully.
This is what the post looked like on Facebook at the time of writing: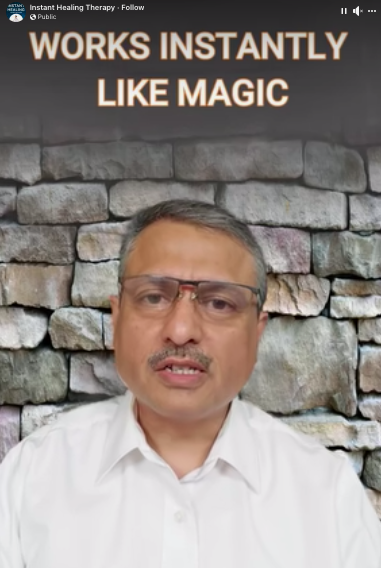 (Source: Facebook screenshot taken on Wed Feb 8 19:54:28 2023 UTC)
On-screen text during the video says, "Quantum Healing can instantly cure any health issue".
According to encyclopedia.com, Deepak Chopra introduced the term "quantum healing" in his bestseller of the same name, first published in 1989. Chopra's expertise has been questioned because of the implications that his methods are based on quantum physics. From encyclopedia.com:
... his fundamental premise postulating a deep connection between the ideas of quantum physics and the mind-body relationship is highly controversial. Even more speculative is his hypothesis that quantum physics provides a scientific explanation for the manner in which deep transformations in consciousness produce extraordinary forms of healing in the body.
According to Sadri Hassani, professor emeritus of physics at Illinois State University, who replied to Lead Stories on February 7, 2023, via a LinkedIn query:
Modern physics has been abused from the very beginning. Because we don't feel its 'weird' effects, it is highly prone to mystical abuse.
The placebo effect can be significant in healing but that's not what Karve discusses in his Facebook video. In a February 1, 2023, email to Lead Stories, Karve wrote that quantum healing is not belief-based but "definitely based on science." He sent a link to his blog to give an "overview to quantum Healing wherein I have tried to explain the concept behind how it works."
Hassani, who holds a Ph.D. in theoretical physics from Princeton University and is the author of several books, mostly on mathematical physics, looked at Karve's website and "principles of quantum healing":
Except for the mention of 'quantum' there is no reference to how 'quantum' is used in his obviously quack technique. I have written on the original 'Quantum Healing' by Deepak Chopra, who actually tries to use (his sophomoric version of) quantum physics to put a scientific face on Ayurveda, the ancient medicine of India.
Hassani offered a brief history:
Einstein was furious when Arthur Eddington - the British physicist and a mystic - tied relativity to consciousness. He was also furious when Bohr and Heisenberg tied quantum physics to Eastern mysticism - yes, even great scientists could be mystics - via the complementarity principle, which Einstein referred to as 'Bohr-Heisenberg religion.' Because of the involvement of great physicists of the early 20th century in the association of modern physics - especially quantum physics because of its higher degree of counter-intuitiveness - with mysticism, their dissociation has proved extremely difficult.
Hassani did not mince his words about the Facebook post and Karve's methods:
Instant Healing is nothing but the pseudoscientific energy healing or Touch Therapy. The owner of the website uses 'quantum healing' as a bait. Nothing in the 5 principles of 'Quantum Healing' is related to quantum physics. The word 'quantum' is not used even once in the headings or descriptions of the 5 principles. Chopra at least (ab)uses the word 'quantum' frequently in his book. Instant Healing is the most puerile abuse of 'quantum' I've ever seen. I wouldn't spend 30 cents for his '9 Hour Master Class on Quantum Healing, let alone $30.