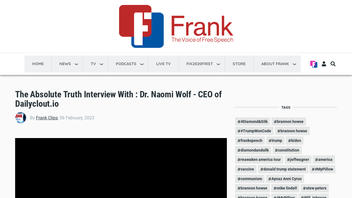 Does having sex with men vaccinated for COVID-19 cause menstrual cycle problems in unvaccinated women and do Pfizer documents confirm this? No, that's not true: The vaccine elements can't be spread from person to person, either through intercourse or through general proximity, a process called "shedding," the Centers for Disease Control and Prevention (CDC) website says. Also, Pfizer documents make no such confirmation.
The claim appeared in a video (archived here) published by the Frank Speech website on February 6, 2023, under the title "The Absolute Truth Interview With : Dr. Naomi Wolf - CEO of Dailyclout.io." At 13 minutes into the video, Wolf says:
In the Orthodox [Jewish] community ... unvaccinated women are talking to their rabbis because having intercourse with their vaccinated husbands is so agonizing to them, giving them horrible menstrual cramps, terrible menstrual cramps. In fact, the Pfizer documents show ... that women are exposed to it from vaccinated men through sexual intercourse.
This is what the post looked like on the Frank Speech website at the time of writing:
(Source: Frank Speech screenshot taken on Thu Feb 9 16:47:05 2023 UTC)
Wolf provides no evidence to back the claims in her interview on "The Absolute Truth with Emerald Robinson." Wolf helped circulate the clip on Twitter on February 6, 2023. She said: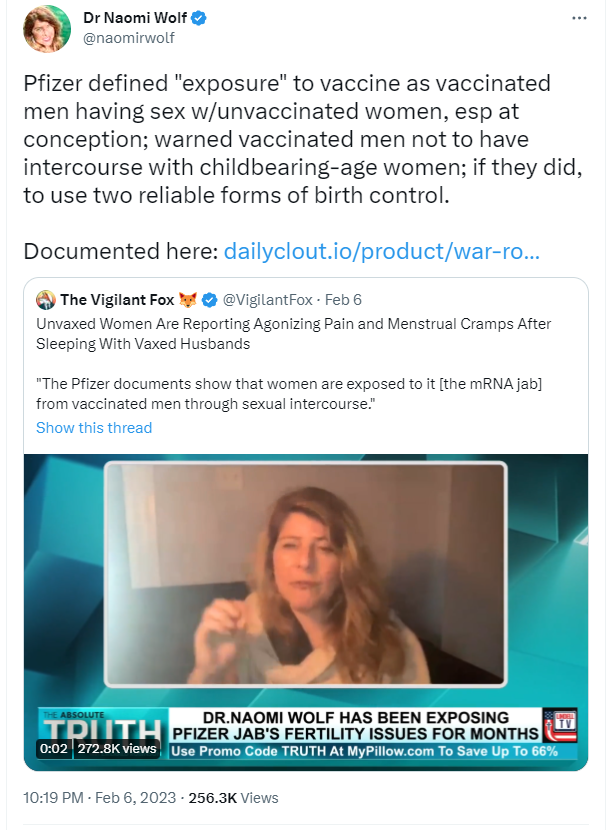 (Source: Twitter screenshot taken on Thu Feb 9 22:04:54 2023 UTC)
The clip also appeared here.
About Naomi Wolf
Wolf is an author and activist. She is also the CEO and co-founder of the DailyClout website. Her Twitter and YouTube accounts were suspended in 2021 for sharing vaccine misinformation.
She has a doctorate in English language and literature/letters, according to her LinkedIn profile, but holds no medical degree. Wolf is now back on Twitter. Her description includes this line: "Deplatformed 7 times, still right."
How vaccines work
On the CDC's web page, "Myths and Facts about COVID-19 Vaccines," the public health agency says mRNA vaccines like the Pfizer COVID shot can't be spread from one person to another. The entry says:
MYTH: COVID-19 vaccines authorized for use in the United States shed or release their components.

FACT: Vaccine shedding is the release or discharge of any of the vaccine components in or outside of the body and can only occur when a vaccine contains a live weakened version of the virus.

None of the vaccines authorized for use in the U.S. contain a live virus. mRNA and viral vector vaccines are the two types of currently authorized COVID-19 vaccines available.
Fertility
Dr. Soumya Swaminathan, chief scientist at the World Health Organization (WHO), said it's a "common myth" that vaccines affect fertility. She made her comments during the June 4, 2021, episode of the WHO's "Science in 5" video series called "COVID-19: vaccines, pregnancy, menstruation, breastfeeding, fertility." She said:
I should start by saying that there is absolutely no scientific evidence or truth behind this concern that vaccines somehow interfere with fertility, either in men or in women, because what vaccines do is they stimulate an immune response against that particular protein or antigen of that virus or bacteria. So in this case, the COVID vaccine stimulates both antibody response and a cell mediated immune response against the spike protein of the SARS-CoV-2 virus. So, there is no way in which they could interfere with the functioning of the reproductive organs in either men or women. So, I think people can rest assured that these vaccines in no way interfere with fertility.
The interview can be watched below:
Pfizer response
In a February 9, 2023, email to Lead Stories, a Pfizer spokesperson provided this response to Wolf's claim:
In the company's ongoing surveillance, Pfizer has received reports of menstruation irregularities in some COVID-19 vaccine recipients. Most of these events are non-serious and temporary and have not required medical intervention. Cases have been observed across all available COVID-19 vaccines and this topic has been well documented and evaluated by public health authorities around the world. It is important to note that irrespective of vaccination, menstrual irregularities are common in women. For example, up to 25% of women may experience heavy menstrual bleeding, and there is no conclusive evidence that menstrual irregularities have a causal relationship to the vaccines. Regulatory authorities have made no change to the risk-benefit profile of the vaccine.
Harvard study
A study published by the Harvard School of Public Health in July 2022 said it's normal to experience mild side effects during the immune response following vaccination. The Apple Women's Health Study included data from 9,652 participants. It came to these conclusions:
Our preliminary insights confirm that changes to menstrual cycles associated with COVID-19 vaccination are small and temporary, and within the range of pre-vaccination variability. We found that the menstrual cycle in which a vaccine was administered was about half a day longer in comparison with pre-vaccination cycles, and most cycles returned to pre-vaccination average length by the following cycle.
More from CDC
Two posts to the CDC Twitter account offered similar findings:
FACT: Being near someone who received a #COVID19 vaccine does not affect your menstrual cycle. Other factors like stress, changes in schedule or diet, or problems with sleep can affect your menstrual cycle.

More: https://t.co/c3T9VAF5Ce. pic.twitter.com/e1FApKtVcC

-- CDC (@CDCgov) September 9, 2021
Additional Lead Stories fact checks related to COVID vaccines can be found here.