STORY UPDATED: check for updates below.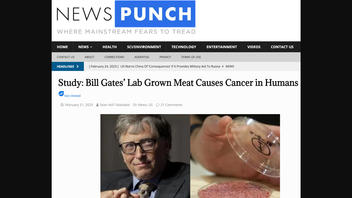 Does a report assessing the safety of a plant-based meat product made by a company in which Bill Gates has invested prove that meat grown in a laboratory causes cancer in humans? No, that's not true: Since the report doesn't even consider lab-grown meat, it can't prove it's carcinogenic when eaten by people because the two products are not the same things. Describing the company's report as a "study" suggests it has been subjected to the independent peer-review and professional editing process of scientific publishing, which is not the case.
The claim about a "study" appeared in an article (archived here) published by NewsPunch on February 21, 2023, titled "Study: Bill Gates' Lab Grown Meat Causes Cancer in Humans." The article opens with:
Bill Gates' lab-grown meat causes cancer in humans who consume it, according to a disturbing new study.
This is what the article looked like on the NewsPunch website at the time of writing: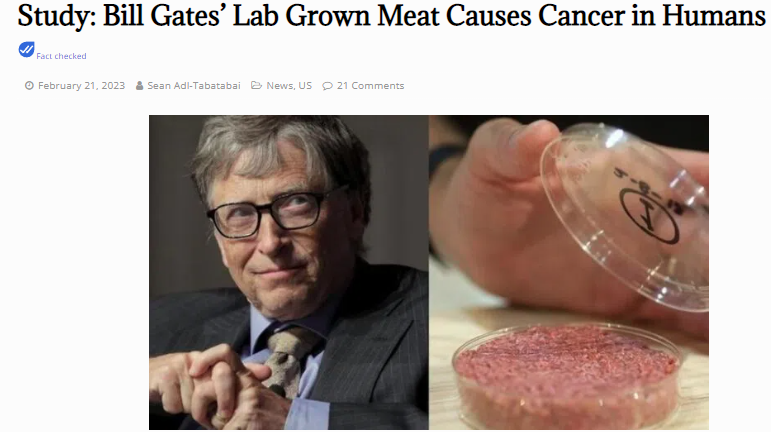 (Source: NewsPunch screenshot taken on Thu Feb 23 19:11:16 2023 UTC)
Report
What NewsPunch called a study is instead a report written by Impossible Foods, Inc. to the Food and Drug Administration (FDA), citing evidence that its ingredients are generally recognized as safe (an FDA rating) and thus don't need premarket approval. That report has nothing to do with lab-grown meats but instead looked at plant-based meat products. Such products are created directly from plants and include protein, fat, vitamins, minerals and water, according to the Good Food Institute, a nonprofit think tank of organizations working to promote "protein innovation."
In lumping together what it calls "fake meat products," NewsPunch conflates the details from a Bloomberg feature article, "Lab-Grown Meat Has a Bigger Problem Than the Lab," and material posted on the Children's Health Defense (CHD) website about plant-based burgers. CHD is an activist group mainly known for anti-vaccine claims. Lead Stories has published multiple fact checks debunking the group's false claims.
The Bloomberg article discusses what the author sees as the image problem facing lab-grown or "cultured" meat, which the Food and Drug Administration (FDA) said was OK for human consumption in November 2022. Immediately under its headline, the Bloomberg story says:
Leading scientists agree that cultured meat products won't give you cancer, but the industry doesn't have the decades of data to prove it--so it's trying to avoid the question instead.
UPSIDE Foods
UPSIDE Foods became the first cultivated meat company to receive a green light from the FDA. In a November 14, 2022, memo, the federal agency said, "In summary, we did not identify any properties of the cells as described that would render them different from other animal cells with respect to safety for food use."
Asked by Lead Stories about the cancer claim in the NewsPunch article, UPSIDE Foods called it "incorrect and misleading to consumers" in a February 24, 2023, email. The response from the company also said:
There is no evidence to indicate that consuming cultivated meat can cause cancer.
The FDA also released a 104-page document that was prepared by UPSIDE that provides detailed information regarding the safety of UPSIDE's production process.
Food and Drug Administration
In response to a query about the cancer claim, the FDA pointed Lead Stories to a web page on its website called, "Human Food Made with Cultured Animal Cells." In part, the page says:
There is currently no food made from cultured animal cells available for sale in the U.S. market. Manufacturers are generally working on scaling up their processes to consistently produce amounts large enough to be competitively priced. As these products come closer to market, the FDA is closely coordinating with the United States Department of Agriculture's Food Safety and Inspection Service (USDA-FSIS), which shares jurisdiction over these human food products for certain animal species to ensure that they are safe and accurately labeled. Both agencies are working with manufacturers to ensure these products meet all applicable FDA and USDA-FSIS requirements.
The FDA expanded on the cancer claim in a February 27, 2023, email to Lead Stories. A spokesperson from the agency said:
The FDA is not aware of evidence or a credible mechanism to support the claim that cultured animal cells used as food cause cancer. Cells used in animal culture are not able to survive and grow in an uncontrolled manner following removal from the bioreactor or after consumption by consumers. ...

The FDA considered whether a hypothetical hazard could be associated in some way with the consumption of cells with enhanced proliferative capacity. However, once removed from the protected and controlled environment of the bioreactor, the cells will lose their proliferative capacity and will die. Subsequent food processing (such as cooking) would further break down cellular structures and contents. Digestion after consuming food made from this cell material would also break down any residual cellular structure. ...

For more information:
Children's Health Defense
The report cited in the Children's Health Defense item makes no mention of lab-grown meat or cancer but instead looks at a type of soy protein used by Impossible Foods in the making of its plant-based beef products. The "Conclusions" section of the report found the product to be "safe and suitable":
We, members of the Expert Panel, have individually and collectively critically evaluated the information and data summarized above and other information deemed pertinent to the safety of the proposed uses of Soy Leghemoglobin Protein Preparation (LegH Prep). We unanimously conclude that the proposed uses as a protein component in ground beef replacement (analogue) products of LegH Prep, produced consistent with current Good Manufacturing Practice (cGMP) and meeting the appropriate food grade specifications presented above, are safe and suitable.
Other Lead Stories fact checks about lab-grown meat can be found here.
2023-02-28T17:24:14Z

2023-02-28T17:24:14Z

Adds comments and context from FDA, adds subheadings

2023-02-24T18:04:36Z

2023-02-24T18:04:36Z

Adds comments and context from UPSIDE Foods