STORY UPDATED: check for updates below.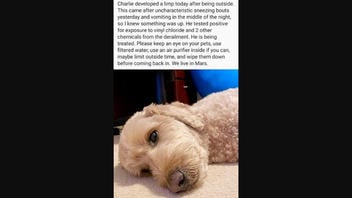 Did a dog in Pennsylvania test positive for exposure to vinyl chloride, a chemical that officials have confirmed has leaked from the train derailment site near East Palestine, Ohio? No, that's not true: In an interview with Lead Stories, the veterinarian who treated the dog confirmed that, as of February 23, 2023, no test is available to determine whether a dog has been exposed to vinyl chloride.
The claim originated in a post shared on Facebook in late February 2023. Text that accompanied the post read:
Charlie developed a limp today after being outside. This came after uncharacteristic sneezing bouts yesterday and vomiting in the middle of the night, so I knew something was up. He tested positive for exposure to vinyl chloride and 2 other chemicals from the derailment. He is being treated. Please keep an eye on your pets, use filtered water, use an air purifier inside if you can, maybe limit outside time, and wipe them down before coming back in.
Here is how the post appeared at the time of the writing of this fact check: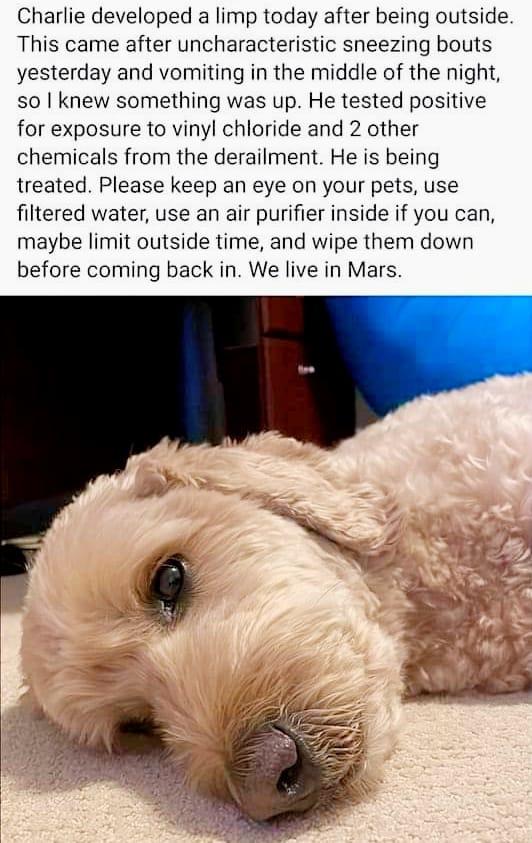 (Source: Facebook screenshot taken Thurs Feb. 23 11:17:00 UTC 2023)
While it is possible that dogs and other animals may experience adverse reactions after being exposed to vinyl chloride, as of this writing no test is available to determine whether an animal has been exposed to the chemical.
In a phone interview with Lead Stories on February 23, 2023, treating veterinarian Cynthia Maro, a doctor of veterinary medicine at Cranberry Holistic Pet Care in Mars, Pennsylvania, confirmed that she had treated the dog seen in the post's photo but had not conducted an established test to determine potential exposure. The dog has a previous history of autoimmune disease, she said.
"At this time, there is no blood or tissue test yet available to confirm vinyl chorine exposure in dogs," Maro told Lead Stories. She also said as much in an interview with the Pittsburgh-based television station WPXI that was broadcast on February 22, 2023 (archived here).
Karyn Bischoff, associate professor of practice at the Cornell University College of Veterinary Medicine and toxicologist at the Animal Health Diagnostic Center (AHDC), confirmed in an email sent to Lead Stories on February 24, 2023, that no such test exists.
Vinyl chloride is a colorless gas used to make polyvinyl chloride (PVC) plastic and vinyl products. It is associated with certain cancers in humans, the
National Cancer Institute
says. Other toxicological effects have been observed in both humans and animals depending on the exposure level, including tumors and death, according to a
2023 report
by the U.S. Department of Health and Human Services' Agency for Toxic Substances and Disease Registry.
Limited exposure testing is available to humans under certain circumstances, according to the U.S. government's Agency for Toxic Substances and Disease Registry. Biomarkers, indications of chemical exposure seen in the human body, have been found in the urine of people who were exposed.
"We think that we can find this biomarker in the urine or plasma of domestic animals with the methods that we have developed in our laboratory, but we have not had the opportunity to try it yet, so we don't know for certain that it will work," Bischoff told Lead Stories.
"Additionally, a significant amount of time has elapsed since the derailment, and the animal body tries to eliminate toxic chemicals quickly," Bischoff added. Even if veterinarians were able to detect a biomarker, Bischoff noted that it is not known for how long after an exposure the biomarker would be detectable.
Since Mars is just over
30 miles
from East Palestine, Ohio, where the trail derailment occurred on February 3, 2023, Maro believes the dog was indeed experiencing symptoms of chemical exposure. This assumption, she added, was based purely on her own observations and not confirmed through a test.
Lead Stories has previously reported that the Ohio train derailment did not cause "flesh-eating rain" in Nebraska, verified that dozens of birds did not fall from Kentucky skies following the incident and confirmed that the Centers for Disease Control did not change the level of exposure considered lethal for vinyl chloride shortly before the spill.
2023-02-24T16:51:48Z

2023-02-24T16:51:48Z

Adds comments from Karyn Bischoff, associate professor of practice at Cornell University College of Veterinary Medicine.