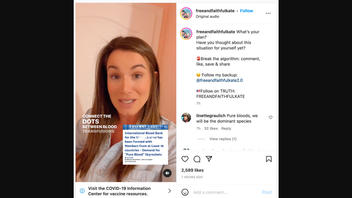 Has an international blood bank called Safe Blood Donation been opened in at least 16 countries to offer "pure blood," free of COVID-19 vaccines? No, that's not true: A disclaimer on the company's website says the Safe Blood Donation blood bank is not currently in operation and does not grant access to unvaccinated blood. Rather, the company offers a paid membership service in hopes of one day pairing members with compatible donors and medical partners. As of February 2, 2023, the company had not specified an expected date for that program's start. The program creator writes that "at the moment [it is] still a dream for the future."
The claim originated in a video on Instagram on December 28, 2022. In the video, a person stated on-camera:
Well, it's no surprise that people are finally starting to connect the dots between blood transfusions and if that donation has had a [points to arm where vaccine is received] or not. So, by popular demand, this gentleman has made a company called Safe Blood. It's already in 16 countries and they're actually facing some roadblocks when it comes to establishing in America. Right now, you can donate blood and they do not differentiate at the Red Cross between if you've had the 'hokey pokey' or if you haven't. So, being in a hospital, you have no idea what you're receiving.
Below is how the post appeared at the time of the writing of this fact check: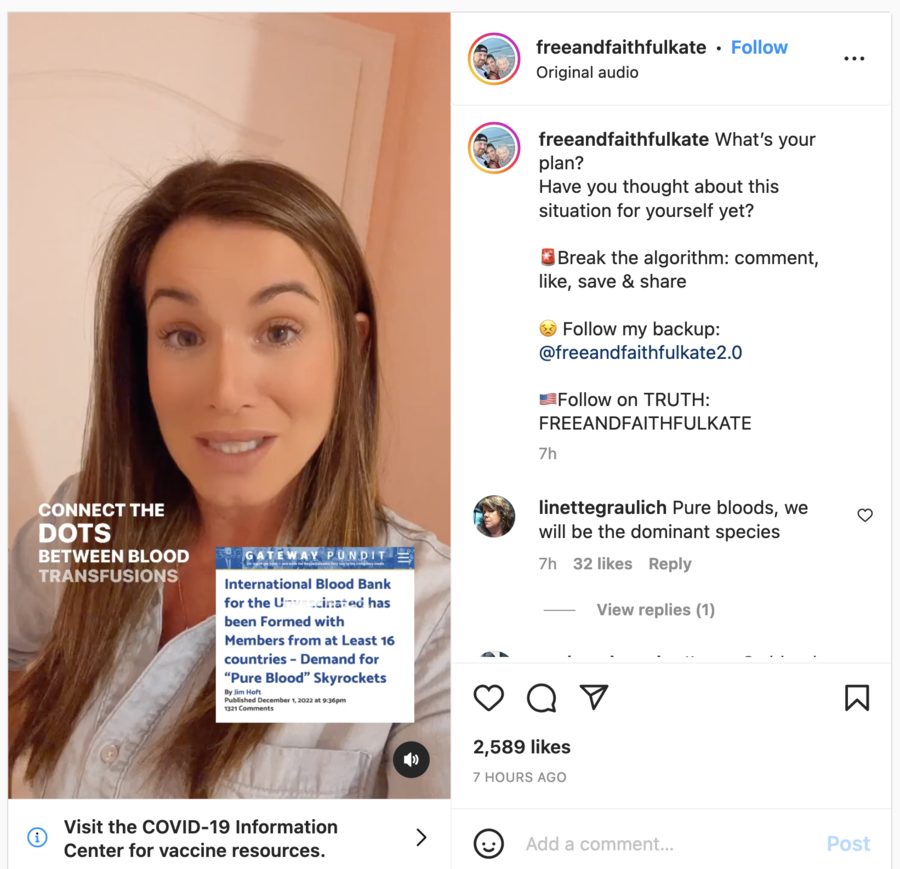 (Source: Instagram screenshot taken Thurs Dec. 29 11:55:10 2022 UTC)
As of February 2, 2023, the Safe Blood Donation blood bank is not in operation nor does it provide access to donors who have not been vaccinated against COVID-19, according to the Safe Blood Donation website. Rather, the website offers a membership program for "50 EURO/CHF [Swiss franc]/USD in the first year ... and annually 20 EURO/CHF/USD from the second year on." There is no expected date of when this program will be rolled out, nor is there any clarification about the legal status of such an operation.
The video shared on Instagram is based on a December 1, 2022, article published in The Gateway Pundit (archived here) titled, "International Blood Bank for the Unvaccinated has been Formed with Members from at Least 16 countries - Demand for 'Pure Blood' Skyrockets." The introduction to the article read:
Unvaccinated patients who require transfusions can now access 'pure blood' thanks to a new service called 'SafeBlood Donation,' which was launched by a Swiss naturopath named George Della Pietra.
The FAQ section of the Safe Blood Donation website does not offer any specifics about the legal framework for how such a program would operate. In the "Where can I donate blood?" section, the text says:
At the moment, you can only do so [donate blood] at established institutions like the Red Cross. We will have to set up our own infrastructure, since both the Red Cross and the hospitals have not signaled any interest in working with us.
In other words, there is no blood bank available, but registered individuals who pay a fee will be contacted by the company and, in theory, matched with an unvaccinated individual who can donate blood. Furthermore, the Safe Blood Donation homepage explicitly states that there is no intention to operate a blood bank:
Please note that our main goal is not to run our own blood bank - this is not possible at the moment for legal reasons, but we are working on making it possible anyway and are getting closer by the day - but to match blood donors and recipients, which we bring together in a clinic (medical partner) that allows the choice of blood donor. So, there is no blood bank with mRNA-free blood yet, not even with us. And, although we have already asked hundreds of clinics, at the moment - at least in Europe - all of them still refuse to allow the human right of free blood choice with them - or at least do not want to be mentioned, because otherwise they fear reprisals.
Other Lead Stories fact checks debunking claims made regarding COVID-19 vaccines can be found here.