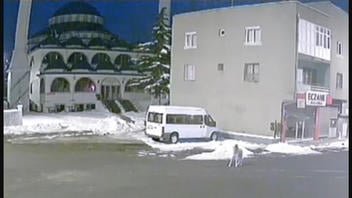 Did a dog howl into the night trying to warn people in an eastern Turkish town of the coming earthquake disaster? While it's not possible to know why the dog was howling, and the date of the video has not been verified -- this video does not show eastern Turkey. It shows an intersection in the town of incesu Kızılören which lies southwest of the city of Kayseri, in the Kayseri province in the Central Anatolia Region of Turkey. This town is not in one of the provinces in eastern Turkey directly impacted by the deadly earthquake and aftershocks of February 6, 2023. Therefore, even if the video was recorded immediately before the earthquake, it does not show a dog's futile efforts to protect humans who ultimately came to harm as a result of the earthquake, as several social media posts indicated.
A video of a dog howling at night was published by @solist.zamira on TikTok on February 6, 2023 with a caption in Turkish that says (translated by Google) "Animals feel the earthquake from 9 floors below the ground, this animal warns people." Another copy of the video was posted by @straybeautiful with captions in English that read, "He tried to warn them of the danger about to come!". The post opened with this request and sixteen hashtags:
🆘PLEASE PRAY FOR THE SAFETY AND WELL BEING OF OUR STRAYS AND OUR PARTNER SAVIORS🙏 #AnimalWelfare #SupportAnimalRescue #HelpAnimals #SaveTheAnimals #AnimalProtection #AnimalLivesMatter #AnimalRights #EndAnimalCruelty #SaveTheAnimals #SupportAnimalRescue #RescuePets #dogsoftiktok #dog #turkeyearthquake #cats #dogsofttiktok
original sound - Stray Beautiful
This is how the video appeared on TikTok at the time of writing: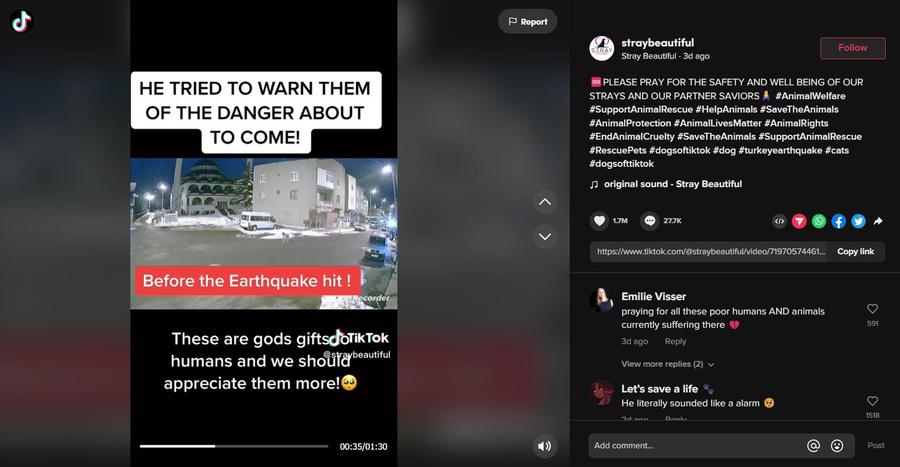 (Image source: TikTok screenshot taken on Thu Feb 09 23:10:36 2023 UTC)
Additional captions added to the video say:
Before the earthquake hit!
These are gods gifts to humans and we should appreciate them more!
The video appears to have been filmed by a surveillance camera facing an intersection. A mosque and a shop with signage for a pharmacy, "Eczane," are visible in the video. Lead Stories geolocated this to an intersection on Cumhuriyet Cd. in the town of incesu Kızılören in the Kayseri region, pictured below in a screenshot of a December 2019 Google Street View image.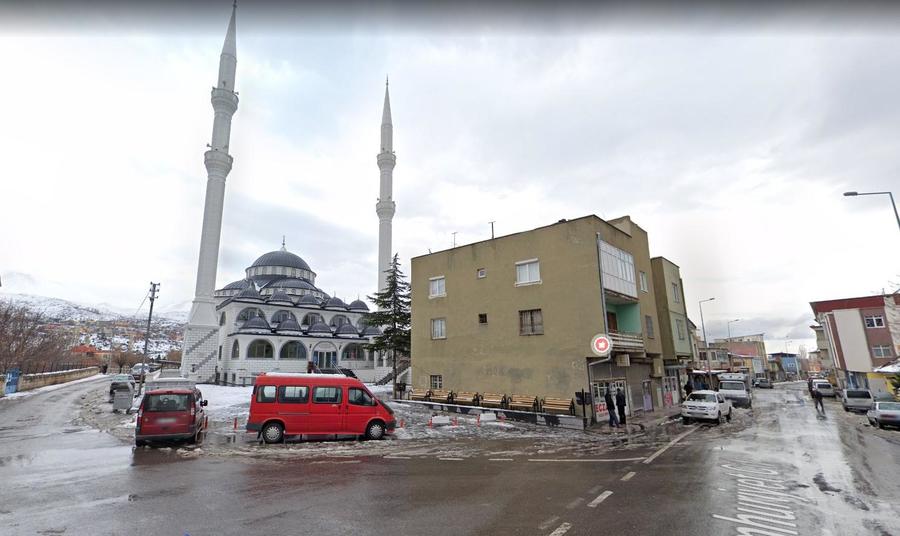 (Image source: Dec 2019 Google Street View image - screenshot taken on Thu Feb 09 23:10:36 2023 UTC)
Without a timestamp on the footage, it can't be known if the dog's howling was associated with the timing of the earthquake. Even if the video was recorded shortly before the earthquake, it's important to note that a dog might howl for several reasons. This fact check is not focused on why the dog howled or the question of whether animals can sense an earthquake before it happens. (An article from the United States Geological Survey concludes that more research needs to be done on the subject.) The context of the video's added false narrative is that this dog tried to warn people of the coming danger. This town was not in the region of widespread structural damage.
A February 13, 2023, press release from the Turkish Emergency Management Agency, AFAD, lists eleven Turkish provinces where there was a loss of life due to the earthquake and aftershocks:
According to initially available information from SAKOM, 31,643 people have lost their lives in Kahramanmaraş, Gaziantep, Şanlıurfa, Diyarbakır, Adana, Adıyaman, Osmaniye, Hatay, Kilis and Malatya and Elazığ. 158,165 people have been evacuated from quake-hit areas.
Lead Stories reached out to neighborhood officials in Kızılören and will update this article as appropriate if we receive a reply. On February 11, 2023, a van from Kızılören took supplies to Kahramanmaraş, (a distance of about 280 km. or 173 miles) The following day, village chief of the Kızılören Tabaklı neighborhood, Murat Altıngöz, wrote a Facebook post about the aid mission. This report makes no mention of local people having suffered property damage or injury -- rather, their response was centered on offering support and aid to the residents of other towns, who had suffered such losses (translated by Google):
Our people in Kızılören were mobilized due to the great disaster that took place in our neighbor Kahramanmaraş. Help poured in from all directions. I personally took these aids with my fellow citizens and distributed them by hand. We conveyed your wishes of getting well soon, their trusts and greetings to our earthquake-stricken brothers and sisters and brought their greetings and prayers to you. We saw the great disaster on the spot, we shuddered, our hearts burned even more. We met with our Nevşehir deputy Yücel MENEKŞE, Göksun District Governor Mustafa CULUKAR, and our Police Station Commander Serhat KANDEMİR. They also conveyed their thanks and greetings to you.
May God have mercy on our brothers who died in the earthquake, we wish a quick recovery to the injured. Get well soon. May God never let such a disaster happen again.
The composite image below shows two maps of the region. The map on the left shows a detail of Kayseri province. The red pin marks incesu Kızılören where this video footage of the howling dog was filmed, southwest of the city of Kayseri. The map on the right is a screenshot from an animated NBC News graphic that shows the location and timing of the earthquake and aftershocks that were above a magnitude of 4 in and near Turkey between February 3 - 9, 2023. Lead Stories shaded the Kayseri province green to show its proximity to the earthquake zone.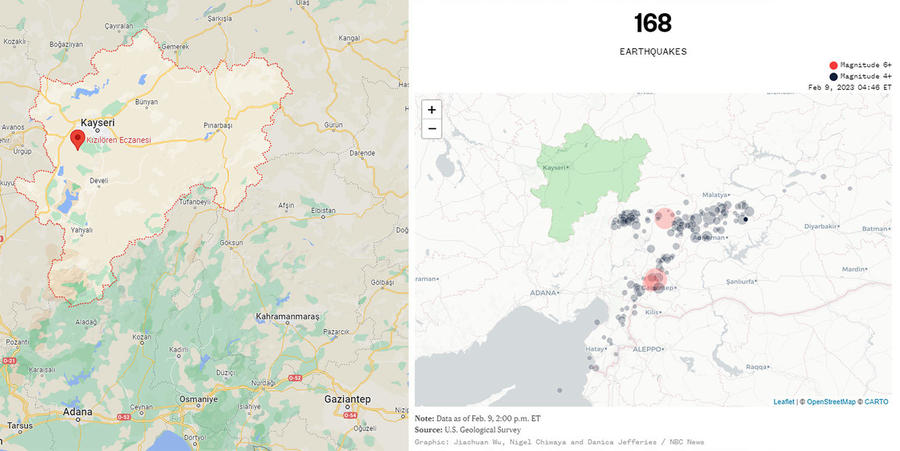 (Image source: Google Maps and nbcnews.com screenshots taken on Thu Feb 09 23:10:36 2023 UTC)
Other Lead Stories fact checks about the February 6, 2023, earthquake can be found here.