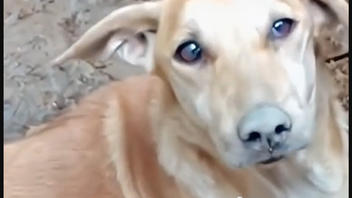 Does a video on social media show a man helping a mother dog dig her puppies free from the rubble of a building that collapsed in the 2023 earthquake in Turkey? No, that's not true: This video is several years old and was posted on August 28, 2019, to the YouTube channel of an animal rescue organization from Udaipur, India. The date of the rescue is not verified, but the YouTube posting date rules out the possibility of this showing an event from 2023.
The original video of this puppy rescue was posted by the YouTube channel of Animal Aid Unlimited. In the aftermath of a massive earthquake in Turkey in February 2023, a copy of the video was published on TikTok on February 8, 2023, with a misleading caption that read:
May there be no disaster in the world. Are you moved by this dog's love for the baby#Rescue #Earthquake in Turkey#dog #fyp #animal
Canyons - Official Sound Studio
This is how the video appeared at the time of writing: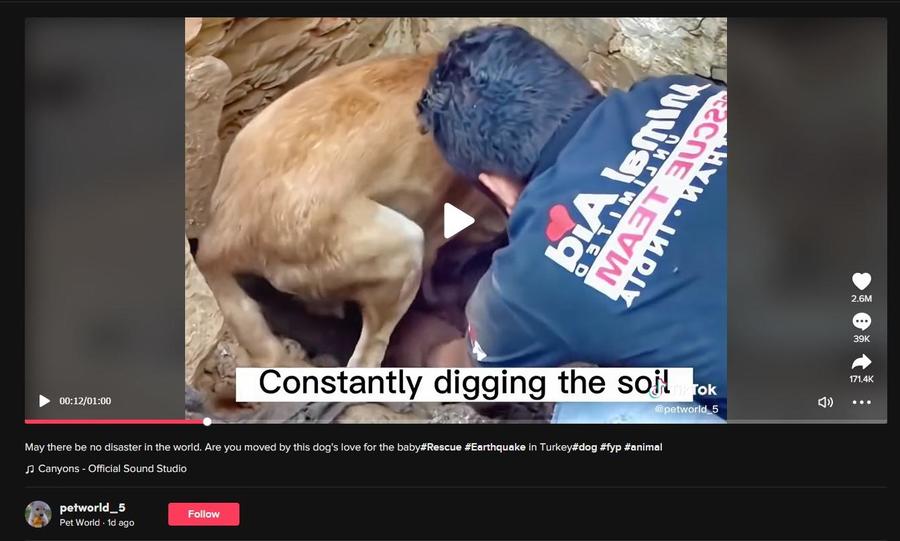 (Image source: TikTok screenshot taken on Thu Feb 09 15:25:22 2023 UTC)
Text captions on the video read:
The dog's child was buried under the ruins after the earthquake.
It believes that they are still alive.
Constantly digging the soil
A kind person helps it clean up the ruins together.
The video posted on TikTok has been reversed, making the text on the man's T-shirt slightly difficult to read. The T-shirt is the "Rescue Team" staff uniform of Animal Aid Unlimited in Udaipur, in the state of Rajasthan, India. In the original video (pictured below) it is clear to see that the rescue organization is in India.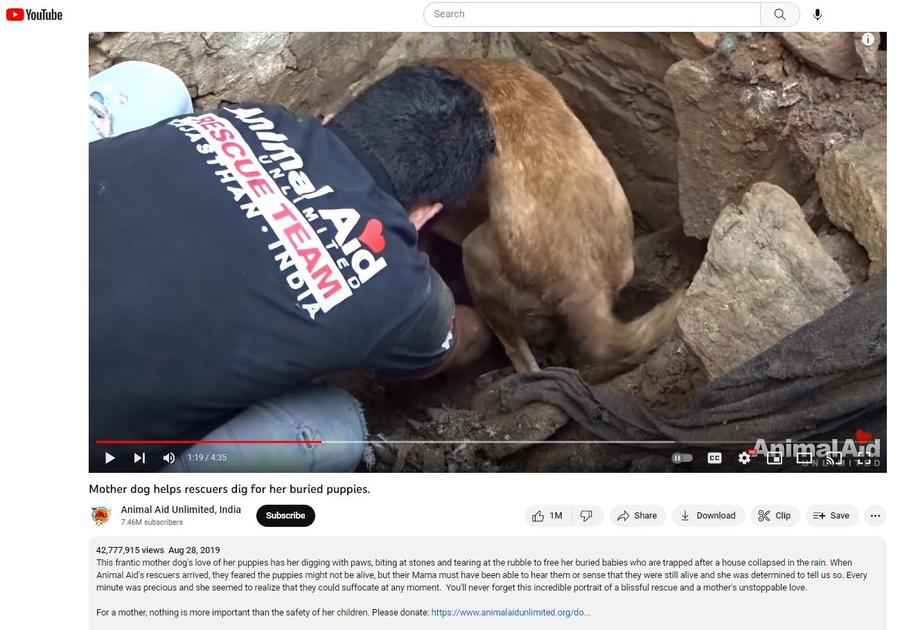 (Image source: YouTube screenshot taken on Thu Feb 09 16:20:43 2023 UTC)
The caption of the Animal Aid Unlimited video says that the building collapsed in the rain:
This frantic mother dog's love of her puppies has her digging with paws, biting at stones and tearing at the rubble to free her buried babies who are trapped after a house collapsed in the rain. When Animal Aid's rescuers arrived, they feared the puppies might not be alive, but their Mama must have been able to hear them or sense that they were still alive and she was determined to tell us so. Every minute was precious and she seemed to realize that they could suffocate at any moment. You'll never forget this incredible portrait of a blissful rescue and a mother's unstoppable love.
Other Lead Stories fact checks about the February 6, 2023, earthquake can be found here.