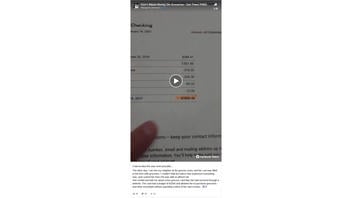 Can all senior citizens get a free $3,500 grocery card from Medicare in 2023? No, that's not true: Neither the government nor Medicare are offering a free grocery card valued at $3,500 to all senior citizens in the United States. The closest is a program that provides "special supplemental benefits for certain people who are chronically ill," a Centers for Medicare & Medicaid Services spokesperson told Lead Stories.
The claim appeared in a video (archived here) on Facebook on March 6, 2023, under the title "Don't Waste Money On Groceries - Get Them FREE." The video in the post opened:
All senior citizens who have not registered for their $3,500 food allowance only have 24 more hours before they miss out.
This is what the post looked like on Facebook at the time of the writing of this fact check:
(Source: Facebook screenshot taken on Wed Mar 8 20:20:29 2023 UTC)
The 24-second video has a narrator speaking while the footage shows what appears to be a bank statement showing $3,500.46, a refrigerator full of groceries and what looks like a gift or credit card that reads, "FOOD ALLOWANCE'' with an expiration date of 8/27. The narrator says:
If you do not register for your food allowance in time, you will have to wait 12 more months to claim. For those who aren't aware, all senior citizens can register for a $3,500 food allowance, which can be used in any store, such as Walmart, to pay for their food. To register, tap the button down below and follow the instructions to get your $3,500 food allowance.
The video is accompanied by a caption that claims the writer's neighbor told them about a free $3,300 grocery card, which is a different amount than the $3,500 mentioned in the video. The caption read, in part:
She smiled and told me about a free grocery card that she had received through a website. The card had a budget of $3300 and allowed her to purchase groceries and other essentials without spending a dime of her own money.

I was amazed. I had never heard of such a thing before. I asked her more about the website, and she told me that she had received a pamphlet in the mail from her Medicare provider. The pamphlet had included information about a program that offered a free grocery card with a $3300 budget.
Lead Stories contacted the U.S. Department of Health and Human Services' Centers for Medicare & Medicaid Services (CMS) about the claim. In a March 10, 2023, email, a CMS spokesperon noted that, while the agency cannot "speculate on a specific person's benefits absent additional information on their Medicare eligibility, enrollment, etc.," a Medicare program does provide "special supplemental benefits for certain people who are chronically ill":
Some of the details in the Facebook post may be referring to a program available through Medicare Advantage (MA). Beginning in 2020, MA plans (plans offered by Medicare-approved private companies that must follow rules set by Medicare) are able to offer special supplemental benefits for certain people who are chronically ill. These special supplemental benefits may include food and produce when they are provided to chronically ill enrollees and the benefits have a reasonable expectation of improving or maintaining the health or overall function of the chronically ill enrollee.

MA plans may utilize a debit card as a tool in administering supplemental benefits and/or to reduce enrollee cost sharing on covered benefits. Plans sometimes refer to these debit cards as 'FlexCards.' Plan enrollees may use a plan-provided debit card with a set dollar limit to pay for covered supplemental benefits, such as food and/or out-of-pocket expenses (copays or coinsurance). Plans can change their coverage offerings every year. Consumers are encouraged to regularly review the benefits offered to make sure their MA plan continues to meet their needs.
To receive the benefits, the spokesperson confirmed, indiviuals need to have a chronic health condition that qualifies for the program, be enrolled in Medicare and have selected the MA program "rather than "Original Medicare."
The Facebook caption claims the recipient of the free grocery card "received a pamphlet in the mail from her Medicare provider." The CMS spokesperson, however, warned that the agency does not send solicitation materials about Medicare:
CMS/Medicare will never call or contact a person to sell anything or visit their home. Medicare, or someone representing Medicare, will only call and ask for personal information in two situations:
A Medicare health or drug plan may call you if you're already a member of the plan. The agent who helped you join can also call you. A customer service representative from 1-800-MEDICARE can call you if you've called and left a message or a representative said that someone would call you back.
The spokesperson also explained the recommendations for reporting fraud:
The U.S. Department of Health and Human Services, Office of Inspector General (HHS-OIG) accepts tips and complaints from all sources about potential fraud, waste, abuse, and mismanagement in the U.S. Department of Health and Human Services' programs. Anyone who wishes to report a scam or fraud can contact the HHS fraud hotline at: Toll Free: 1-800-447-8477 (which is 1-800-HHS-Tips), or can visit HHS-OIG website. Specifically for Medicare, anyone who suspects fraud can also contact 1-800-MEDICARE or visit http://www.medicare.gov/fraud.
The post about the alleged Medicare grocery card links to a website that states, "Americans Can Claim Their FREE GROCERY+PLUS CARD To Help Pay For Their Groceries, Bills, And More!" The website is not an official government website and updates the date daily. The URL is lp.qualify-care.com and links to a page that looks like this screenshot below. It asks users to answer four questions to qualify for the benefits: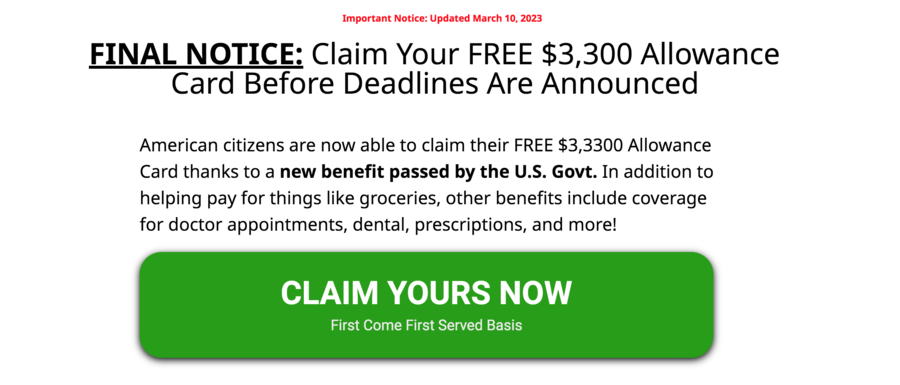 (Source: Lp.qualify-care.com website screenshot taken on Fri Mar 10 23:31:16 2023 UTC)
There is a disclaimer at the bottom of the page that states: "THIS IS AN ADVERTORIAL AND NOT AN ACTUAL NEWS ARTICLE, BLOG, OR CONSUMER PROTECTION UPDATE © 2022 All Rights Reserved."
Clicking on each link sends the user to an error page and does not allow the user to apply for a $3,500 free grocery gift card.
The Facebook account that posted the video is called Margaret Johnson Entrepreneur and was created on November 9, 2022, according to the account's Page transparency section. The page manager is located in Italy, as this screenshot shows:

The profile picture is a stock photo, listed as "a businesswoman reading a newspaper inside the car," that can be found here.
Another post on Facebook makes a similar claim. It promotes the website URL is us-relief.org, which also does not allow users to claim a free grocery gift card.
There are no credible news reports of a new government stimulus being offered as of March 8, 2023, nor a $3,500 free grocery card from Medicare.
Lead Stories earlier debunked a claim that President Joe Biden had announced a program giving "Health Credits" to anyone making under $50,000 a year. We also have debunked multiple claims about "new" stimulus plans that give people various amounts of cash.