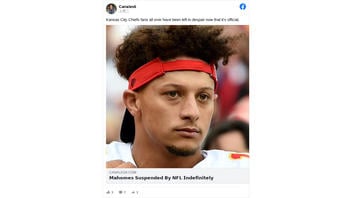 Was Kansas City Chiefs quarterback Patrick Mahomes indefinitely suspended by the NFL? No, that's not true: The claim in a social media post has a "Learn more" link that goes to a fake ESPN page promoting an "off-market supplement." The fake ESPN logo seen in the upper left-hand corner leads users to a website selling the supplement. No other legitimate media sources have reported anything to substantiate the claim regarding Mahomes.
The claim appeared on Facebook (archived here) where it was published on March 7, 2023. The caption read:
Kansas City Chiefs fans all over have been left in despair now that it's official.
This is what the post looked like on Facebook at the time of writing:
(Source: Facebook screenshot taken on Mon Mar 13 14:33:49 2023 UTC)
The post is a picture of Mahomes with a "Learn more" link underneath. The link goes to CANALES6.COM, and has bold text that reads, "Mahomes Suspended By NFL Indefinitely." The Facebook account where this post was published also has the phrase "Just for fun" underneath the username.
The "Learn More" link goes to a website that is supposed to mimic ESPN's, with a story that has the headline, "BREAKING NEWS: Patrick Mahomes Get Caught! He's Now Under Investigation As The NFL Completely Overhauls Its Drug Testing Program." According to the fake article, "an off-market supplement" has helped Mahomes' athletic career. The article offers no evidence to substantiate its claim of an investigation. We also found that clicking on the page's ESPN logo led us to an advertisement for nitric oxide pills, rather than the homepage for ESPN.
There are no reports of Mahomes' alleged suspension on ESPN's real website, the National Football League's website or the NFL's profile page on Mahomes, or the Kansas City Chiefs website.
Also no other report from legitimate news sources could corroborate this claim, a Lead Stories search of Google News found.
More NFL-related Lead Stories fact checks can be found here, here and here.