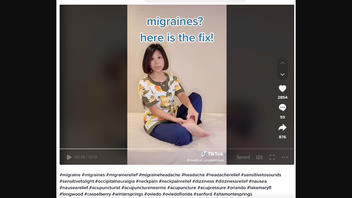 Does ankle massage relieve migraines and headaches "instantly"? No, that's not true: It is not a widely accepted scientific consensus. While there is some research suggesting that massage may be beneficial to alleviate the impact of stress, one of the migraine's major triggers, the National Institute of Integrative and Complementary Health explains that existing studies show inconclusive results. More importantly, massage is not on the list of treatments recommended when a person is already in pain.
The story appeared a video published on TikTok on October 9, 2022, under the title:
migraines? here is the fix
The caption contained more than three lines of hashtags:
Here is what it looked like at the time of writing: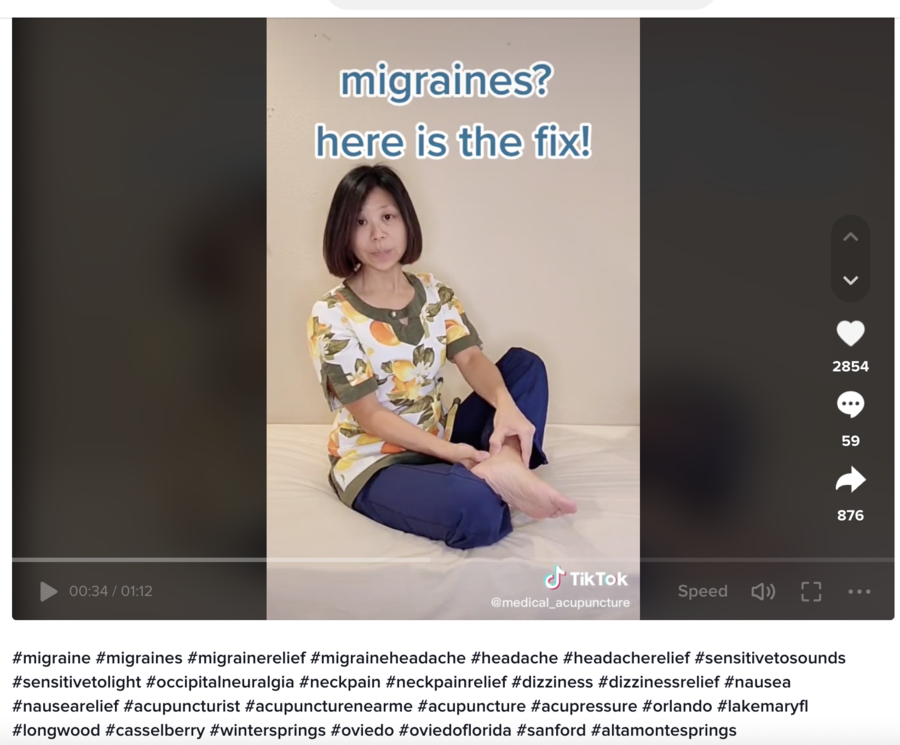 (Source: TikTok screenshot taken on Thu Mar 16 17:48:12 2023 UTC)
The video showed a woman massaging her left ankle. At the 00:00 mark, she says:
Migraine, headache at the back of your head? Massage around your ankle to relieve that headache instantly. Find this big bone here and press around it. Why? Because there is a nerve down here that is connected to back here [points out to the back of her head.] And feel around the back of your head. You feel the bone, right? Bone treats the bone.
However, the offered rationale is not backed by science.
A Google search for the key phrase "bone treats the bone" showed only two irrelevant results that did not discuss migraines at all.
According to the National Library of Medicine's MedlinePlus information service, when migraines are not a symptom of another medical condition, they are caused by genetics but may be triggered by a number of factors, and stress tops the list. The NLM summary says:
There is no cure for migraines. Treatment focuses on relieving symptoms and preventing additional attacks.

There are different types of medicines to relieve symptoms. They include triptan drugs, ergotamine drugs, and pain relievers. The sooner you take the medicine, the more effective it is.
Migraine is a condition that typically has phases before and after an episode when a person experiences pain.
The American Migraine foundation does not list massage as a treatment for acute migraines, but suggests that scalp massages "can help with relieving tension and stress, which are common migraine triggers."
Yet, the National Center for Complementary and Integrative Health (NCCIH) points out a lack of data supporting the hypothesis about the potential benefits of massage in treating migraines and headaches: A limited number of small studies did not show consistent results. In response to a Lead Stories inquiry received on March 20, 2023, via email, the NCCIH confirmed:
There is not conclusive science-based evidence about massage, especially ankle massage, for relieving migraine.
Lead Stories searched for but did not find any research examining ankle massage in the context of migraine.
The woman in the video shows the practice consistent with the description of reflexology, when pressure is applied to certain points on the feet or hands, which are believed to be connected to different organs and body parts.
But there is little evidence to support the effectiveness of this practice.
The McGill Office for Science and Society highlighted that a limited number of existing studies of reflexology rely on subjective self-reporting and that even when researchers described possible benefits, they couldn't pinpoint a specific reason causing perceived improvements.
A 2010 systematic review concluded:
...the best clinical evidence does not demonstrate convincingly reflexology to be an effective treatment for any medical condition.
The account that posted the video on TikTok described itself as a "medical acupuncture" clinic in Florida. The cloud of hashtags in the clip's description referenced this practice, too.
Unlike the massage shown in the video, acupuncture involves needles applied to pressure points across the body. According to NCCIH, acupuncture may have some benefits for migraine patients, but mostly because of psychological factors:
Much of its benefit may be due to nonspecific factors including expectation, beliefs, and placebo responses rather than specific effects of needling.
The World Health Organization also doesn't mention massage or acupuncture as treatments against headaches.
Its website doesn't show any search results where the terms "migraine" and "massage" or "acupuncture" would appear on the same page: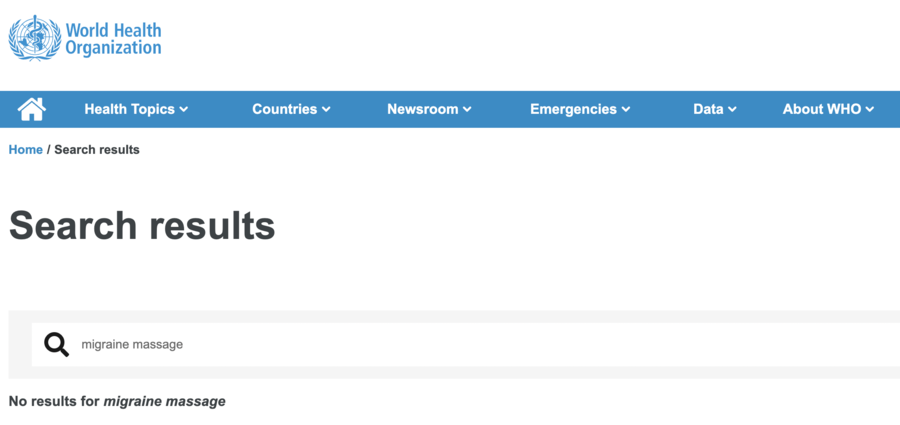 (Source: WHO screenshot taken on Thu Mar 16 22:50:07 2023 UTC)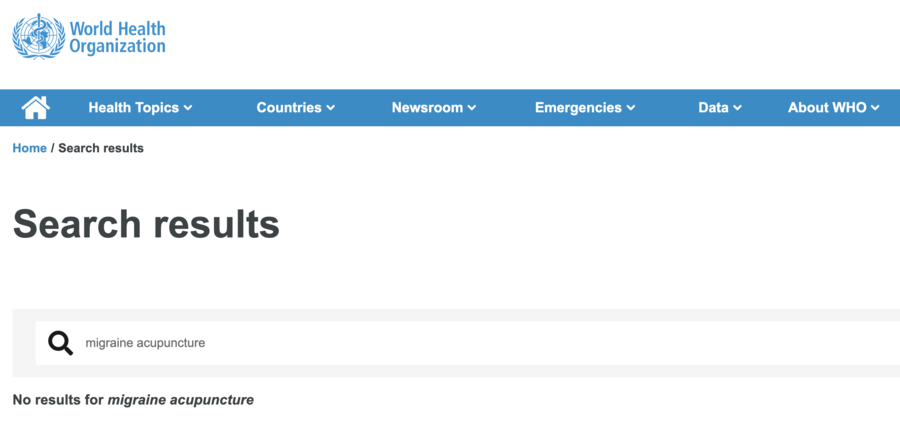 (Source: WHO screenshot taken on Thu Mar 16 22:54:30 2023 UTC)
Lead Stories reached out to licensed neurologists for this story. When we hear back, this article will be updated as appropriate.
Previously, Lead Stories reported that acupuncture massages do not relieve asthma, reflexology does not improve kidney functions and self-massages do not cure infertility.