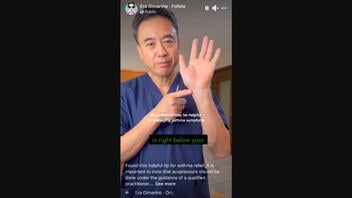 Do acupressure massages on a person's hands and legs relieve their asthma? No, that's not true: The director of the Asthma and Allergy Clinic at the pediatric hospital Children's Wisconsin told Lead Stories, "Massage therapy has not been shown to help asthma control in any published studies." A professor emeritus who specializes in improving adherence to asthma medications and delivering inhaled drugs to young children also confirmed to Lead Stories that "there's no scientific basis to this claim."
The claim appeared in a reel on Facebook on March 8, 2023. The caption opened:
Found this helpful tip for asthma relief. It is important to note that acupressure should be done under the guidance of a qualified practitioner. Credits: Dr. Mark Xu Disclaimer: This is for educational purposes. this content demonstrates general exercise ideas not intended to serve as medical or clinical advice ❤️🤗 Still best to consult an expert and your doctor. You can follow him on Tiktok Page: holistic.tuuwa
Numerous hashtags were in the caption. The white text over the video of a man speaking reads:
Acupressure Points for Asthma
This is what the post looked like at the time of the writing of this fact check: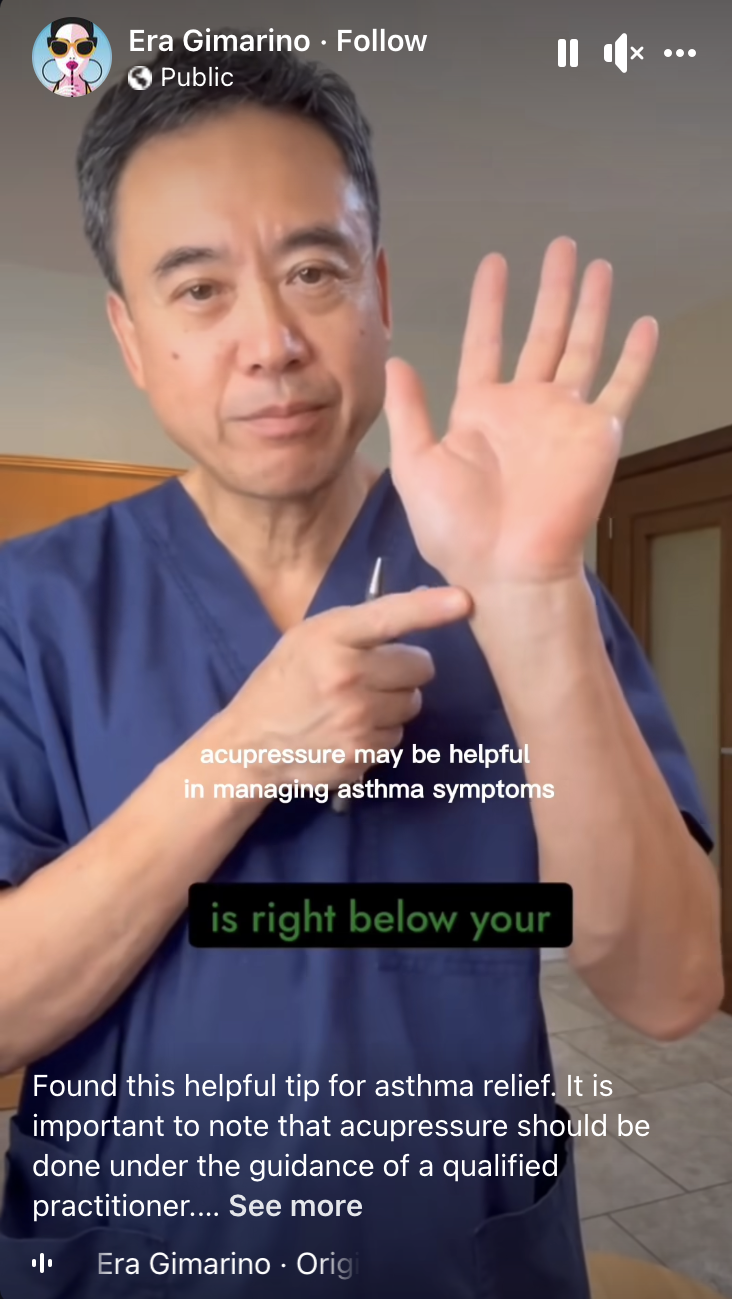 (Source: Facebook screenshot taken on Fri Mar 10 11:58:18 2023 UTC)
The caption of this particular post has a disclaimer that this video is "not intended to serve as medical or clinical advice."
Dr. Mark Xu, the man seen in the video, is a self-described "licensed and certified acupuncturist," who promotes traditional Chinese medicine. Acupuncture is defined by the National Institutes of Health as "a technique in which practitioners insert fine needles into the skin to treat health problems."
Asthma is defined as a "long-term lung disease that causes episodes of coughing, wheezing, chest tightness and shortness of breath." An August 7, 2019, video from the Asthma and Allergy Foundation of America says there is no cure for asthma and does not mention massaging any body parts as a form of relief for the disease.
While there has been research published in May 2017 about positive results using massage therapy on children to relieve their asthma symptoms, this same research concluded further studies are needed to assess whether massage therapy can guarantee improved pulmonary function in people who have asthma.
Dr. Asriani Chiu, interim chief in the section of allergy and clinical immunology at Children's Wisconsin, a pediatric hospital associated with the Medical College of Wisconsin, told Lead Stories in a March 9, 2023, email that this claim is false:
'Massaging your hand and legs,' or any massage therapy, has not been shown to help asthma control in any published studies. It is important to use medicines and treatments recommended by your healthcare provider/asthma specialist to control your asthma symptoms.
Lead Stories contacted Leslie Hendeles, a professor emeritus at University of Florida's College of Pharmacy and Department of Pediatrics, who specializes in asthma treatment for young children. In a March 8, 2023, email, he responded by saying the video's claim about acupressure and asthma is unfounded:
There is no scientific basis for that claim. I have never heard of it.
The technique seen in the video is known as reflexology, which the National Institutes of Health defines as:
a practice in which different amounts of pressure are applied to specific points on the feet or hands. These points are believed to match up with certain other parts of the body. Reflexology is claimed to cause relaxation and healing in those parts of the body, but this has not been proven.
A May 7, 2021, article published by the Office for Science and Society at Canada's McGill University, said:
Reflexology may look like it works because it is relaxing, because unreliable testimonials are used to publicize it, and because tiny studies that lack rigour report encouraging findings ... Systematic reviews of studies of reflexology report that we cannot conclude that reflexology works for any health condition
An asthma treatment page on the Mayo Clinic website does not include hand and leg massages in a plan to control and prevent asthma flare-ups.
Other Lead Stories fact checks of claims about reflexology can be read here.