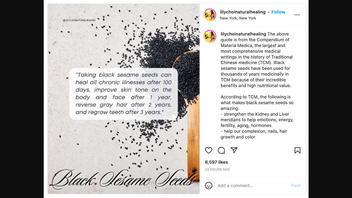 Can taking black sesame seeds heal "all chronic illnesses after 100 days"? No, that's not true: There are no cures for many chronic illnesses, from heart disease to cancer to diabetes, and the simple treatment of eating black sesame seeds is not medically proven to heal "all chronic illnesses after 100 days."
The claim appeared in a post published on Instagram on March 6, 2023. It opened:
Taking black sesame seeds can heal all chronic illnesses after 100 days, improve skin tone on the body and face after 1 year, reverse gray hair after 2 years, and regrow teeth after 3 years.
This is what the post looked like on Instagram at the time of writing: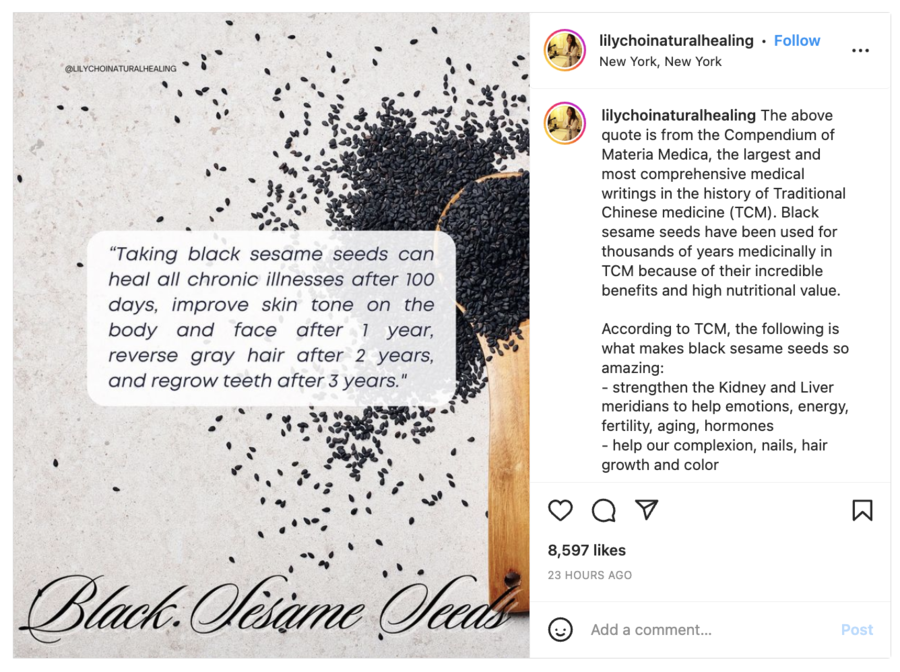 (Source: Instagram screenshot taken on Tues Mar 7 16:21:33 2023 UTC)
The caption on the post states:
The above quote is from the Compendium of Materia Medica, the largest and most comprehensive medical writings in the history of Traditional Chinese medicine (TCM). Black sesame seeds have been used for thousands of years medicinally in TCM because of their incredible benefits and high nutritional value.
The book was "compiled and written by LI Shi-zhen (1518~1593), a medical expert of the Ming Dynasty (1368-1644) over a period of 27 years," according to the UNESCO website.
The post gives no evidence nor cites any studies to back up the claim.
According to the Centers for Disease Control and Prevention, "Chronic diseases are defined broadly as conditions that last 1 year or more and require ongoing medical attention or limit activities of daily living or both."
The organization notes:
Chronic diseases such as heart disease, cancer, and diabetes are the leading causes of death and disability in the United States.
There is no cure for heart disease, as the Cleveland Clinic explains:
Once you've been diagnosed with heart disease, you can't be cured. But you can treat the things that contributed to the development of coronary artery disease. In turn, this can reduce how the condition impacts your body.
As for diabetes, "There isn't a cure for diabetes right now," Diabetes UK, a non-profit organization based in the United Kingdom notes on their website.
When it comes to cancer, "cure" is "a word most doctors won't say," WebMD noted as of June 12, 2022:
There's no cure for it, but there are treatments that may be able to cure some people of some cancers.
Healthline.com published an article in 2020 titled, "Black Sesame Seeds: Nutrition, Benefits, and More," which noted that while there appear to be some health benefits to consuming black sesame seeds, more research in humans is needed:
Regularly eating black sesame seeds could reduce oxidation in the body, improve blood pressure, and provide antioxidants and other plant chemicals that help fight cancer. Still, more research in humans is needed.
Other Lead Stories articles on various claims of cures can be found here.