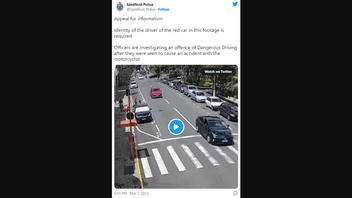 Are the "Sandford Police" in the U.K. looking for information on the identity of the driver of a red car allegedly committing a "Dangerous Driving offence" by stopping for a three-legged dog crossing the street and having a motorcycle smash into them? No, that's not true: The "Sandford Police" Twitter account that posted the call for information is satirical.
The claim appeared in a tweet (archived here) published by @Sandford_Police on March 7, 2022. It read:
Appeal for information

Identity of the driver of the red car in this footage is required

Officers are investigating an offence of Dangerous Driving after they were seen to cause an accident with the motorcyclist pic.twitter.com/lTfyTMD5sP

-- Sandford Police (@Sandford_Police) March 7, 2023
Here is a screenshot of what the tweet looked like at the time of writing: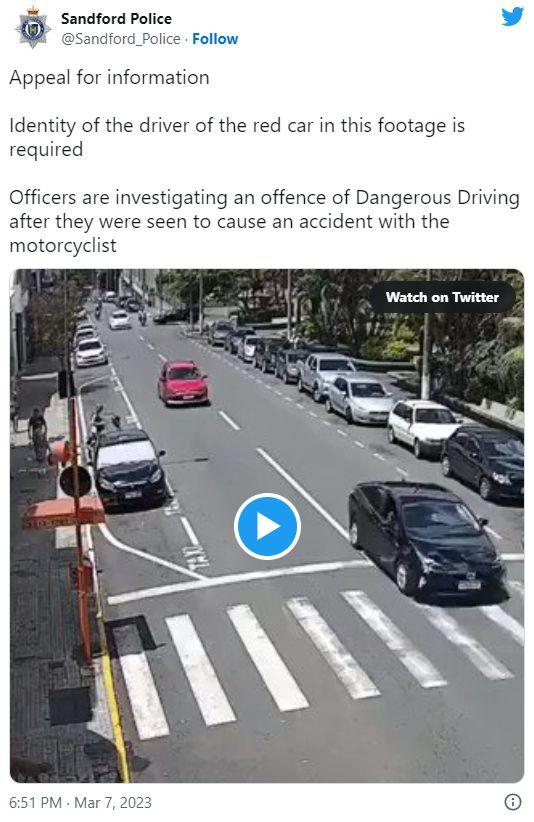 The bio of the "Sandford Police" account on Twitter (archived here) says it is satire:
Englands smallest Police Farce, committed to catching crinimals & swans

Don't report crime

Emergency? Yes📞999 | No📞101

parody/satire
#TheGreaterGood
Lead Stories was unable to determine where the video originated from but it is definitely not the U.K. as the cars in the video clearly drive on the right with the steering wheel on the left.
As DC Mike Hunt of the Sandford Police advises:
There is a lot of misinformation out there on the internet.

DC Mike Hunt advises 'Please do your research, look at bios/profiles, verify information & don't just blindly think what you're reading is true'

Together we can beat the scammers & those intent on misleading others!

-- Sandford Police (@Sandford_Police) November 10, 2022