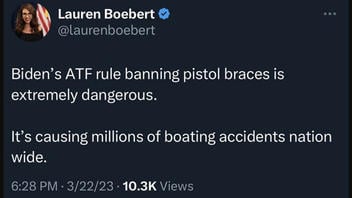 Did Rep. Lauren Boebert literally mean that banning pistol braces is causing "millions of boating accidents" when she posted a tweet critical of "Biden's ATF rule"? No, that's not true: The term "boating accident" is a well-known in-joke among gun owners. The hypothetical "boating accident" is offered as a tongue-in-cheek explanation to the government for a registered gun that has gone missing.
Boebert posted a tweet on March 22, 2023. It was captioned:
Biden's ATF rule banning pistol braces is extremely dangerous. It's causing millions of boating accidents nation wide.
This is what the post looked like on Twitter at the time of writing: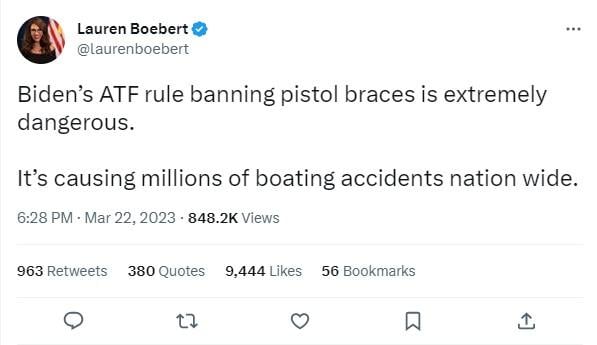 (Source: Twitter screenshot taken on Thu Mar 23 14:02:54 2023 UTC)
A December 23, 2020, article on pewpewtactical.com is titled, "I Lost All My Guns in a Boating Accident: What's the Origin?" The article features examples of boating accident memes and identifies a real event from 2014 as the purported origin of the meme. A fisherman found a backpack with a gun and a Department of the Treasury badge in it when the water level of California's Castaic Lake dropped due to a drought. An ATF agent lost the backpack containing his valuables in 1992 when the fishing boat he was on was swamped by a wave. CBS News reported on the find on October 10, 2014.
Although the "boating accident" phrase is well-known among gun owners, many critical replies to Boebert's tweet demonstrated that "boating accident" as it applies to hidden guns is not a universally understood reference. Two examples (here and here) are pictured below.
Rachel Vindman wrote:
MILLIONS OF BOATING ACCIDENTS!!!

It must be physically painful to be this stupid.
Roshan Rinaldi commented:
"Boating accidents?"

"Millions?"

What is she even talking about?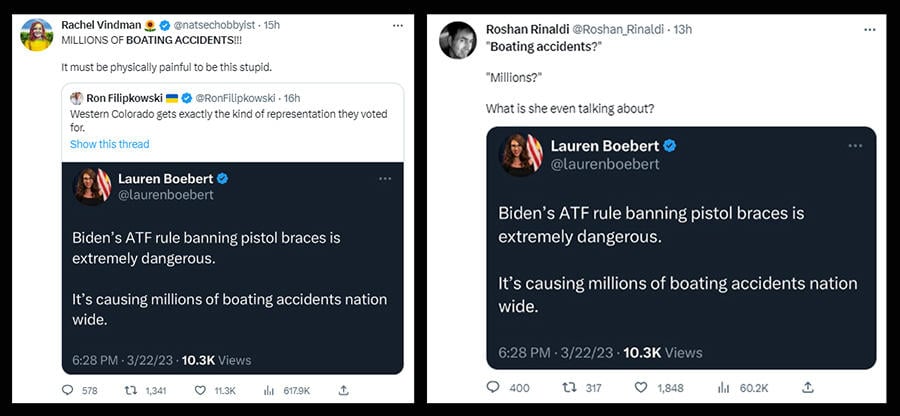 (Image source: Lead Stories composite image of Twitter screenshots taken on Thu Mar 23 15:16:52 2023 UTC)
Information about the "Factoring Criteria for Firearms with Attached 'Stabilizing Braces'" is posted at the ATF.gov website of the Bureau of Alcohol, Tobacco, Firearms and Explosives. The rule went into effect on January 31, 2023, the full text is published in this .pdf file of the Federal Register / Vol. 88, No. 20.