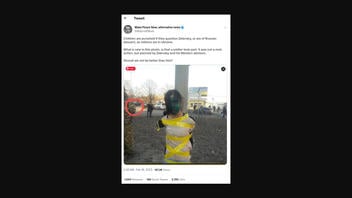 Is there evidence that children in Ukraine are being punished for questioning Ukrainian President Volodymyr Zelenskyy? No, that's not true: Lead Stories found no information that supported this statement. Additionally, an image used to support this claim is not related to the claim.
The claim appeared in a tweet (archived here) published on Twitter on February 18, 2023. It included an image of a person tied to a pole with their face covered by what looked to be some sort of paint. The text of the tweet read:
Children are punished if they question Zelensky, or are of Russian descent, as millions are in Ukraine.

What is new in this photo, is that a soldier took part. It was not a mob action, but planned by Zelensky and his Western advisors.

Should we not be better than this?
This is what the post looked like on Twitter at the time of writing: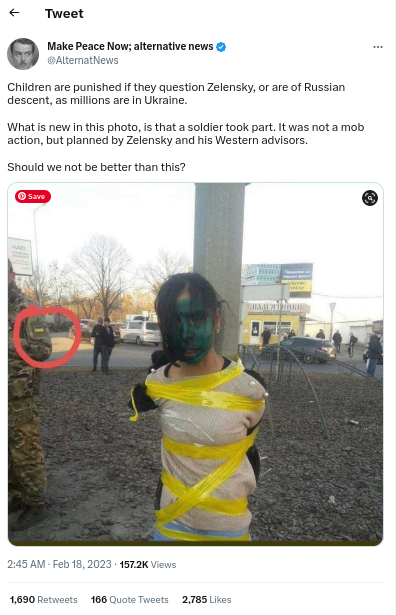 (Source: Twitter screenshot taken on Mon Mar 6 16:10:16 2023 UTC)
Lead Stories did not find evidence that Zelenskyy or the Ukrainian government is punishing children for questioning Zelenskyy.
We did find that Zelenskyy has spoken out against the forced relocation of Ukrainian children by Russia. On February 26, 2023, he announced that he implemented decisions by the National Security and Defense Council of Ukraine and imposed sanctions which, according to the Ukrainian government, fight against "individuals and legal entities involved in the forced transfer, abduction, and deportation of Ukrainian children to the aggressor state, and the transfer of Ukrainian children for adoption to families of russian citizens."
Lead Stories reached out to Human Rights Watch for comment on the "Children are punished if they question Zelensky" claim, but the organization told us that it does not have information about the topic explored in the claim.
Lead Stories also contacted Amnesty International and the United Nations Office of the High Commissioner for Human Rights about the claim. We will update this story with any responses.
On March 31, 2022, journalist Brecht Castel published a Twitter thread that revealed the origins of the same image used in the tweet under discussion in this fact check. Toward the end of the thread, Castel concluded that the image shows "a public pillory for alleged thieves" in the Ukrainian city of Lviv. The "thieves" are reported to be Romani people. Castel added that the image, and many like them, are used in propaganda by Russia. Castel's full examination of the image can be found here.
Other news outlets like Les Observateurs from France 24 and Romea have also reported that similar images are used for propaganda purposes by Russia.
On March 6, 2023, we reached Tetiana Pechonchyk, head of the Ukrainian human rights non-governmental organization ZMINA and at the time of writing we were waiting for clarification on her comment about the claim. However, ZMINA released a statement on March 24, 2022, that condemned the treatment of those who are accused of theft. Images used in the release are similar to the one used in the tweet examined in this fact check.
More Lead Stories fact checks of claims related to Zelenskyy and the ongoing Russia-Ukraine war can be found here.