STORY UPDATED: check for updates below.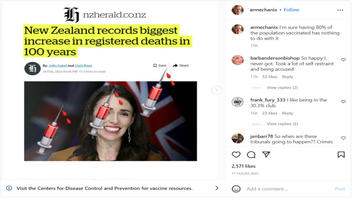 Is the "biggest increase in registered deaths in 100 years" in New Zealand due to the nation's high vaccination rate? No, that's not true: "There is absolutely no evidence that the increase in mortality in 2022 is related to Covid-19 vaccination," Dr. Michael Baker, a public health professor at the University of Otago, told Lead Stories in a March 7, 2023, email. "The increase in mortality in 2022 is largely explained by direct Covid-19 deaths."
The claim appeared in a post on Instagram on March 5, 2023, under the title "New Zealand records biggest increase in registered deaths in 100 years." Its description said:
I'm sure having 80% of the population vaccinated has nothing to do with it
This is what the post looked like on Instagram at the time of writing: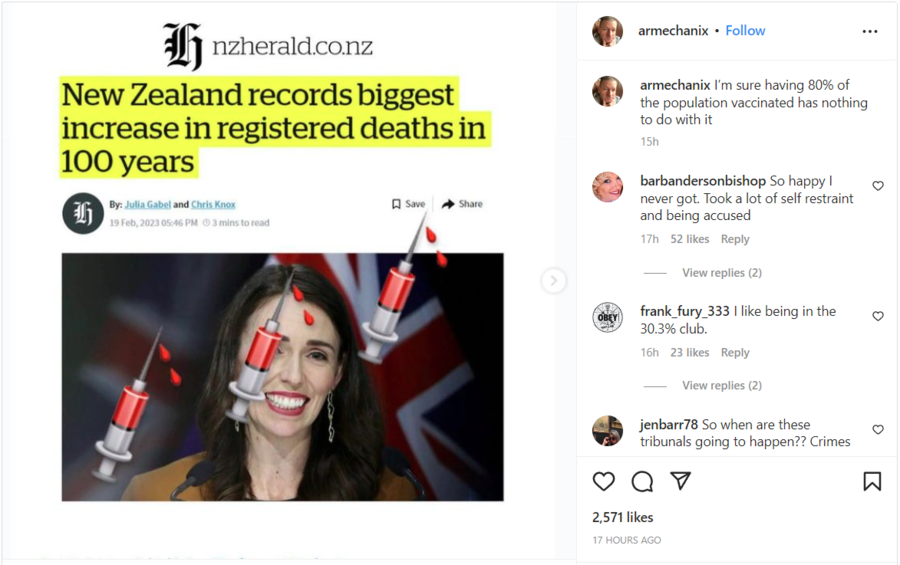 (Source: Instagram screenshot taken on Mon Mar 6 18:09:46 2023 UTC)
The post lifts its headline from a New Zealand Herald article but provides none of the story's details. Instead, it adds innuendo by suggesting the COVID-19 vaccine is to blame for the near-record percentage increase in deaths.
In a March 7, 2023, email to Lead Stories Dr. Helen Petousis-Harris, a vaccinologist at the University of Auckland, said, "The Instagram account is misusing a screen shot of the Herald headline by excluding the context and content associated with the headline." She said there are several reasons why the data don't support the excess deaths being related to the shots:
Excess deaths were in the negative during 2020 and 2021 (when most of the adult population were vaccinated).
However, when COVID-19 spread in 2022 we saw an increase in excess mortality. ...
NZ had one of the highest vaccination rates and the lowest rates of excess mortality in the world.
Petousis-Harris provided the chart below from Our World in Data to support her points. It shows that New Zealand is below zero for "excess mortality" throughout the pandemic, meaning expected deaths were lower than projections despite the spread of the virus.
Deaths started to rise only when the omicron variant began to spread in late 2021 but still remained lower than expected, based on previous years and before the advent of COVID. While the excess mortality of other developed nations went up, New Zealand stayed below expected levels: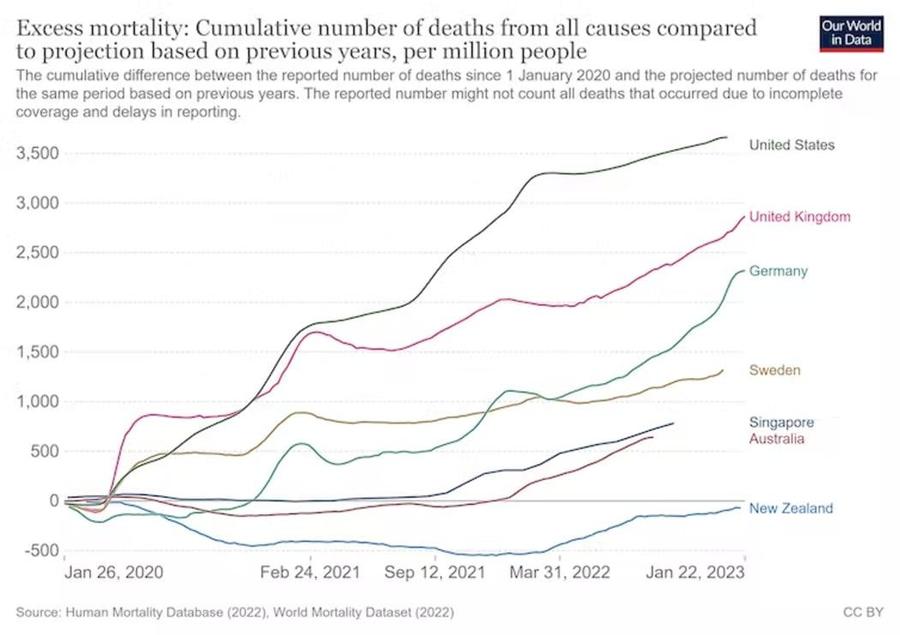 (Source: Our World in Data screenshot taken on Tue Mar 7 2023 UTC)
Still, the increase in deaths for 2022 was more than expected based on projections data, according to Rebekah Hennessey, an insights analyst with Stats NZ, New Zealand's official data agency. In a March 7, 2023, email to Lead Stories, she said:
Numerically it is the highest increase in 100 years (an increase of 3,642 deaths). But annual percent increase, it is actually the second highest (10.4 percent).

In 1938, there was a 10.9 percent increase in deaths than in 1937 (although this was only 1,662 more deaths numerically).
The surge followed the spread of the omicron variant, but other factors played into it, too. Hennessey added:
The increased number of deaths in 2022 was impacted by the COVID-19 pandemic.

This includes people dying directly from COVID-19, people who might have missed out on healthcare as a result of the pandemic, and people who were protected by increased hygiene awareness and lockdowns in previous years (2020 had fewer winter season deaths), who died during 2022.
In his email, Baker said, "The increase in mortality in 2022 is largely explained by direct Covid-19 deaths" following widespread infection. The country had followed an "elimination strategy". Under it, all pandemic controls were focused on getting to and maintaining zero COVID, according to the Ministry of Health website. The main measure used was tight border controls to keep the virus out. Short lockdowns were occasionally used to help end outbreaks when they occurred, but for most of 2020 and 2021 life within New Zealand returned to normal. When that strategy lifted in early 2022, Baker said, things changed with COVID-19 circulating widely for the first time:
By contrast, the elimination strategy largely prevented Covid-19 circulation in 2020 and 2021, with New Zealand recording only 48 Covid-19 deaths in 2020 and 2021.

It is also worth noting that New Zealand achieved high vaccine coverage in 2021 with two doses of the Pfizer mRNA vaccine administered to most adults. This was a period with low excess mortality. Mortality only rose in 2022, corresponding to widespread infection. If vaccine caused excess mortality, then we would have expected to see a rise in deaths in 2021, but we saw the opposite.
Baker continued:
Despite the large increase in mortality in 2022, New Zealand still has negative excess mortality for the period of the pandemic (ie 2020 up until the present date in March 2023). In other words, mortality is less here than if the pandemic had never happened. This remarkably positive outcome is because of two beneficial effects of the elimination strategy: (1) The strategy delayed widespread circulation of the virus giving NZ time to achieve high vaccine coverage before the population was highly exposed, which effectively reduce mortality from the infection by 5-10 fold, and (2) Elimination measures also largely stopped circulation of influenza and other serious respiratory infections resulting in very low excess winter mortality for 2020 and 2021.
Additional Lead Stories fact checks related to COVID vaccines can be found here.
2023-03-07T21:30:19Z

2023-03-07T21:30:19Z

Adds context to the description of "elimination strategy."