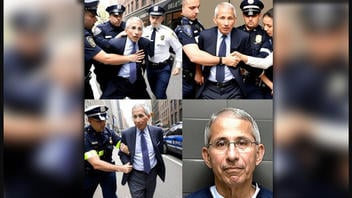 Do images circulating on social media show press photos of Anthony Fauci under arrest and in police custody? No, that's not true: Fauci, the former director of the National Institute of Allergy and Infectious Diseases, has not been arrested. These are not photos of a real incident but are images generated by an artificial intelligence program.
Jack Posobiec posted the images on Instagram with no caption on March 23, 2023. That same day he also posted the composite image on Twitter with no caption.

This is how the post appeared on Instagram at the time of writing: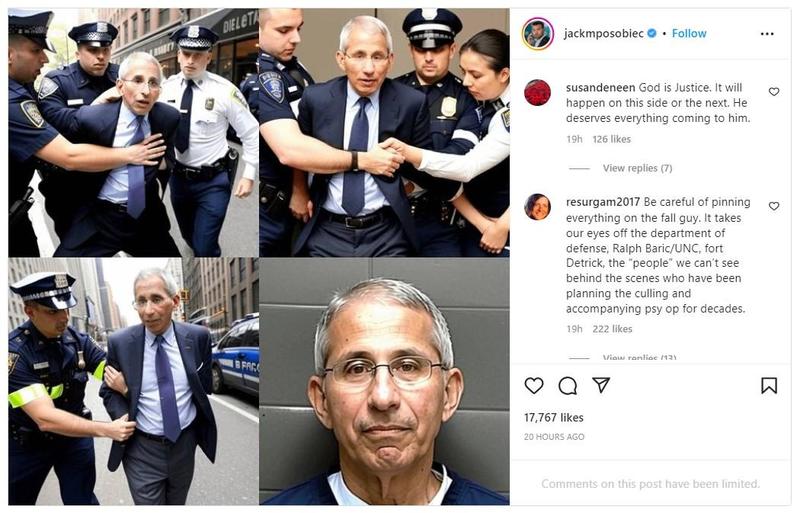 (Image source: Instagram screenshot taken on Fri Mar 24 17:32:46 2023 UTC)
Some of the instances of these images shared on social media indicated this was an imaginary scene. Benny Johnson, a right-wing podcaster, tweeted the picture with the caption:
Who wants to see it?
A post on the forum board patriots.win was captioned:
AI can generate porn?
Fauci has not been arrested and these images are a fabrication. Right now, automated tools to detect AI-generated images are not publicly available. When it comes to high-profile figures such as Fauci, it is possible to verify if the event in question actually happened.
In some cases the person who first posted the images will identify that they made them with an AI program such as Midjourney or Dall-e 2. Some AI-generated images contain flaws that are easy for people to spot -- if they are looking. One of the most common flaws currently are misrendered hands with extra or missing fingers. Additionally, the images in question can be compared to authentic photographs of the person to find differences that would confirm the AI likeness is not the real person.
The Lead Stories composite image below (will open larger in a new window) highlights some of the characteristic flaws of these generated images. The technology is constantly advancing and the glitches found in today's renderings may be resolved in the future. Text in the background on the store sign and police car does not spell real words. Several of the hands have extra fingers or fleshy protrusions. The policewoman in the upper right photo appears to have a right hand attached to her left arm. It's hard to tell which person is connected to some of the hands. A cbsnews.com still from the March 22, 2020, edition of "Face the Nation" serves to compare differences between the real Fauci and the AI-generated mugshot.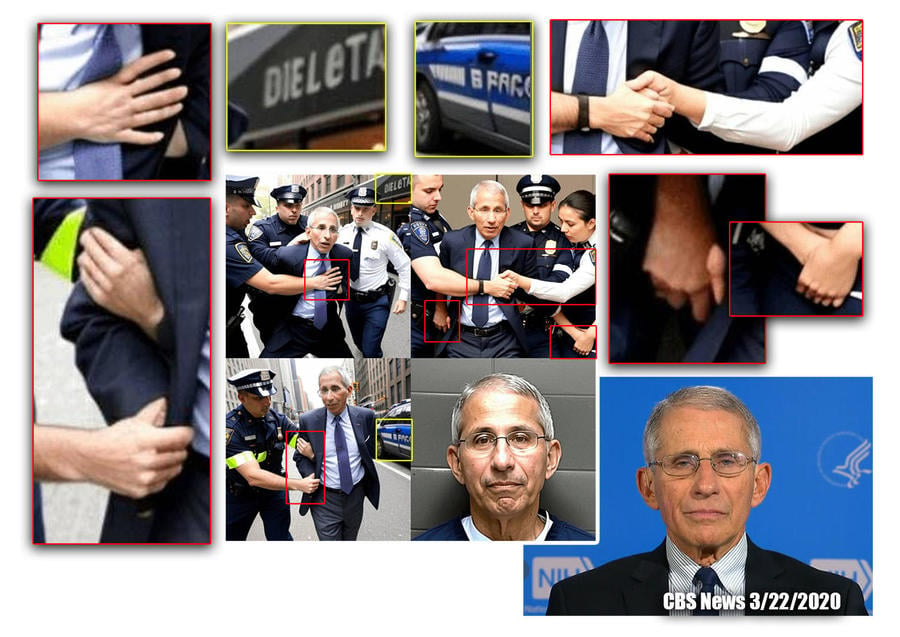 (Image source: Lead Stories composite image made with Twitter and cbsnews.com screenshots on Fri Mar 24 21:08:23 2023 UTC)
In recent weeks, images generated with AI tools featuring scenes of arrests of notable people have been surfacing on social media. Lead Stories debunked one arrest series that featured the likeness of former President Donald Trump.
Another instance, a 26-second slideshow of AI-generated stills was posted in the comments below Posobiec's Fauci tweet -- it featured the likeness of Fauci, President Joe Biden, Hunter Biden, Mitch McConnell, Lindsey Graham, Bill Gates, former President Barack Obama, Hillary Clinton and George Soros. The images in the video were blurry and framed as if seen in the viewfinder of a video camera (pictured below left), which further obscured the AI image characteristics. The full-resolution copies of this set of AI-generated arrests used in that slideshow were shared by the Twitter account @mentorX9 on March 22, 2023.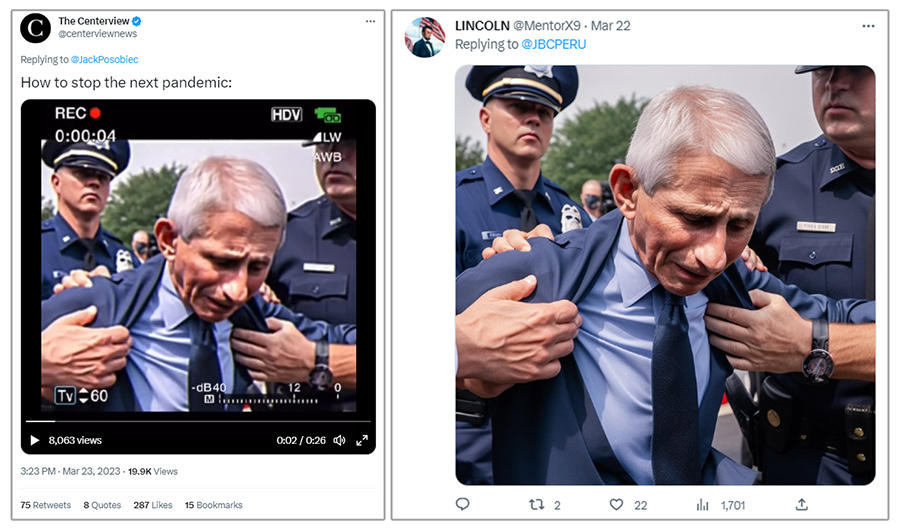 (Image source: Lead Stories composite image from Twitter screenshots taken on Fri Mar 24 21:46:20 2023 UTC)