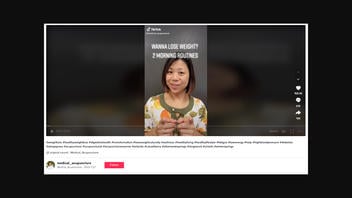 Will rubbing your hands and fingers together every morning cause you to lose weight? No, that's not true: There is no evidence that such a practice will contribute to weight loss.
The claim appeared in a video (archived here) posted to TikTok on July 27, 2022, by the user @medical_acupuncture, who is professionally known as Hiroko Shimoda. In the video, Shimoda opens by saying:
Wanna lose weight? Here are two morning routines that you're going to do every single day. It's gonna help you lose weight. Routine number one: Interlock your hands, interlock your fingers, like this, and rub them together. You're gonna rub the palm and the fingers like this all together and do it for one minute. When you wake up in the morning, do this first thing in the morning. What is this? This is reflexology. We have nerves in our hands that are connected to every single parts of our body and organ.
Throughout the video, Shimoda demonstrates the rubbing hands and fingers technique. Another of her TikTok claims has been previously debunked by Lead Stories.
This is how the video appeared on TikTok at the time of writing: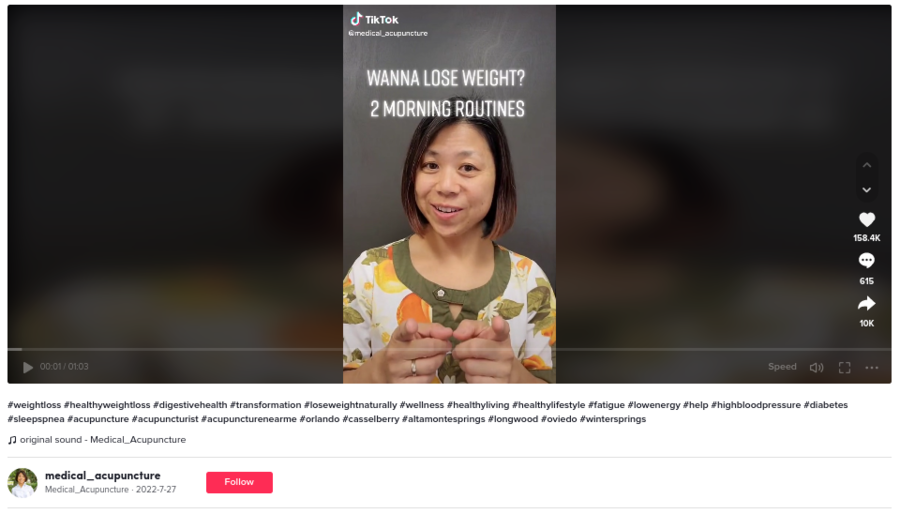 (Source: TikTok screenshot taken on Wed Mar 29 14:32:57 2023 UTC)
The National Center for Complementary and Integrative Health defines reflexology as:
... a practice in which different amounts of pressure are applied to specific points on the feet or hands. These points are believed to match up with certain other parts of the body.
The NCCIH currently notes that claims that reflexology causes healing and relaxation in the body are not supported by evidence.
Lead Stories reached out to Joan Salge Blake, a clinical professor of nutrition at Boston University and host of the nutrition podcast "Spot On!", for comment on the claim made in the TikTok video. During a phone interview on March 29, 2023, Salge Blake said she has not seen any studies corroborating the claim throughout her 39-year career.
In a March 29, 2023, email sent to Lead Stories, Melody Pearson, president of the Reflexology Association of America, told us that reflexology is often misunderstood, but that this hand-rubbing is not even part of reflexology. Pearson wrote:
We see the feet, hands and outer ears as a microcosm of the entire body. Our work is focused on specific points and pressure. I am not aware of any reflexology method that would involve rubbing one's hands together. We would be more likely to hold specific points on the hand(s). I do know there are other modalities that move energy by rubbing the hands together, but it is not reflexology.

Also, we do not have a protocol for weight loss. We know that our work can help balance and promote wellness in bodily organs that assist with proper weight, but it does not involve rubbing of the hands.
According to a peer-reviewed, systematic review of studies measuring the efficacy of reflexology treatment published in 2010, "the best clinical evidence" does not support the idea that reflexology is a sufficient treatment "for any medical condition."
Another peer-reviewed, systematic review published in 2008 concluded there is no evidence that reflexology can effectively treat specific conditions, including bronchial asthma and irritable bowel syndrome. While the review noted that reflexology treatment may assist with easing some urinary symptoms associated with multiple sclerosis, the study that tested that claim used a small sample size.
A resource discussing healthy weight loss from the Centers for Disease Control and Prevention says that healthy weight loss is achieved by "a lifestyle with healthy eating patterns, regular physical activity, and stress management." There is no information included on the websites of the CDC, the NCCIH, the National Library of Medicine or the World Health Organization that supports the claim made in the TikTok video.
Lead Stories also reached out to the American Reflexology Certification Board for comment on the claim. We will update this story with any responses.
More Lead Stories fact checks of claims related to reflexology can be found here.