STORY UPDATED: check for updates below.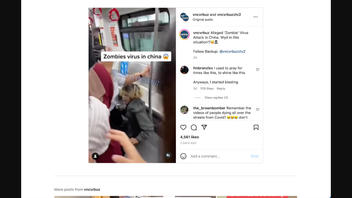 Did a virus that turns its host into a zombie get released in China? No, that's not true: This video shows an event put on by the Jakarta Light Rail Transit and an event organizer in Indonesia. Multiple videos on social media also prove that this was organized entertainment.
The claim appeared on Instagram on March 26, 2023. The video begins with a shaking camera moving through a subway car full of panicked people moving towards a door. Text on-screen read:
Zombies virus in china 😱
Here is what the Instagram post looked like at the time of writing: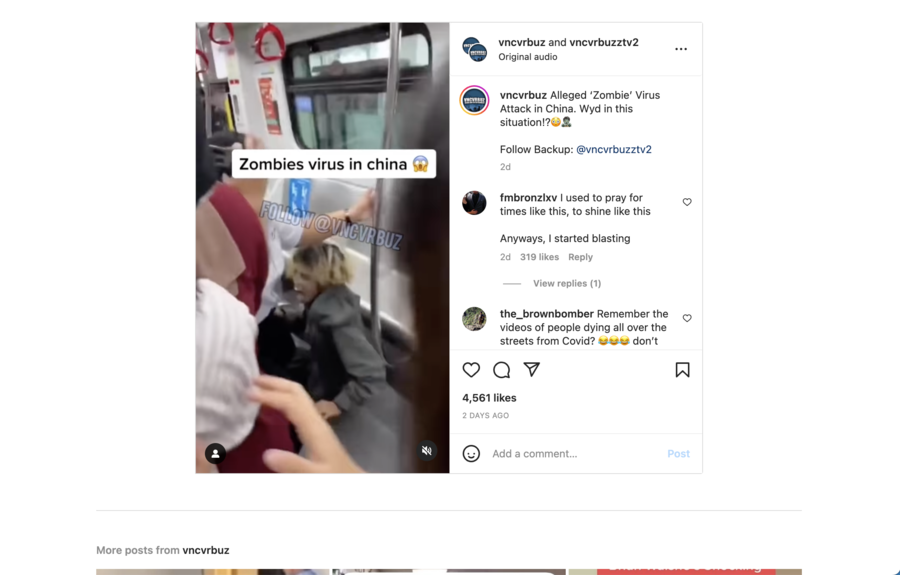 (Source: Instagram screenshot taken on Wed Mar 29 15:50:39 2023 UTC)
The link to the ticketed event shows the "Train To Apocalypse" ran from August 5, 2022, to September 11, 2022. Local Indonesian news sources wrote that it was zombie-themed train rides. We translated one of the articles using Google Translate:
Train to Apocalypse is a collaboration between LRT and an event organizer called Pandora Box. This event will give you an extraordinary sensation. Where zombie groups attack train passengers like the South Korean film, Train To Busan.
A July 31, 2022, video on Pandora Box's Instagram page advertises the event. An almost three-minute video on TikTok shows a group of people going through the attraction. The hashtag "#traintoapocalypse" can be seen in the caption.
A Google News search for "Zombie virus in China" did not result in articles reporting new information on a new virus.
We have reached out to the Jakarta Rail Transit and Pandora Box. In a March 29, 2023, email, the Jakarta Rail Transit confirmed that this footage is from an event hosted by the transit service:
Regarding the video, it is a "Train to Apocalypse" event held in Jakarta, organized by ... Lintas Raya Terpadu (LRT Jakarta) which has collaborated with the Pandora Box event organizer ... So through this event, people can try an interesting experience as if they were being chased by zombies on a train like the scene in the film [Train To Busan].
We received an Instagram direct message from Pandora Box on March 30, 2023. They confirmed that this was one of their events:
Yes thats (sic) our past event

U (sic) can see at our feed/reels
More Lead Stories fact checks about events in China can be found here, here and here.
2023-03-30T15:15:23Z

2023-03-30T15:15:23Z

Added responses from Jakarta Rail Transit and Pandora Box