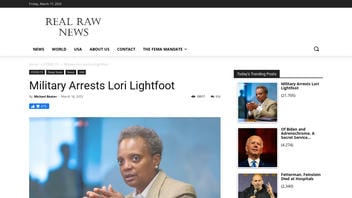 Did the U.S. military arrest Chicago Mayor Lori Lightfoot as of March 17, 2023? No, that's not true: It is not the U.S. military's jurisdiction to arrest civilians. This claim comes from a website that regularly publishes fabricated content.
The claim appeared in an article published by Real Raw News on March 16, 2023, titled "Military Arrests Lori Lightfoot | Real Raw News" (archived here). It opened:
United States Navy JAG investigators on Wednesday arrested disgraced Chicago Mayor Lori Lightfoot on charges of treason, JAG sources told Real Raw News. They have also detained Lightfoot's wife, Amy Eshleman, as an accessory to crimes Lightfoot committed before and throughout the Covid-19 Plandemic.
Users on social media only saw this title, description and thumbnail:
There have been no credible news reports to suggest Lightfoot was arrested by the U.S. military as of March 17, 2023.
Lightfoot's verified Twitter page featured a March 16, 2023 post where she is seen speaking in a live video, ultimately attending a ribbon-cutting ceremony for a local Chicago business.
The press release page on the Chicago office of the mayor's website did not report any recent arrest of Lightfoot. A March 17, 2023, press release titled "City of Chicago Announces Community Growers Program" instead issued recent remarks from Lightfoot about applications for the "city's community growers program."
A Yandex reverse image search shows the photo of Lightfoot in the Real Raw News article was taken from a May 18, 2020, Crain's Chicago Business article, titled, "Crain's Daily Gist podcast: How business grades Lightfoot's 1st year."
Under the 1878 Posse Comitatus Act, the military does not have the authority to arrest civilians. This act can be voided under certain circumstances explicitly authorized by the U.S. Constitution or Act of Congress. Congress.gov does not show any legislation that allows the military to arrest Lightfoot.
Lead Stories reached out to the office of the secretary of defense for a statement concerning this claim and will update this fact check if a response is received.
Real Raw News
Real Raw News is a website that consistently publishes made-up stories about U.S. politics. The well-written English and news-style layout of the website make it look like a legitimate news source, so it often fools people into believing the stories are real. Screenshots and copies of the stories regularly turn up on other websites or on social media where they are presented as real.
It bills itself as "humor, parody and satire" on the "about" page (archived here):
Disclaimer:
Information on this website is for informational and educational and entertainment purposes. This website contains humor, parody, and satire. We have included this disclaimer for our protection, on the advice on legal counsel.
The same "about" page claims the main author is a man named Michael Baxter. In 2021 a PolitiFact article (archived here) identified the writer as a "Michael Tuffin" in Texas based on records found in a GoFundMe campaign set up to support the site.
NewsGuard, a tool that provides credibility ratings for websites, published a five-page PDF report (archived here) in 2021 describing realrawnews.com as, "An anonymously run website that has published baseless and debunked conspiracies about COVID-19 and U.S. politics." It cautioned that the website severely violates basic journalistic standards."
Lead Stories has covered claims published by Real Raw News in the past. Previous Lead Stories debunks of Real Raw News items are collected here.