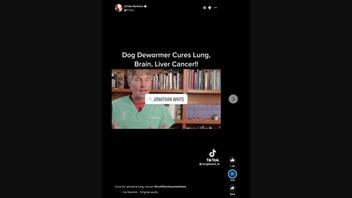 Does fenbendazole cure cancer? No, that's not true: While there have been some experimental studies, it has not been approved as a cancer treatment in the United States.
The claim appeared in a post republished from TikTok to Facebook on April 9, 2023. Its title said:
Dog Dewormer Cures Lung, Brain, Liver Cancer!!
This is what the post looked like on Facebook at the time of writing: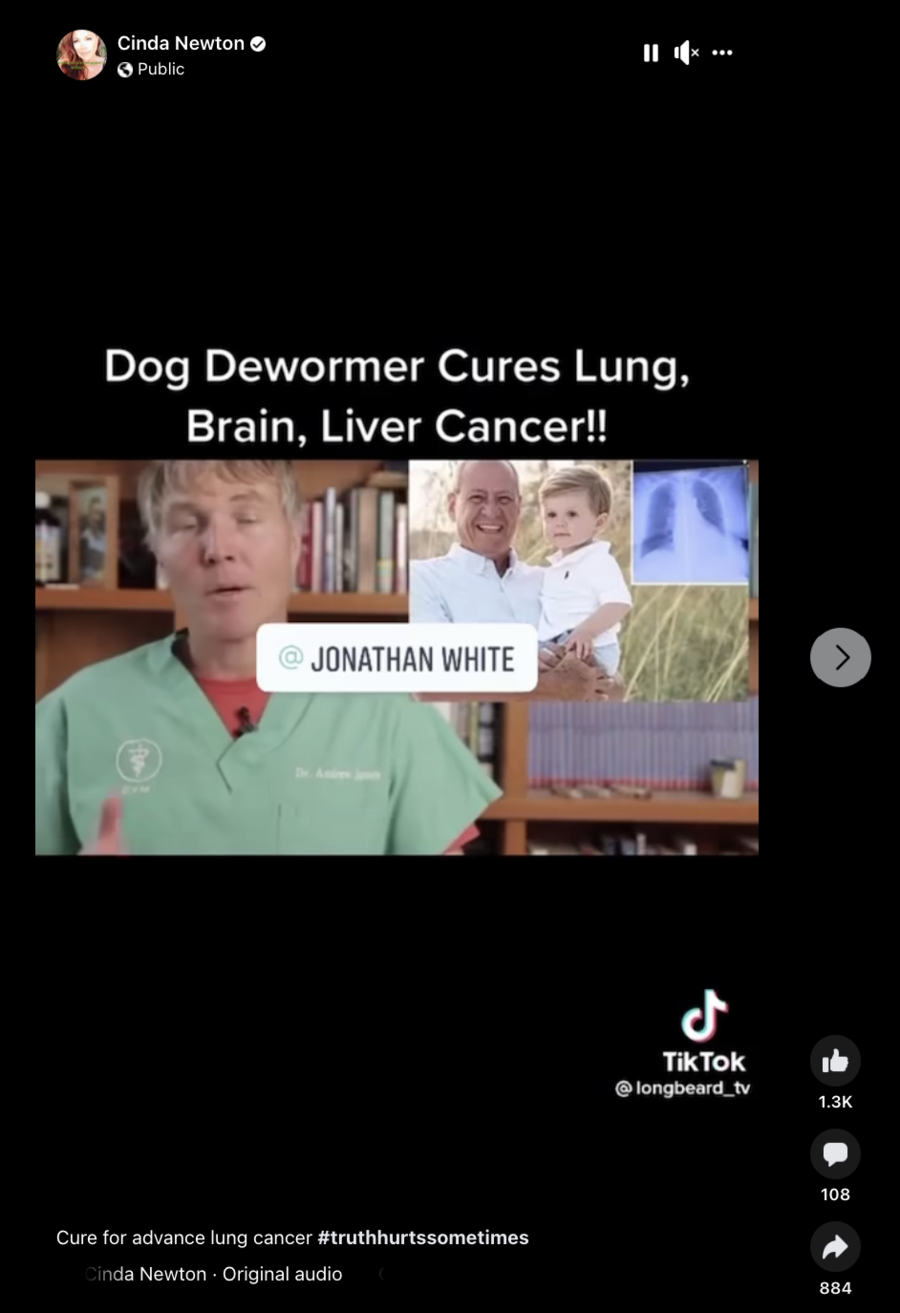 (Source: Facebook screenshot taken on Wed Apr 19 15:13:26 2023 UTC)
In the video, a man wearing what looks like hospital scrubs discusses the story of Joe Tippens, who told a local TV station in Oklahoma City in 2019 that fenbendazole saved his life after he had been diagnosed with terminal cancer several years before.
A reverse image search shows that the man in the green medical uniform, Andrew Jones, promotes himself on TikTok as a veterinary "doctor," not an oncologist.
In 2010, however, the College of Veterinary of British Columbia, one of the province-based main regulatory bodies for medical professionals in Canada where he lived at the time, found that his marketing strategies violated the Code of Ethics. He had to surrender his license over his push for "natural" and "alternative" medicine for animals.
Fenbendazole, mentioned in the claim, is a drug ordinarily used for deworming in dogs.
One of the first studies of its potential anti-cancer properties using mice was published in 2008. However, the authors described the findings cautiously:
Our study showed that fenbendazole alone did not significantly affect growth of the P493-6 human lymphoma cell line in SCID mice. Most importantly, our observation that fenbendazole in combination with supplemented vitamins significantly inhibited tumor growth has implications for its use during antitumor studies because it may cause unpredictable interactions with test substances and thus alter research results.
In 2013, another study reached the conclusion:
... no evidence that fenbendazole would have value in cancer therapy.
As of this writing, it is still not a proven cancer treatment.
An FDA spokesperson told Lead Stories via email on April 19, 2023, that fenbendazole is currently used as an active ingredient only in FDA-approved animal drugs against internal parasites, not in cancer treatment for people:
The FDA has not authorized or approved fenbendazole for use in preventing or treating cancer in humans. Of note, never use medications intended for animals on yourself or other people. Animal products are very different from those approved for humans and may cause toxicity and interfere with other medications.
The website of the National Cancer Institute says nothing about it:

(Source: Cancer.gov screenshot taken on Wed Apr 19 15:18:53 2023 UTC)
Other Lead Stories fact checks about cancer can be found here.