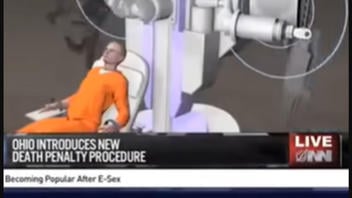 Did the state of Ohio introduce a new death penalty procedure that "quickly and humanely rips off the heads of death row inmates using powerful robotic arms"? No, that's not true: This spoof news video is from ONN, the Onion News Network -- the video branch of theonion.com, a satire news website.
The two-minute-long spoof news video titled "Ohio Replaces Lethal Injection With Humane New Head-Ripping-Off Machine" was originally posted by theonion.com on May 20, 2014. A short clip taken from the video was posted on Facebook by Blaine Elkins Reels on April 6, 2023, with the caption:
Watch Till The End #reels #reelsmedia #viral #facebookreelscontest
This is what the post looked like on Facebook at the time of writing: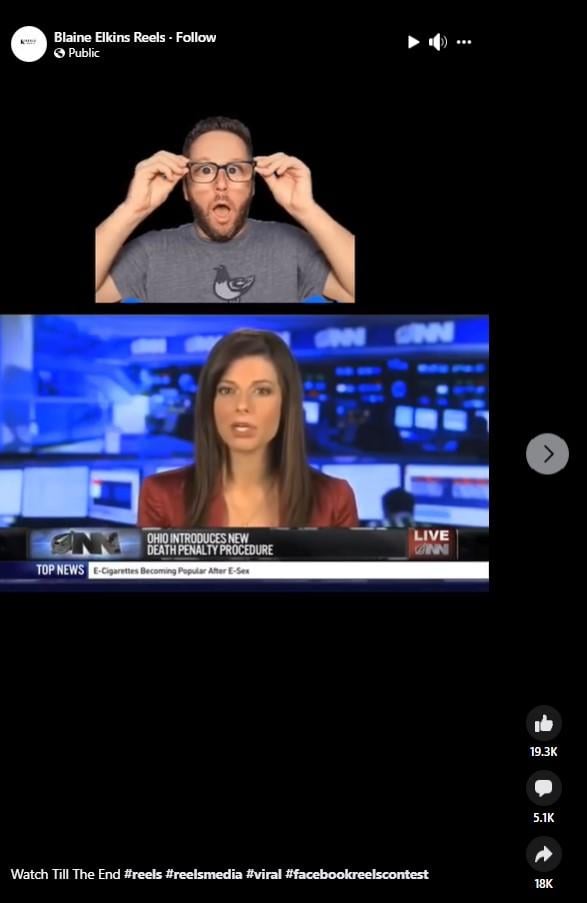 (Source: Facebook screenshot taken on Wed Apr 19 13:55:46 2023 UTC)
The shortened clip on Facebook, which does not mention the satirical source of the video, is only about 12 seconds long, and cuts off before some of the even more outrageous narration and computer animation from the original video. The screenshot below shows the 0:30 mark in the video as anchor Rachel Cole says:
... emitting soothing white noise and putting prisoners on a cushion seat before its metallic talons dig into their necks and painlessly wrench their heads off. Ohio Department of Corrections director Gary Moore praised the machine saying, quote: 'Our new system is a hallmark of compassion. Now these deaths will be pain free because the machine's claws are coated with topical anesthetic.'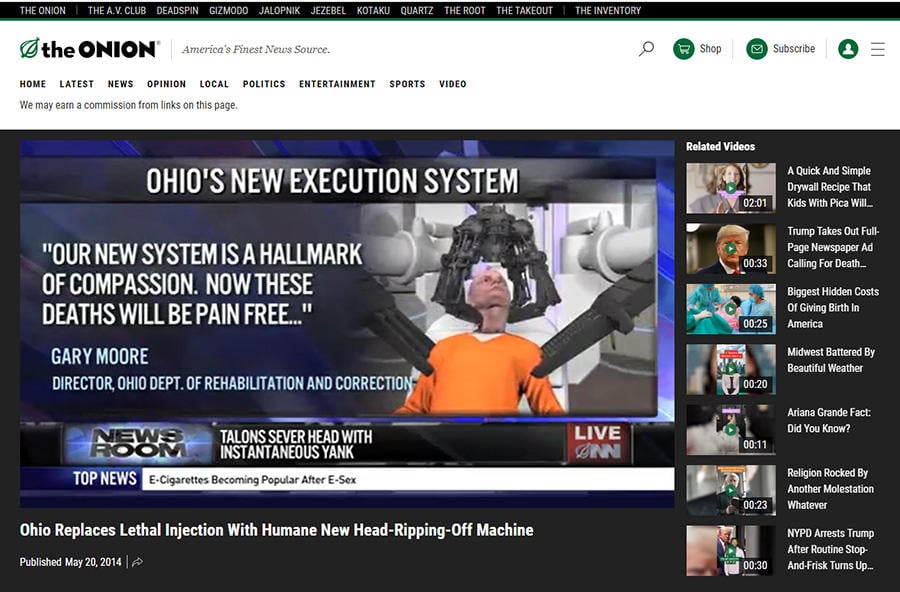 (Image source: theonion.com screenshot taken on Wed Apr 19 15:24:08 2023 UTC)
The original Onion post appeared just a few months after the controversial January 16, 2014, execution of Dennis McGuire by lethal injection in Ohio. The manufacturer of pentobarbital, a drug that had been used for lethal injections in the past, then had restricted it from being used for executions. Having exhausted the supply of pentobarbital the year before, Ohio used a new combination of drugs, midazolam and hydromorphone. Witnesses said McGuire gasped for air for 10 to 13 minutes after the drugs were administered.
The satire disclaimer on theonion.com is folded into one answer in its FAQ:
What if I want to sue The Onion?
Please do not do that. The First Amendment protects satire as a form of free speech and expression. The Onion uses invented names in all of its stories, except in cases where public figures are being satirized. Any other use of real names is accidental and coincidental. The Onion is not intended for readers under 18 years of age.
Lead Stories has also debunked claims that stemmed from The Onion that include the Centers for Disease Control and Prevention launching a 'It's Gay To Smoke' ad campaign, that a video shows "Rep. John Haller" reading an anti-terrorism bill with repeated "classified" parts and that a video claiming Mark Zuckerberg is a CIA agent is real.