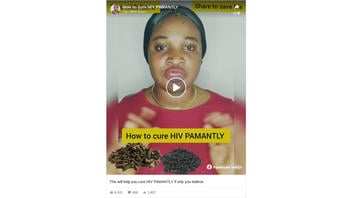 Can HIV be permanently cured by ingesting papaya leaf and black seed tea? No, that's not true: At the time of writing, no cure for HIV has been discovered by medical professionals. Although several false claims of a cure have been made since the emergence of the chronic disease in the 1970s, medical professionals have only found ways to treat and manage it for patients.
The claim appeared in a post published on Facebook on December 11, 2022. The post featured a video of a woman discussing a supposed permanent cure for HIV. The caption of the post read:
This will help you cure HIV PAMANTLY if only you believe
Throughout the video, the woman indicates that a mixture of papaya leaf, black seed and water must be ingested in the form of tea to cure HIV.
This is what the post looked like on Facebook at the time of writing:
(Source: Facebook screenshot taken on Wed Apr 19 14:51:08 2023 UTC)
There is no known cure for HIV, according to leading health organizations such as the National Institute of Allergy and Infectious Diseases, the Centers for Disease Control and Prevention, the U.K. National Health Service and the Mayo Clinic.
However, medical professionals have made major strides in treating HIV, with increased access to antiretroviral therapy, allowing for the mortality rates of the disease to decrease significantly in the past two decades. Prevention medication such as pre-exposure prophylaxis and post-exposure prophylaxis has also made a difference in the transmission of HIV.
Although some peer-reviewed articles have studied the potential of papaya and black seed to treat HIV, Lead Stories did not find any evidence that either of the two can actually cure the disease.
One of the most notable figures who has claimed to cure HIV/AIDS was the now-deceased Alfredo Bowman. Bowman, a self-proclaimed herbalist, was more popularly known as "Dr. Sebi" although he was not a doctor, medical or otherwise. Bowman did not cure HIV/AIDS. Lead Stories has debunked several other health claims attributed to Bowman-as-Dr.-Sebi.
Lead Stories has also debunked claims that HIV can be cured through a so-called "healing oil" and that it can be cured naturally by boosting one's immune system.