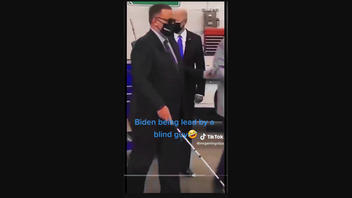 Does a video show President Joe Biden being led into a room by a blind man? No, that's not true: Biden was escorting a blind man into an event in Kansas City, Missouri, allowing the man to hold his arm as they were ushered to their places for a speech by Biden.
The claim appeared in a video (archived here) published on TikTok on March 19, 2023. It opened:
Biden being led by a blind guy
This is what the post looked like on TikTok at the time of writing: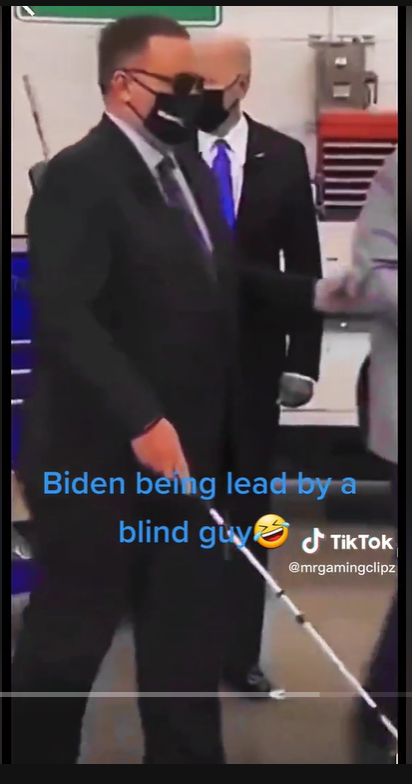 (Source: TikTok screenshot taken on Tue Apr 4 17:51:50 2023 UTC)
Biden escorted the blind man to the Kansas City Area Transportation Authority event on December 8, 2021, as footage published on C-SPAN shows.
The 15-second TikTok video shows Biden being ushered into the event with an aide and the blind man holding onto his right arm for guidance. At four seconds the chyron quotes Biden saying, "Where am I? I'm right here??" as he checks if he is standing in the correct place for the event. The aide then gives the blind man his arm for guidance as they move off-camera for the event.
A C-SPAN transcript shows Biden asked "where am I" and then stood still, saying, "I'm right here boss. Let's go over here."
The C-SPAN footage has a wider camera angle and shows the whole room as Biden enters with the blind man's hand on his arm. Biden walks to a spot that has a yellow x mark in tape on the floor and stands in place to give his speech. The unidentified blind man is escorted by the aide to the side of the room. This screenshot shows Biden enter the room leading the blind man: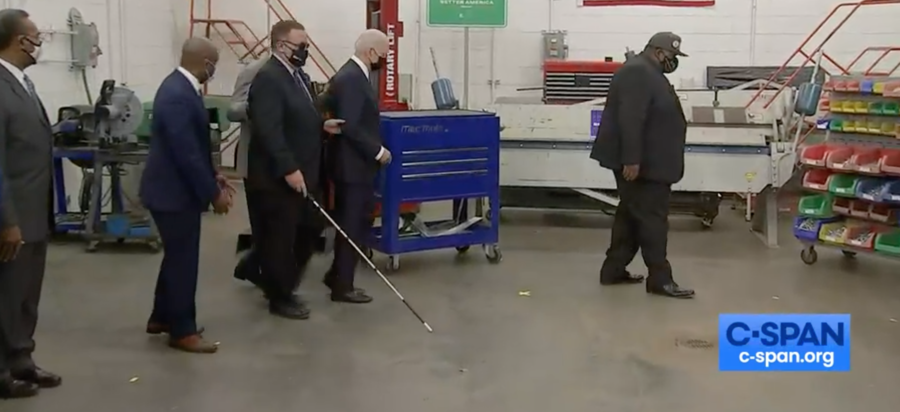 (Source: C-SPAN screenshot taken on Tue Apr 4 18:16:12 2023 UTC)