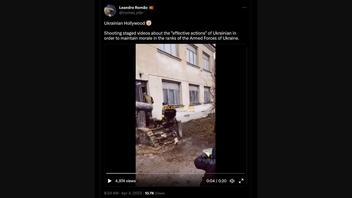 Did Ukraine stage war scenes to boost the morale of its soldiers at the frontlines by exaggerating their success? No, that's not true: A clip used as "proof" by social media users actually shows backstage footage from a real movie set located outside Ukraine.
The claim appeared in a tweet (archived here) published on April 4, 2023. It said:
Ukrainian Hollywood 🤡

Shooting staged videos about the 'effective actions' of Ukrainian in order to maintain morale in the ranks of the Armed Forces of Ukraine.
Here is what it looked like at the time of writing: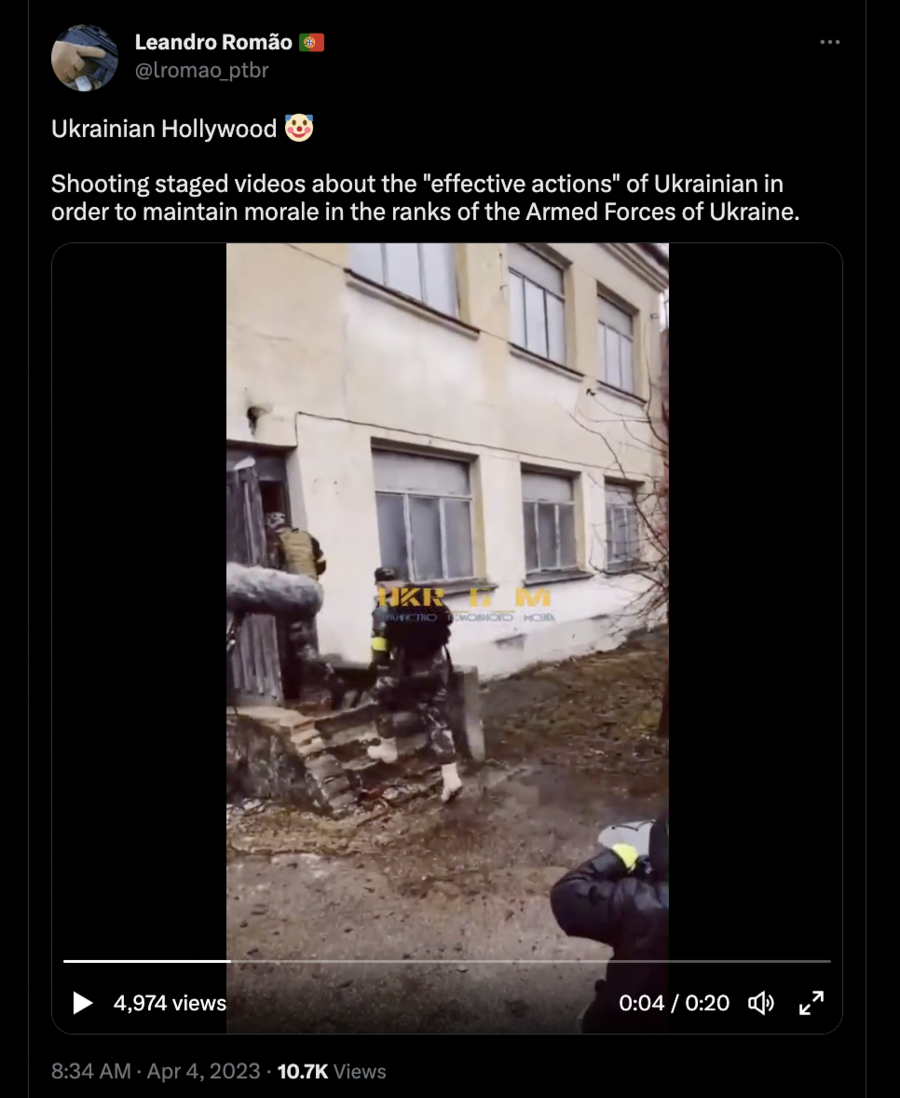 (Source: Twitter screenshot taken on Tue Apr 4 19:07:41 2023 UTC)
However, the video in question was not recorded in secret or leaked by an insider of the purported covert staging team -- it was backstage b-roll from an actual movie set in Sigulda, Latvia. The footage was videotaped in broad daylight by Latvian journalists producing a report for the Russian-language desk of the Latvian public broadcaster LTV.
Contrary to the claim, the storyline is not centered around "effective actions" -- the plot focuses on a young woman who witnesses the death of her partner and learns how to continue living her life after that.
According to the report, also available on YouTube, the scene showed Latvian police officers playing Ukrainian soldiers who decided to shelter in an abandoned building in the Donetsk region, not knowing it had already been targeted.
The film director Artyom Kocharyan told Latvian journalists (at the 0:41 mark), as translated by Lead Stories from Russian:
This is a key scene. Why? Because precisely at this moment, the main female character loses the loved one. She hears what is going on because it is happening during their phone conversation.
On a separate occasion, talking to the Ukrainian state news agency Ukrinform, Kocharyan said the project's title is "Hope." He also emphasized (at the 0:40 mark), as translated by Lead Stories from Ukrainian:
This is not a documentary - this is a movie.
One account promoting the claim on Twitter previously shared a false statement about White House Press Secretary Karine Jean-Pierre, debunked by Lead Stories here.
Other Lead Stories fact checks about the war in Ukraine can be found here.