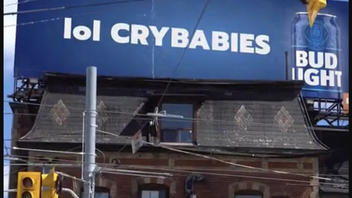 Did Bud Light introduce a new "lol CRYBABIES" billboard campaign as a response to recent backlash over the brand's association with transgender social media personality Dylan Mulvaney? No, that's not true: This is not a real ad campaign from Bud Light. The "lol CRYBABIES" image is a digital manipulation by TikTok video creator @.jamisonlightfoot, who has posted other videos with similar edits as well as "behind the scenes how it was made" videos. The billboard in this Toronto neighborhood currently features an ad for Disney+.
On April 21, 2023, @.jamisonlightfoot posted a 10-second video to TikTok (archived here) that featured moving elements and two different views of the faked billboard. Screenshots from Lightfoot's video were posted on TikTok by @jessicagolich on April 21, 2023, and posted on Twitter (archived here) by Andrew Wortman on April 21, 2023.
The caption on @jessicagolich TikTok reads:
#duet with @.jamisonlightfoot #budlight #greenscreen Omg Bud L!ght ain't playing no games 🤣🤣🤣🤣🇺🇸 #budlightlolcrybabies #budlightbillboards #budlightdylanmulvaney #dylanmulvaneyedit #dylanmulvaneybudlight #budlightofficial #budlightboycott
Wortman's tweet was captioned:
Gotta say, I'm a fan of the new Bud Light billboards.
This is what the post looked like on Twitter at the time of writing: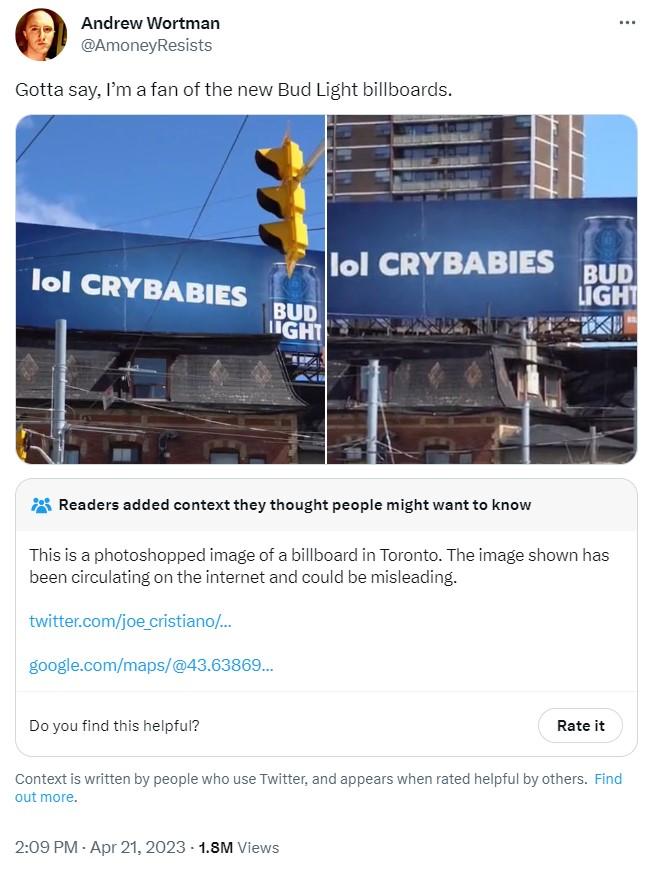 (Source: Twitter screenshot taken on Mon Apr 24 15:51:15 2023 UTC)
The controversy regarding Bud Light and Dylan Mulvaney is not the subject of this fact check -- but for context: Mulvaney, a transgender social media influencer, posted a video on Instagram on April 1, 2023, that showed a personalized Bud Light can that had been sent to Mulvaney to celebrate her "Day 365 of Womanhood." This sparked a backlash against the Bud Light brand. An April 22, 2023, article in Forbes titled, "More Bud Light-Dylan Mulvaney Fallout: Marketing Executive Out Amid Far-Right Uproar" outlines more of the background. Lead Stories has recently published fact checks debunking claims that the CEO of Anheuser-Busch resigned and that Budweiser brands had been uninvited to Munich's Oktoberfest.
There is a real billboard in the Parkdale neighborhood of Toronto, but it's not a Bud Light ad that says "lol CRYBABIES," it's an ad for Disney+. The alternative message was an editing spoof by Lightfoot. Lead Stories reached out to him through the email listed on his TikTok account: "lightfoot.edits.good at gmail.com," but has not received a reply at the time of publishing.
There are other videos where Lightfoot demonstrated his video editing with behind-the-scenes views. In one video he showed how he created the appearance of a vacation to Mexico from a snow-covered rooftop in Canada. In another video he showed how he edited an offering of a stir-fried rice noodle dish, Pad Thai, onto an illuminated menu sign at a Tim Hortons coffee shop.
Joe Cristiano, Toronto resident and radio producer with NewsTalk1010, saw the pictures of the fake Bud Light ad posted on Twitter and recognized the intersection right away. He took some photos of the billboard above the Gyro Bar Souvlaki Kitchen on his way home from work and shortly after shared the photo of the real billboard on Twitter along with the edited image. He confirmed with Lead Stories that he took the photos at 9:30 a.m. on April 21, 2023. Cristiano posted another photo of the Disney+ billboard on April 23, 2023. The real ad (pictured on the right in the tweet below) reads:
All of these and more only on Disney+
Cristiano's tweet was captioned:
Saw this first photo circulating on Twitter. I said, 'I know that intersection.' So went to look. Sigh. That would have been funny though... #Toronto #BudLight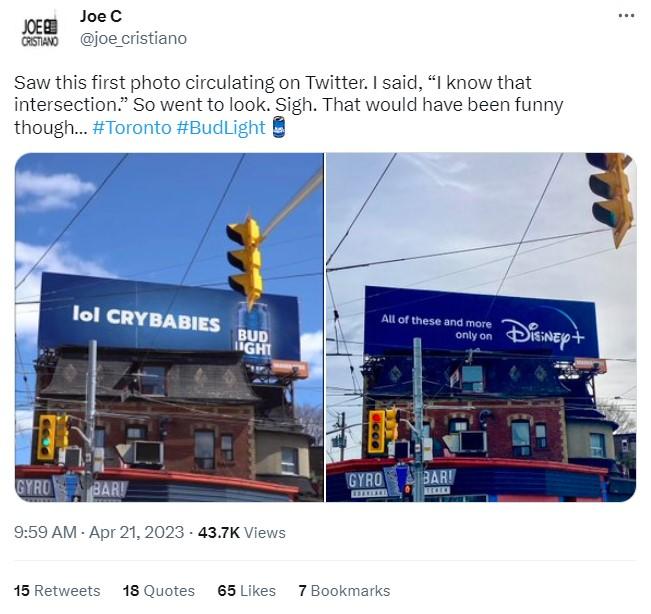 (Source: Twitter screenshot taken on Mon Apr 24 17:35:07 2023 UTC)
An orange logo for Branded Cities appears in the lower right corner of the billboard. Lead Stories reached out to Branded Cities, an out-of-home advertising company, and received a reply by email on April 24, 2023, from the president of the Canadian division, Toby Sturek. He wrote:
The advertisement for Bud Light that has been circulating on social media is not a genuine advertisement. We would like to formally clarify that the billboard images have been manipulated and altered from their original form. Attached is a photo of the current advertising campaign that Disney Plus has displayed on the billboard.
(Image source: attached file from Branded Cities email Mon Apr 24 17:35:07 2023 UTC)