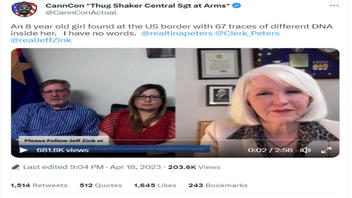 Does a video interview with former Arizona congressional candidate Jeff Zink prove a "little 8-year-old girl had 67 different DNA samples inside of her"? No, that's not true: The sheriff's office in Cochise County, Arizona, where the migrant child was purportedly found, said it has no record of such a case during several years around the approximate date Zink says the girl was taken to the hospital and seen by a doctor. Any sexual assault victim received at a local hospital would have been investigated by the sheriff's office.
The claim appeared in a post and video on Twitter (archived here) published on April 18, 2023. An article published on April 19, 2023, on the BizPac Review website (archived here) also details the claim made in the video. The post said:
An 8 year old girl found at the US border with 67 traces of different DNA inside her. I have no words. @realtinapeters @Clerk_Peters @realJeffZink
This is what the post looked like on Twitter at the time of writing: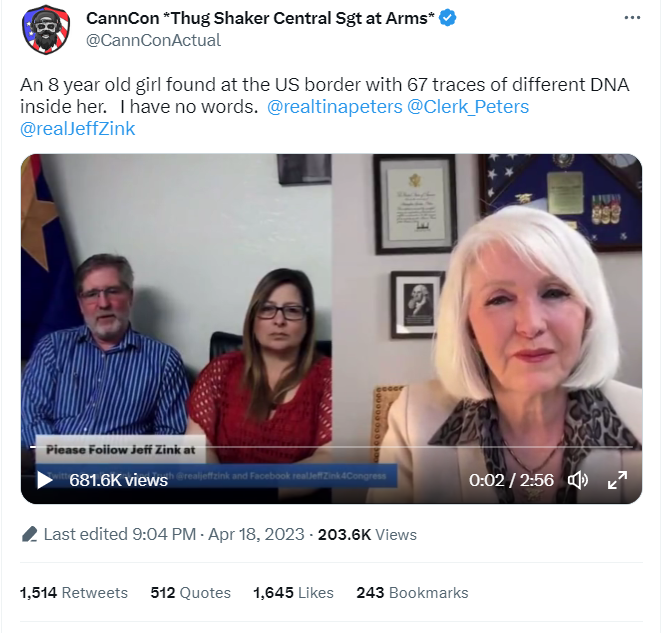 (Source: Twitter screenshot taken on Fri Apr 21 15:29:20 2023 UTC)
The nearly three-minute video shows Zink talking with Tina Peters, former clerk of Mesa County, Colorado, about an encounter he said he had with border patrol agents and immigration officials near Arizona's border with Mexico. This is what Zink said a few seconds into the clip:
I had taken a news crew down and we were doing a tour of the border, and came across ICE [Immigration and Customs Enforcement] and Border Patrol on horseback, and also on ATVs, and they told us to be very careful, that there were coyotes in the area ... and they had executed the husbands of the two women and two daughters that they were now looking for.
The news crew mentioned by Zink is one person, named George Nemeh. He's an independent reporter, video producer and host of MAAP Real Talk Show. His videos can be found on various platforms, including Facebook, Instagram and Twitter.
In a series of phone interviews with Lead Stories on April 19 to April 20, 2023, Zink said the two men ran into the Border Patrol agents in rugged terrain near Douglas, Arizona, in late February 2021. Zink couldn't remember the specific date. In a separate phone interview on April 20, 2023, Nemeh told Lead Stories that their location was about 10 miles from Douglas and said that the general timeline given by Zink sounded right. A video of the men talking with the agents on ATVs and horseback along the border can be seen here (archived here).
In the video interview posted to Twitter, Zink said the women and girls he mentioned previously were later found. About 53 seconds into the clip he said:
We did come across them and so, in carrying one of the 8-year-olds to the car and then we eventually got them to medical treatment and to the Border [Patrol], ICE and stuff, started talking to them. Now, I got a medical background, so started evaluating them and the 8-year-old little girl couldn't speak, she couldn't talk, she couldn't do anything at all.
In his phone interviews with Lead Stories, Zink said he is not a physician but does hold a bachelor's degree in kinesiology and a master's in sports medicine.
Nemeh told Lead Stories that this part of Zink's story took place without him. He said he wasn't allowed to enter a facility along the border because agents didn't want him filming. Nemeh remained at the car with his equipment and never saw the women or the girls, he said.
About 75 seconds into the video interview, Zink continued his story:
So, when we finally turned them over and they took them to the hospital and stuff, and I talked to the doctor in regards to what was going on. I got a call from him and he said, basically, professional [to] professional in the medical field, 'I just wanted to let you know the little 8-year-old girl had 67 different DNA samples inside of her.' So, these are the things that people don't know about and they don't understand ...
Because of the seriousness of his claim, Lead Stories asked Zink for additional details about his involvement with the medical treatment given to the women and girls. After speaking with Peters, he provided few additional details for our story:
Well, my knowledge is, is that it was an EMT group that grabbed them and took them and sent them to the hospital and stuff.
Zink also told Lead Stories he never saw the EMTs that he said came to treat them.
No. We left because the Border Patrol asked us to leave.
Both Zink and Nemeh told Lead Stories there were "coyotes" -- a reference to human smugglers -- in the area and they heard lots of gunshots, making it unsafe for them to remain there.
Although in his story Zink immediately transitioned from the girl being taken to a hospital to a doctor giving him information that suggested the girl had been sexually assaulted dozens of times, he told Lead Stories that "the phone call came about 2½ to three months later." In their phone conversation, Zink said the man told him, "We just want you to get the story out."
Zink acknowledged in his phone interviews with Lead Stories that he doesn't know the identity of the man who called him with the purported DNA information and also admitted that he doesn't know if that person is a doctor:
They didn't identify themselves at all. ... I don't have a clue.
Zink said he gave his contact information to the Border Patrol, which might have been passed along to whoever called him about the girl. The disclosure brings up troubling questions about patient privacy if there was truly a patient.
HIPAA privacy rule
Medical records in the United States are carefully regulated under the Health Insurance Portability and Accountability Act of 1996 (HIPAA). The website for the Department of Health and Human Services describes it this way:
The HIPAA Privacy Rule establishes national standards to protect individuals' medical records and other individually identifiable health information (collectively defined as 'protected health information') and applies to health plans, health care clearinghouses, and those health care providers that conduct certain health care transactions electronically. The Rule requires appropriate safeguards to protect the privacy of protected health information and sets limits and conditions on the uses and disclosures that may be made of such information without an individual's authorization.
Natalie O'Shea, marketing and public relations manager at Copper Queen Community Hospital in Bisbee, Arizona, told Lead Stories in an April 19, 2023, phone interview that it's doubtful a medical professional would release patient details because of HIPAA regulations:
The likelihood of one of our doctors divulging any sort of information, I mean ... They would lose their medical license. No doctor in their right mind would go to a political figure and divulge such information.
Cochise County Sheriff's Office
The descriptions by Zink and Nemeh put their encounter with border and immigration authorities well within the borders of Cochise County in southern Arizona. Carol Capas, public information officer with the Cochise County Sheriff's Office, told Lead Stories in an April 19, 2023, email that their records cast doubt on the purported sexual assaults that Zink said would have been reported in late February 2021:
I have checked our database and I did not find any record of Jeffrey Zink and/or a case regarding this activity in the time period of 2020-2022. ...

If this were the case with a sexual assault occurring in our county/or victim at our medical facility, we would have been contacted and conducted an investigation. The Cochise County Sheriff's Office does not have any reports confirming this incident.
U.S. Customs and Border Protection
Customs and Border Protection (CBP) told Lead Stories in an April 19, 2023, email that the agency has been unable to verify the information in Zink's claim. It added that the details about the alleged sexual assaults wouldn't have been provided to the CBP in any case, noting that it's private medical information that would have only been shared with the appropriate local law enforcement agency, family or guardian.
Arizona Department of Child Safety
Lead Stories received a similar response in a query to the Arizona Department of Child Safety about Zink's claims involving the girl. Darren DaRonco, public information officer for the agency, said this in an April 20, 2023, email:
We cannot comment due to confidentiality laws.
In his final phone interview on April 20, 2023, Lead Stories asked Zink if not knowing the identity of the person giving him the purported DNA information hurt his case or made his story less believable. He said, no, that it was more important to get out the story about the "hundreds of thousands of women and children" who are being sexually abused on their way to the United States. Zink concluded:
I don't care what other people think. ... I don't know this individual. ... The atrocities that are taking place - that should be the focus. ... Prove me wrong.