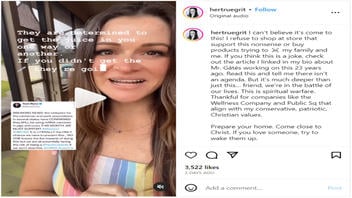 Do mRNA vaccines used on animals cause the involuntary vaccination of the people who eat their meat? No, that's not true: The Nebraska Center for Virology says there are "no commercial veterinary mRNA vaccines," but even if the shots were available, the mRNA would be destroyed, either by cooking or once it got to the human stomach. It wouldn't cause involuntary vaccination.
The claim appeared in a post and video on Instagram on April 8, 2023. The description for the post says:
I can't believe it's come to this! I refuse to shop at store that support this nonsense or buy products trying to ☠️ my family and me. If you think this is a joke, check out the article I linked in my bio about Mr. Gâtés working on this 23 years ago. Read this and tell me there isn't an agenda. But it's much deeper than just this... friend, we're in the battle of our lives. This is spiritual warfare. Thankful for companies like the Wellness Company and Public Sq that align with my conservative, patriotic, Christian values.





Prepare your home. Come close to Christ. If you love someone, try to wake them up.
This is what the post looked like on Instagram at the time of writing: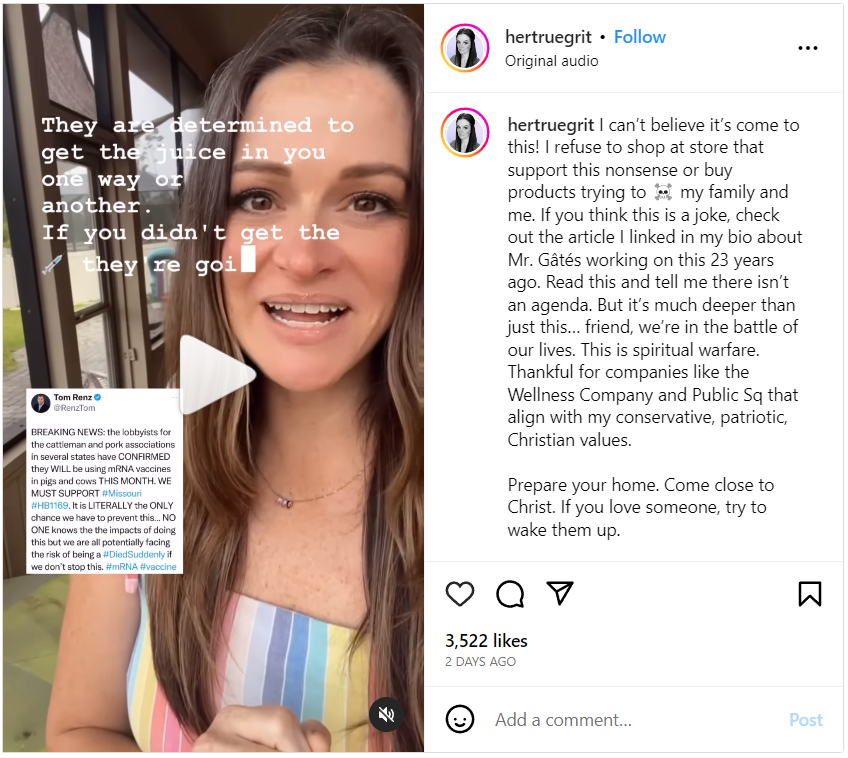 (Source: Instagram screenshot taken on Tue Apr 11 15:50:21 2023 UTC)
The woman narrating the nearly minute-long clip takes an anti-vaccine stance before launching into a sales pitch for antibiotic- and hormone-free beef products. She says:
They are determined to get the juice [vaccine] in you one way or another.

If you didn't get the [shot] they're gonna to put it in your meat, as soon as this month!
To prove its case, the video features a post on Twitter by Tom Renz, who is not a journalist but bills himself as an attorney and freedom fighter. The clip also includes an excerpt on animal vaccination from a show called "Crossroads with Joshua Philipp," a channel of the far-right Epoch Times. Both are cited as evidence that "they" are trying to vaccinate us through the food we eat.
The tweet by Renz appears below:
BREAKING NEWS: the lobbyists for the cattleman and pork associations in several states have CONFIRMED they WILL be using mRNA vaccines in pigs and cows THIS MONTH. WE MUST SUPPORT #Missouri #HB1169. It is LITERALLY the ONLY chance we have to prevent this... NO ONE knows the the... pic.twitter.com/OQ6ti0Xsww

-- Tom Renz (@RenzTom) April 1, 2023
A few days after the post by Renz, the National Cattlemen's Beef Association (NCBA) released a statement regarding "false information circulating on social media about the use of mRNA vaccines in cattle." The April 5, 2023, release said:
There are no current mRNA vaccines licensed for use in beef cattle in the United States. Cattle farmers and ranchers do vaccinate cattle to treat and prevent many diseases, but presently none of these vaccines include mRNA technology.
Eric Weaver, director of the Nebraska Center for Virology at the University of Nebraska-Lincoln, told Lead Stories in an April 11, 2023, email that he agreed, saying the claims in the post and video simply aren't true. He said:
There are no commercial Veterinary mRNA vaccines. There are some in research stages, but, for almost all cases, mRNA is not a cost-effective animal vaccine platform. If you were to eat uncooked meat from a mRNA vaccinated animal, the mRNA would be digested by the acids and enzymes in the stomach. mRNA is very unstable and if the meat was cooked, the mRNA would be destroyed.

Every living thing that we eat contains mRNA. The mRNA is either destroyed during processing/cooking or during digestion and is not expressed.
Jason Menke, director of consumer public relations at the National Pork Board, told Lead Stories in an April 11, 2023, phone interview that there are no mandatory vaccinations in hog production. Such decisions are made by the farmer and the veterinarian.
But when medicine is given, there are mandatory wait times, based on U.S. Department of Agriculture guidelines, before the animal can go to market. Menke added:
Those medications, those vaccines, etc. have clear times, and that's going to depend on the medication, the dose and a number of other factors. ...

The bottom line here is pork from vaccinated animals is safe to consume as vaccines are not present when pigs enter the food supply.
Additional fact checks related to COVID-19 vaccines can be found here.
Additional fact checks related to the Epoch Times can be found here.