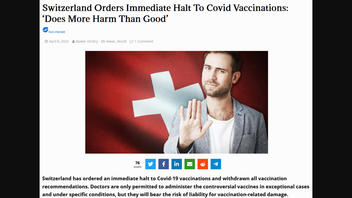 Did Switzerland health officials declare in April 2023 that COVID-19 vaccines do "more harm than good" and order an "immediate halt" to immunizations? No, that's not true: In a statement, the Swiss government reported that 98 percent of the population had antibodies against SARS-CoV-2, either from a previous vaccination or infection. Because predominant virus variants were anticipated to be in low circulation in the spring and summer of 2023, officials determined that a majority of the population had a low risk of becoming seriously ill and were not recommended for further vaccination against COVID.
The claim originated in an article published by The People's Voice on April 8, 2023 (archived here), titled, "Switzerland Orders Immediate Halt To Covid Vaccinations: 'Does More Harm Than Good.'" It began:
Switzerland has ordered an immediate halt to Covid-19 vaccinations and withdrawn all vaccination recommendations. Doctors are only permitted to administer the controversial vaccines in exceptional cases and under specific conditions, but they will bear the risk of liability for vaccination-related damage.
Below is how the article appeared at the time of writing: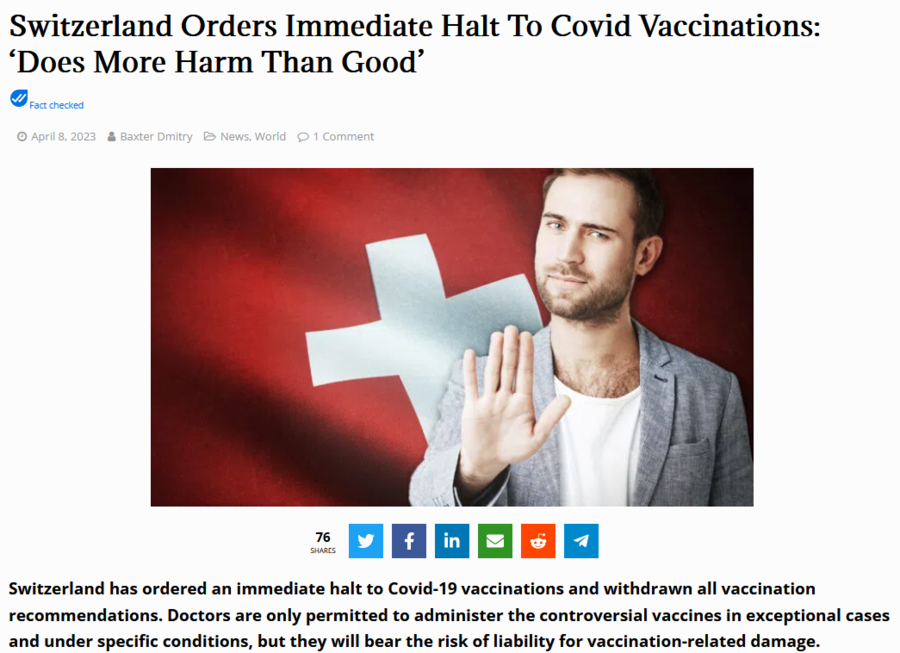 (Source: The People's Voice screenshot taken Tues April 11 10:16:00 UTC 2023)
The article cites updated vaccination recommendations released by the Federal Office of Public Health (FOPH) and the Federal Commission for Vaccination (EKIF) on April 3, 2023, for the spring and summer of 2023. (Lead Stories uploaded the 26-page document in both German and English for reference.) Due to expected low virus circulation and a high level of immunity in the population, FOPH and EKIF did not recommend further vaccination against COVID. Data showed that as of June and July 2022, an estimated 98 percent of the population in Switzerland had antibodies against SARS-CoV-2, suggesting that almost every person had either been vaccinated against or had recovered from COVID infection.
In some cases, the agencies noted that at-risk individuals could be vaccinated against COVID at the discretion of their physician. In the event of a COVID outbreak, at-risk individuals whose last vaccination dose was more than six months prior could also be recommended for vaccination.
Neither the document cited above nor the website hosting it (archived here) claimed that COVID vaccinations caused "more harm than good." There was also no mention of an "immediate halt" to vaccine distribution. Rather, health officials cited the importance of vaccines in previously preventing the spread of COVID and slowing the pandemic in its initial stages.
The April statement was an update to recommendations published on November 29, 2022 (German and English), as part of a revolving policy to regularly update vaccination recommendations to reflect the changing situation of the virus, including variant and subvariant emergence, immunological situation of the population and mRNA vaccine strategies.
"Vaccination against Covid-19 is a key element in combating the health, economic and social consequences of the Covid-19 pandemic," wrote the agencies in November 2022, citing the transition of SARS-CoV-2 becoming a regularly occurring endemic disease rather than a pandemic.
The People's Voice (formerly NewsPunch, formerly YourNewsWire) has published numerous hoaxes and fake news articles in the past. Their Facebook page "The People's Voice" lost its verification checkmark, according to a 2018 report from Media Matters For America. At the time, Lead Stories reported that YourNewsWire had rebranded itself as NewsPunch by changing its domain name in an apparent effort to evade filtering or blocking. Both sites are registered by a company called The People's Voice, which is run by Sean Adl-Tabatabai in California, reported FactCheck.org.
Lead Stories has also reported that Moderna's CEO did not admit the company produced 100,000 COVID vaccine doses in 2019, that new COVID variants did not stop "all the sudden" after Anthony Fauci's 2022 retirement, and that a case study did not prove that Pfizer COVID vaccines were linked to a fivefold increase in cancer biomarker.