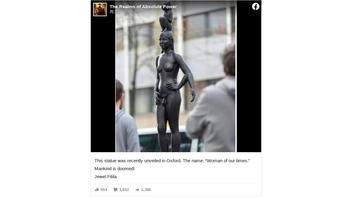 Does a photo show a sculpture named "Woman of our times" in Oxford, UK? No, that's not true: The artwork, which has a different name, has been displayed on streets of The Hague, Netherlands, since 2017. There is no evidence that it was relocated to Oxford. Also, the sculptor doesn't refer to the subject of this statue as a woman.
The claim appeared in a post on Facebook on April 12, 2023. The caption said:
This statue was recently unveiled in Oxford. The name: 'Woman of our times.'





Mankind is doomed!





Jewel Fitila.
This is what the post looked like on Facebook at the time of writing: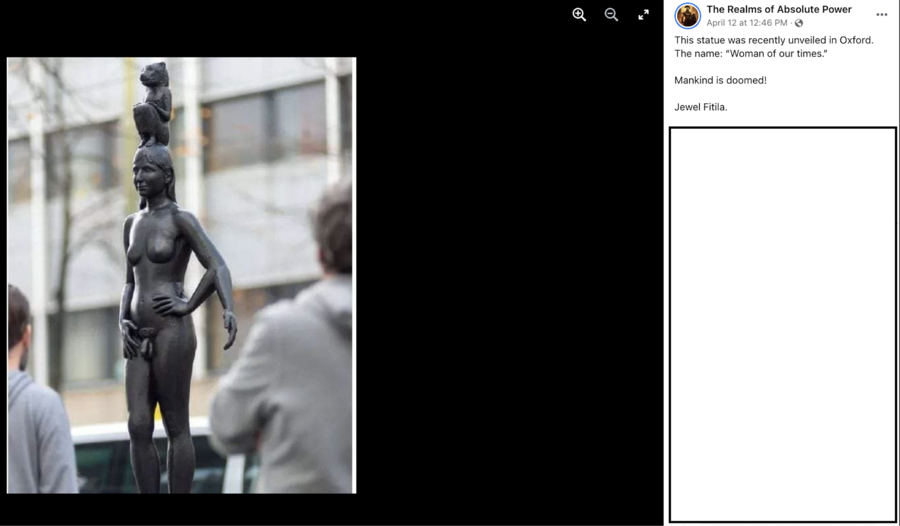 (Source: Facebook screenshot taken on Mon Apr 17 14:49:52 2023 UTC)
The claim circulated on TikTok, Twitter, Instagram and Reddit.
The picture in the post shows a statue located in The Hague, Netherlands, as seen on Google Maps. The artwork's actual name is "And Life Is Over There." It was created by the Netherlands-born artist Femmy Otten and first unveiled in October 2017, according to the website of the Dutch art center Stroom Den Haag. It says the artwork offered "a statement about freedom of thought" and explored the idea of "daring to be different," also citing the sculptor's words:
The Greek god Hermaphroditus was literally merged with his beloved. Ever since I started drawing and making my work genders have effortlessly merged into each other. For me this feels very natural. I can identify with the one or with the other. To me it feels strange to view men and women as separate entities - we are so deeply involved with each other and our lives are so intertwined.
This is the second location of the sculpture in The Hague, according to Reuters. At first, it was installed on Kalvermarkt street but then moved to Grote Marktstraat.
Lead Stories used several combinations of search terms but found no news reports about the statue being transferred to Oxford in the United Kingdom:

(Source: Google screenshot taken on Mon Apr 17 14:20:34 2023 UTC)
According to the website of Oxford University's gardens, libraries and museums, there is at least one sculpture depicting a similar subject. However, that marble statue of Hermaphroditus is not modern -- it was created centuries ago in ancient Rome.