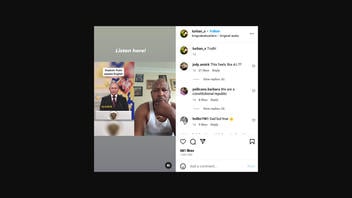 Is there a video clip of Russian President Vladimir Putin speaking in English to Americans and saying that they are interfering with their own democracy? No, that's not true: The clip is a "deepfake," a form of artificial intelligence used to appear as if it represents an actual event. The clip was created as a part of a voting campaign by a nonpartisan organization.
The clip, published with no context, appeared in an Instagram post on April 16, 2023. The clip showed what appeared to be Putin at a podium, alongside an unidentified man appearing to listen intently. Text over the split-screen videos said "Listen here!" The voice in the clip, also attributed to Putin, said:
America: You blame me for interfering with your democracy. But I don't have to: You are doing it to yourselves. Polling stations are closing, you don't know who to trust: you are divided. There are strings we can pull, but we don't have to. You are pulling them for us.
This is how the post looked on Instagram at the time of writing: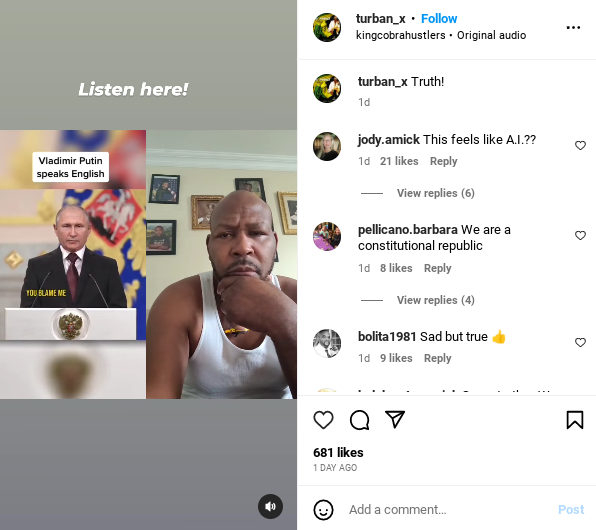 (Source: Instagram screenshot taken on Mon Apr 17 17:10:23 2023 UTC)
The reel posted to Instagram does not indicate that the clip is a deepfake. However, the footage was created as a part of the Save the Vote campaign by the nonpartisan organization RepresentUs, which describes itself as an advocacy group that calls for a government that is accountable to the American people. The YouTube channel for RepresentUs published a video containing the deepfake on September 29, 2020, titled "Dictators - Vladimir Putin." Immediately following the deepfake clip, text that appears in the video at the 25-second mark reads:
Democracy lives or dies with you.
Protect democracy at RepresentUs
This footage is not real, but the threat is. Join us.
Lead Stories searched for clips of Putin speaking English and addressing Americans directly and did not come up with any results that echoed the sentiments expressed in the deepfake clip.
Lead Stories has debunked several other deepfake videos. You can find those fact checks here.