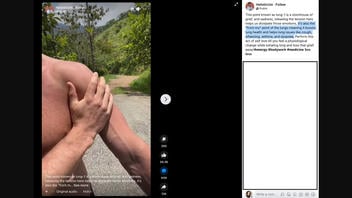 Does pressing the "lung 1" point on one's chest help to cure, treat or alleviate such conditions as cough, wheezing, asthma and dyspnea? No, that's not true: Lead Stories found no evidence supporting this theory.
The claim appeared in a post on Facebook on April 22, 2023. It contained a video showing a man pressing a spot on his chest next to his shoulder. The caption said:
This point known as lung-1...
It continued:
... it's also the 'front mu' point of the lungs meaning it boosts lung health and helps lung issues like cough, wheezing, asthma, and dyspnea.
This is what the post looked like on Facebook at the time of writing: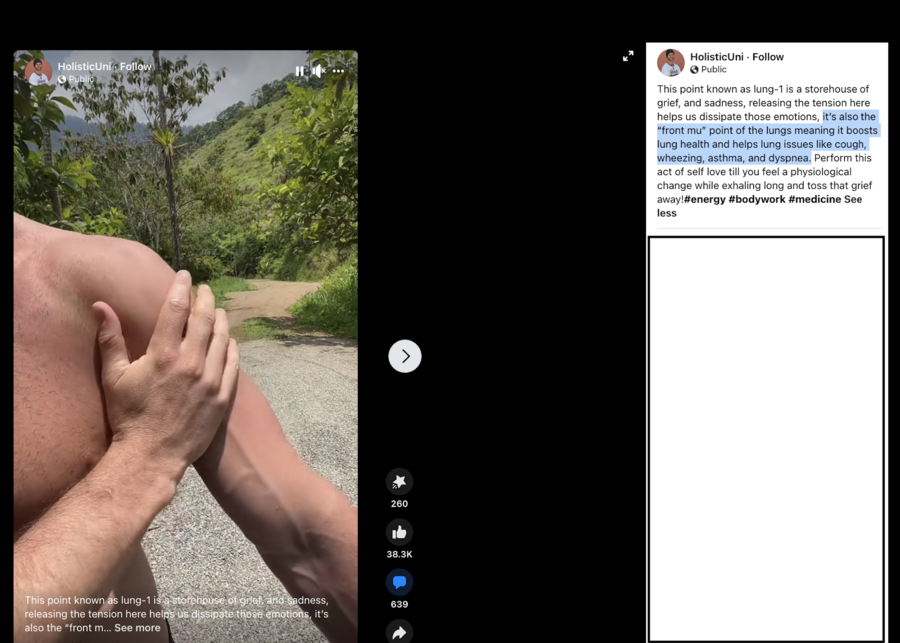 (Source: Facebook screenshot taken on Wed Apr 26 19:57:27 2023 UTC)
The same claim was posted by a related account on TikTok on April 22, 2023.
Lead Stories searched the National Library of Medicine, which indexes more than a million titles, and found no published peer-reviewed studies discussing the application of pressure to any points on a person's chest as a universal cure or treatment for "cough, wheezing, asthma, and dyspnea."
Asthma is a "long-term lung disease that causes episodes of coughing, wheezing, chest tightness and shortness of breath." The website of the Centers for Disease Control and Prevention says it can be controlled by the use of medications, not by pressing the "lung 1" point.
A 2019 video explainer from the Asthma and Allergy Foundation of America describes asthma as a chronic condition that cannot be cured. The recording, however, emphasizes that an abrupt withdrawal from medication during a symptom-free stage may trigger an episode; it says nothing about points called "lung 1" or "front mu."
The National Center for Complementary and Integrative Health (NCCIH), which evaluates nontraditional approaches to treating and managing different health conditions from the scientific perspective, says:
Evidence does not support using complementary health approaches instead of proven medical management for asthma.
Cough may be a symptom of many diseases, including the common cold, flu, acute bronchitis, pneumonia and COVID-19. Since they are caused by different factors, their treatment requires different approaches, but the CDC website doesn't mention the application of pressure on one's chest in any of these cases.
Dyspnea also may be a sign of a serious health problem and, thus, may require a more thorough investigation into its causes in order to determine the treatment.
No government resources contain any information about the supposedly existing point "lung 1" and its purported ability to "boost lung health," cure or treat any pulmonary diseases.
The claim is derived from an idea that acupressure -- a manual stimulation of certain points on the human body -- may heal the organs those points are believed to be connected with.
The NCCIH says nothing about acupressure being helpful in treating long diseases. It only contains information about acupuncture, which is similar, but, unlike acupressure, utilizes needles. The NCCIH does not recommend using it instead of approved treatments (under Asthma):
A review of 9 earlier studies (777 participants) showed that adding acupuncture to conventional asthma treatment improved symptoms but not lung function.
The Canada-based page that posted the claim on Facebook is linked to a website advertising "holistic" massages. The man commenting on lung health and providing this service lists multiple certificates, but no medical degree.
Lead Stories previously reported that hand and leg acupressure massages do not relieve asthma either.
Other Lead Stories fact checks about acupressure can be found here.