STORY UPDATED: check for updates below.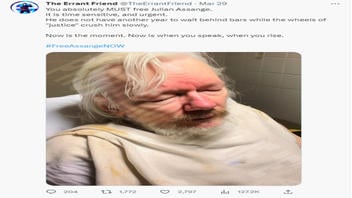 Does an image on social media show WikiLeaks founder Julian Assange pale and disheveled as he awaits extradition from Britain to the United States on espionage charges? No, that's not true: The picture was created using an AI-based image generator. In a German newspaper interview, the person who posted the photo acknowledged creating it and gave his reasons behind sharing it with the world.
The claim appeared in a post on Twitter (archived here) where it was published by "The Errant Friend" on March 29, 2023. The tweet says:
You absolutely MUST free Julian Assange. It is time sensitive, and urgent. He does not have another year to wait behind bars while the wheels of 'justice' crush him slowly. Now is the moment. Now is when you speak, when you rise.

#FreeAssangeNOW
This is what the post looked like on Twitter at the time of writing: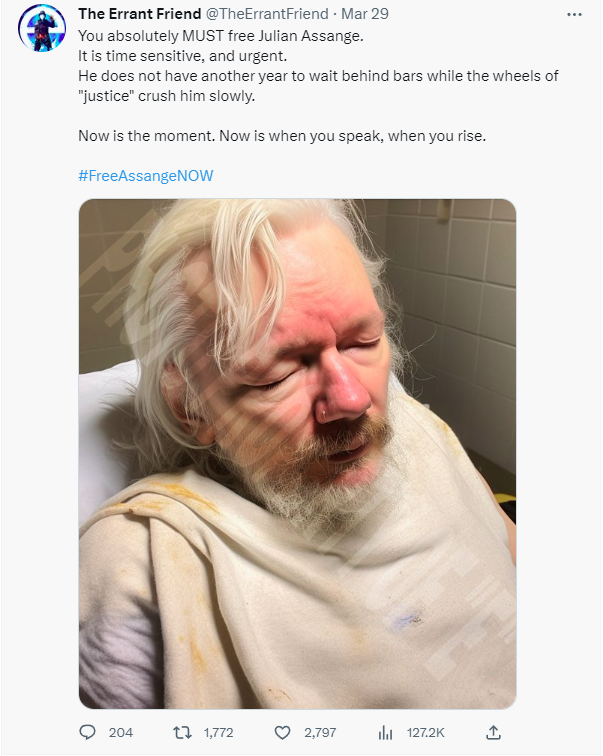 (Source: Twitter screenshot taken on Mon Apr 3 17:08:30 2023 UTC)
The text and image in the post suggest time is short for Assange, who is fighting extradition to the United States for his "alleged role in one of the largest compromises of classified information in the history of the United States," which included the publishing of classified documents on his WikiLeaks website, a Justice Department news release from 2019 says.
"The Errant Friend" responded to a Lead Stories query via Twitter Direct Message (DM) on April 5, 2023. He said he used the AI program MidJourney to create the photo. He continued:
My intention was to create an image based on the documented happenings around julian. After his arrest, he was basically barred from public appearance, including at his own trials. This means the public is unable to witness what has been done to him, but there is evidence of his decline mentally and physically. ... I sought, through this image, to create something that put people into a moral quandary. What does the public do when they can actively see that state of being? If we were to unerase his face.
"The Errant Friend" -- whose actual name was not included on his Twitter page nor was it given to Lead Stories in the DM response -- expanded on his reasons for creating the image of Assange and sharing it on social media:
It was designed to evoke a visceral response and to accurately represent what the public could not otherwise bear witness to. I felt it important to give Julians plight a more human face, the face the Intelligence Community has worked overtime to erase.
"The Errant Friend" identifies himself as a "former central developer of the AssangeDAO and other Assange related projects." The website for AssangeDAO says its mission is to "inspire a powerful solidarity network and fight for the freedom of Julian Assange."
Less than two weeks earlier, on March 17, 2023, "The Errant Friend" posted another image of Assange. This one showed him in jail: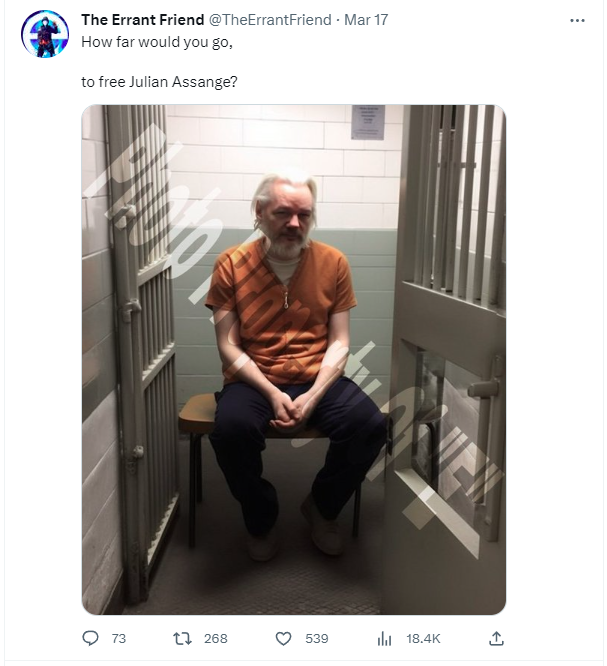 (Source: Twitter screenshot taken on Mon Apr 3 21:04:44 2023 UTC)
Both Assange images included the watermark, "Property of 'E'." In his response to Lead Stories, "The Errant Friend" explained his reasons for adding it:
I used MidJourneys version 5, an AI image creator to carefully manufacture it, and then watermarked the photo for effect and so people understood where it came from.
The account previously posted AI-generated images of Donald Trump. One of them was shared by the former president on his social media account. It appears below:
I made that photo.

:) https://t.co/dkvHy97ZHS

-- The Errant Friend (@TheErrantFriend) March 25, 2023
This is Trump's post on his platform Truth Social: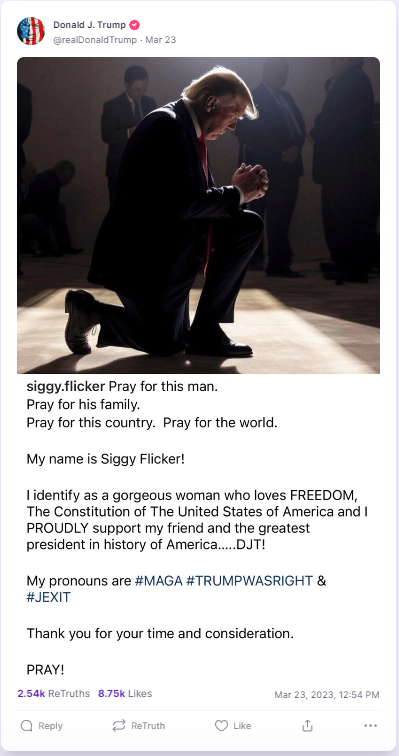 (Source: Truth Social screenshot taken on Mon Apr 3 21:37:57 2023 UTC)
Lead Stories has produced other fact checks of claims related to AI-generated images and deepfakes.
2023-04-06T12:46:07Z

2023-04-06T12:46:07Z

Adds Twitter DM response from "The Errant Friend" and substitutes for quotes used from a Bild magazine article; also, adds context.