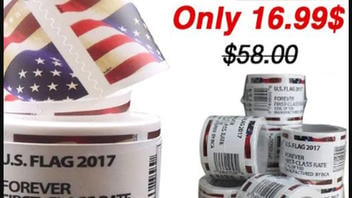 Is it possible to purchase real Forever Stamps at deep discounts through online resellers? No, that's not true: The United States Postal Inspection Service (USPIS), the federal law enforcement agency of the United States Postal Service, has issued a warning about the escalating problem of counterfeit stamps. USPIS warns that third-party wholesalers offer bulk quantities of stamps at discounts from 20 to 50 percent their face value and this is a tell-tale sign the stamps are bogus. The United States Postal Service never sells discounted stamps. Some "Approved Postal Providers" do offer very small discounts through resale agreements with the Postal Service.
The warning from the USPIS regarding counterfeit stamps was last updated on February 23, 2023. One example of a Facebook ad featuring deeply discounted Forever Stamps is a sponsored post that began running on April 2, 2023. The ad was paid for by the Facebook page Ussstamp and linked to the website ussstamp.com. It opened:
🎉Only $16.99! (usually $63)




📨100 pack: Forever Flying Flag Stamps




⏳22 January 2023: Post Office raises stamp price to 63 cents!




✅Up to 50% off




✈️Free shipping




👉Get it now before the next price increase!
This is what the ad looked like on Facebook at the time of writing: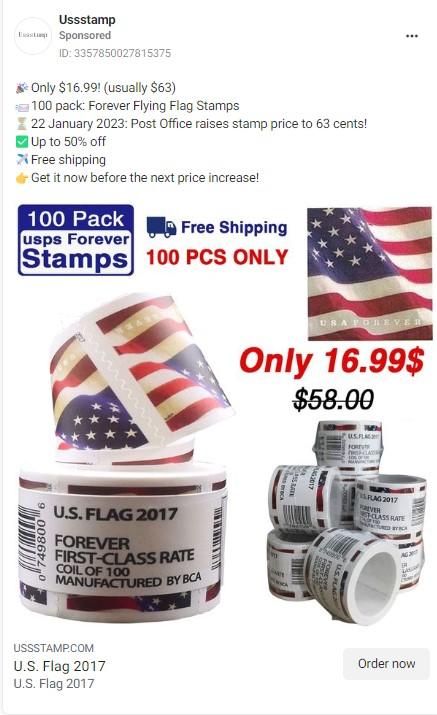 (Source: Facebook screenshot taken on Mon Apr 3 18:05:24 2023 UTC)
The Forever Stamp is a non-denominated first-class stamp that was first sold by the U.S. Postal Service on April 12, 2007, for the price of 41 cents. The idea behind Forever stamps is that the stamps retain their value as postage to mail a 1-ounce first-class letter "forever" -- regardless if the cost to mail a first-class letter changes. The price of a Forever Stamp has changed 13 times since 2007. The most recent price hike, from 60 to 63 cents, went into effect on January 22, 2023. As of this writing, a coil of 100 Forever Stamps from the USPS.com website costs $63.00.
On February 21, 2023, the USPIS published a "Scam Article" under the title, "Counterfeit Stamps," warning consumers, "Don't Get Stuck with Bogus Stamps." The article includes a link to the USPS.com information page about stamps and how to buy them, a link to report crimes to the USPIS.gov website, and a video (embedded below). The article explains:
The number of counterfeit stamps being sold from online platforms has escalated. Scammers peddle fake stamps on social media marketplaces, e-commerce sites via third party vendors, and other websites. Counterfeit stamps are often sold in bulk quantities at a significant discount-anywhere from 20 to 50 percent of their face value. That's a tell-tale sign they're bogus.

Purchasing stamps from a third-party wholesaler or online websites can be unpredictable. You have no way to verify whether they are genuine or not. The Postal Inspection Service recommends purchasing from Approved Postal Providers™. Approved vendors can include legitimate "big box" or warehouse retailers who do provide very small discounts on postage stamps, but this is through resale agreements with the Postal Service.
At the start of this video the USPIS advises consumers to "walk on by" discounts of up to 50 percent on Forever Stamps as they are counterfeit. Lead Stories found many websites with discounts even steeper than that, offering coils of 100 forever stamps from $29.99 to as little as $16.99 -- between 52 and 73 percent less than current price of first-class postage. Lead Stories found similar promotions with coils of 100 stamps priced below $30.00 on Twitter, Instagram, Amazon, and eBay. Sponsored ads also appear with "forever stamp" search results and in the "shopping" listings on Google.com and DuckDuckGo.
In the June 13, 2022, episode 90 of the podcast "Conversations with Philatelists" (that is a stamp collector), philatelist and stamp appraiser Wayne Youngblood spoke on the topic of counterfeit stamps. His presentation included a PowerPoint showing some of the differences between real and counterfeit stamps and he outlined the detection challenges facing the USPIS. At 11:07 minutes into the video Youngblood offered this advice to consumers:
I don't make blanket statements very often, but one that I will make regularly is there really is no such thing as discount Forever Stamps. The Postal Service does not discount its stamps. So if you were offered discount Forever (Stamps), you know dealers have no reason to discount them either at this point because they're always worth first-class. So if you're offered discount Forever Stamps, at this point there's one of two things: 99 percent of the chance that they're counterfeit, but if they're not counterfeit, they're stolen. You're going to want to stay away from them anyway. So a good rule of thumb for anyone is, there is no such thing as a discounted Forever Stamp -- and that's just a good thing to keep in mind.