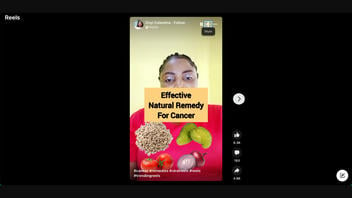 Is eating soursop, beans, tomatoes and onions a cure for cancer? No, that's not true: An oncologist and a dietitian told Lead Stories this combination of foods is no cure. Instead, the two experts advocated for a healthy, balanced diet to stave off a cancer diagnosis. A previous Lead Stories fact check also debunked the claim that soursop was more powerful than chemotherapy.
The soursop-beans-tomatoes-onions claim appeared on Facebook (archived here) where it was published on April 6, 2023, with the hashtags, "#cancer #remedies #viralreels #reels #trendingreels." The on-screen text over the narrator's face read, "Effective Natural Remedy For Cancer." The narrator opened with:
In today's video, I want to teach the effective remedy for cancer.
This is what the post looked like on Facebook at the time of writing: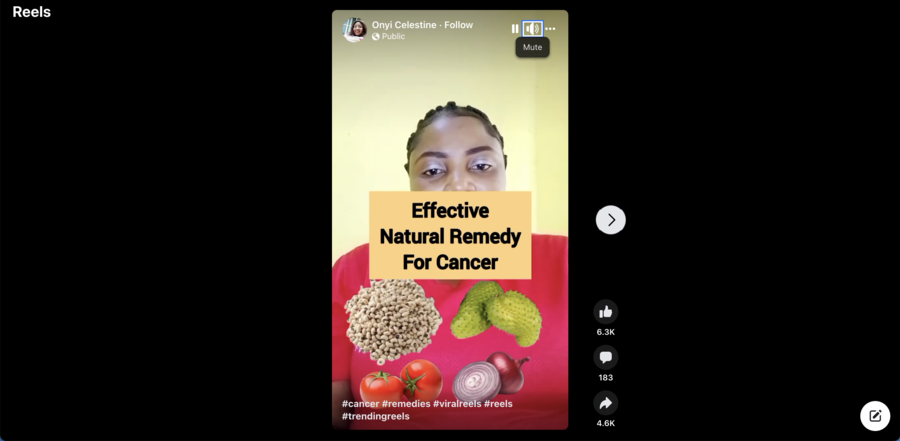 (Source: Facebook screenshot taken on Wed Apr 12 16:08:47 2023 UTC)
The narrator said that people should stop eating starch and sugary foods, partaking in alcohol, smoking and start eating beans and soursop for two weeks. She claimed that if listeners followed this advice, cancer would "become a thing of the past." The type of beans is not specified. The narrator does not cite any sources that back up her claim.
Dr. Julie Vose, division chief of hematology and oncology for Nebraska Medicine, told Lead Stories in an April 13, 2023, email that this combination will not cure cancer:
Eating soursop, beans, tomatoes and onions for two weeks will not cure cancer and eating this combination for two weeks will not remedy a cancer diagnosis ... Unfortunately, there is not a specific diet that is a cure for cancer. For cancer prevention, eating a healthy balanced diet with lean protein, fruits, vegetables, and grains and keeping a healthy weight can help to decrease the incidence of some types of malignancies.
Samantha Haswell, a registered dietitian at VCU Massey Cancer Center, wrote similarly in an April 13, 2023, email:
Fruits and vegetables, such as tomatoes, onions and soursap, as well as beans can be a great addition to a healthy, mostly plant-based diet that can aid in cancer prevention and survivorship, but unfortunately there is no research supporting these foods be a miracle cure for cancer. There is no one food that can 'cure' cancer but we recommend a mostly plant-based diet with at least 2/3 of your plate plants and 1/3 or less animal protein to support cancer prevention and survivorship, like in the AICR New American Plate.
City of Hope, a cancer center and a member of the National Comprehensive Cancer Network, wrote in a 2017 online article headlined, "Experts warn against using soursop to fight cancer." It said that experts say that "without clinical trials, there's no data to support the claim that soursop could be beneficial to cancer patients."
A previous Lead Stories fact check debunking the claim that soursop is stronger than chemotherapy says:
On the Memorial Sloan Kettering Cancer Center website, there is a listing for graviola (soursop) that says it's used 'as an alternative medicine therapy for cancer.' But, 'there is no proof that this therapy has benefits for cancer patients.'
Other Lead Stories fact checks about cancer are here.