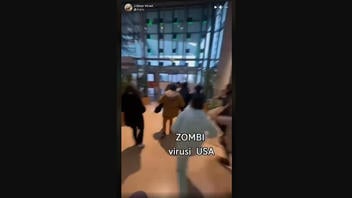 Does a viral video portray Americans trying to escape real zombies? No, that's not true: There is no such thing as a zombie, outside fiction and cinema. The clip was recorded in Paris, France. The video captured a mass panic of shoppers following a loud noise caused by a suicide in a shopping center.
The claim appeared in a video reposted from TikTok to Facebook on April 1, 2023. The caption said:
ZOMBIE virusi USA
This is what the post looked like on Facebook at the time of writing: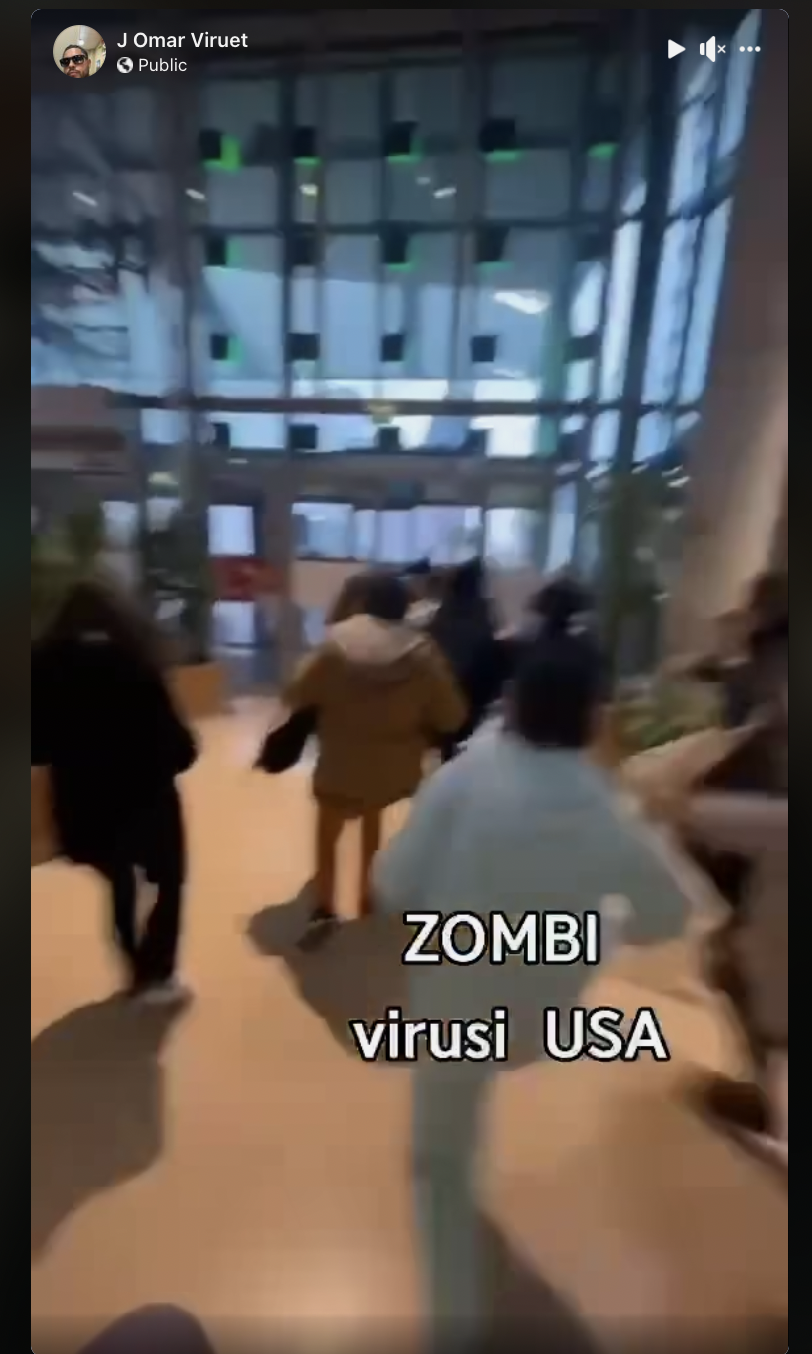 (Source: Facebook screenshot taken on Thu Apr 13 15:24:25 2023 UTC)
Similar videos were posted on social media on February 18, 2023 (for example, here), but their captions pointed to a different location: Paris.
One of the frames in the clip in question contained a partial name of a mall: Westfield Les 4 Temps.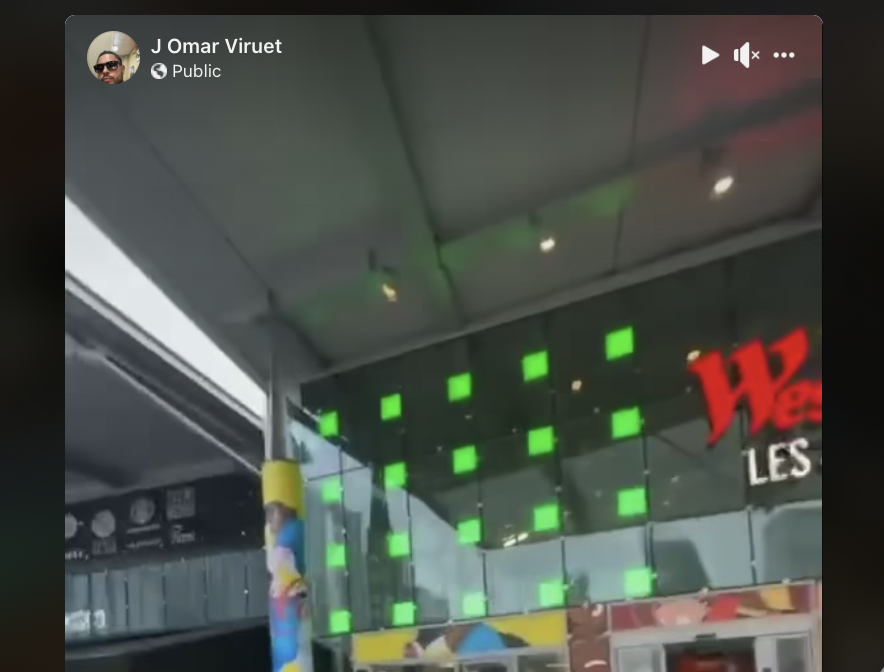 (Source: Facebook screenshot taken on Apr 13 15:36:45 2023 UTC)
A search for reported incidents provided a match: On February 18, 2023, crowds of people were seen rushing out of this shopping center in Paris.
The French-language version of the American news website HuffPost wrote, as translated by Chrome:
The trigger was a suicide that occurred in the afternoon, around 5 p.m. A person jumped several floors, a source familiar with the matter told AFP. The suicide was confirmed by the viewing of surveillance cameras.
The article added that the fall made such a loud noise that shoppers perceived it as a "detonation."
The incident took place in La Défense, a business district two miles outside the French capital.
According to the Twitter account of the local police, the area saw a massive presence of law enforcement.
The news was covered by major French news organizations, including Le Monde and France 3. None of the reports mentioned zombies, and no zombies appeared in the available videos of the scene.
The wording in the clip shared on Facebook indicates it could have been created by a Russian-speaking person: "Virusi" is the plural form for "viruses" in Russian.
In 2022 and 2023, multiple videos containing the hashtag "zombievirus" appeared on TikTok.
Humankind being infected by deadly "zombie viruses" has been a long-running theme in fiction and cinema. One example is the 1968 George A. Romero's movie "Night of the Living Dead," set in Pennsylvania. A more recent recurrence of this theme is the 2023 HBO series "Last of Us," a drama based on a video game that also takes place in the United States.
On December 8, 2022, an overseas clickbait website, Zeenews.india.com, published an article implying that there was a video proving the presence of "the zombie virus" "in America." As translated to English by Chrome, its first paragraph said:
It was recently reported that scientists in Russia revived a zombie virus from 48 thousand years ago, after this video went viral on social media, there was an atmosphere of fear among people, read the real truth...
In the fall of 2022, there were some reports about testing samples of frozen virus buried in Siberian permafrost.
However, there is no indication that anyone became infected with a "zombie virus" in the United States, as of this writing.
Lead Stories has previously debunked claims that COVID-19 creates zombies and that there is a zombie virus in China.