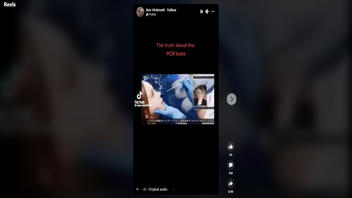 Do PCR tests contain magnetic beacons that can be used for tagging, tracking or patenting humans? No, that's not true: No known magnetic substances, including beacons, are used in PCR tests or the swabs used to collect the samples. The tests are not new to medicine. They've been used for decades to detect viruses and bacteria.
The claims appeared in a post and video on Facebook on April 2, 2023, titled, "The truth about PCR tests." The narrator in the 90-second clip says:
They have placed a magnetic beacon, so not only will people be biologically changed, but they will be tagged. And this is owned and operated by Rockefeller. This is part of the Barcode for Life Initiative to tag and identify all life forms. No longer will any life form be pure. So, that's basically what they're doing is tweaking us enough that we can be patented. This COVID situation is the first deployment of a construct, a new life form. They have learned how to fuse biological life and robotics. And the purpose of that is for extermination, because they don't want anything of the old world. They want a new world. And they want, by 2025, all the old humans eradicated. And any human from now on, basically, has to be engineered in a laboratory and enhanced and augmented and part of the matrix. They are retooling and rewiring our bodies. Each one of us right now has 20 to 30,000 nanoparticles. They wanted to put chips in people's brains but ...
This is what the post looked like on Facebook at the time of writing: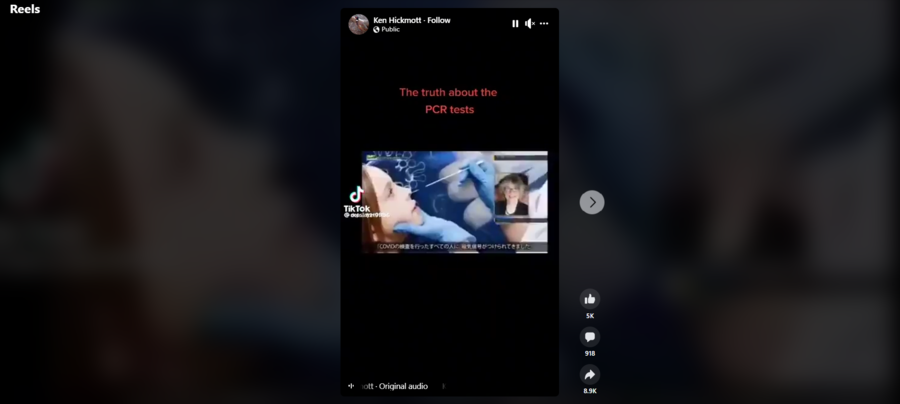 (Source: Facebook screenshot taken on Thu Apr 13 16:37:59 2023 UTC)
The video provides no evidence to support its claims.
PCR testing
Polymerase chain reaction (PCR) testing has been around for about four decades. A May 10, 2018, article on the American Association for the Advancement of Science website hailed the 35th anniversary of the laboratory tool for detecting genetic material from a specific organism, like a virus. PCR tests came into greater use during the COVID-19 pandemic.
The Food and Drug Administration website lists PCR tests that are authorized for use in the United States. For COVID testing alone, hundreds have been approved. Each of the listings for the tests contains authorization documents, including an "Instructions For Use" (IFU) manual, which explains the materials that are used with each test. Lead Stories inspected a representative sample of the approved tests. None of them include magnetic beacons or magnetic materials.
In addition, the nonprofit tech group Meedan addressed the issue in a June 25, 2021, article called, "Do PCR swabs contain magnetic elements?" It said:
These are medical-grade swabs that are required to meet CDC guidelines and FDA standards of manufacturing and sterilization. In the United States swabs are considered Class I medical devices and are regulated to ensure consistency and safety. No known magnetic substance is used in the swabs. They are considered safe and have been used by millions of people.
The following video from the American Association for Clinical Chemistry explains how PCR tests are conducted:
Additional fact checks related to PCR tests can be found here.