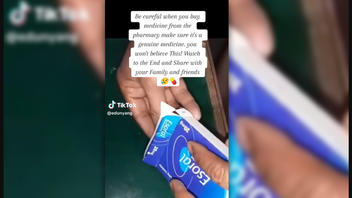 Did several videos in countries around the world accurately show that tiny sharp nails or pins were in medicine capsules sealed in tamper-evident blister packs? No, that's not true: In February 2021 several videos circulated on the internet showing adulterated medicine capsules. The medicines pictured, from different manufacturers, have limited distribution in several different countries. Aside from the suspicious videos where the discovery is made with a camera rolling, there are no reports of consumers finding or being sickened by adulterated capsules. This appears to be a case of a few copycat hoax videos produced during a short time span for internet shock value. There is no evidence the medicine supply is contaminated with nails.
Lead Stories identified three individual hoax videos that appeared in February 2021. Two were combined into one; that video has circulated widely. An example was posted on TikTok (archived here) by @edunyang on April 3, 2023. It was captioned:
Be careful when you buy medicine from the pharmacy make sure it's a genuine medicine you won't believe This 😢💊
Get You The Moon - Kina
This is what the post looked like on TikTok at the time of writing:
(Source: TikTok screenshot taken on Tue Apr 18 13:42:46 2023 UTC)
These hoax videos date back to early 2021 and were spread to many countries, gaining views through WhatsApp messaging. The hoax was debunked by fact checkers internationally who published debunks in many languages. Lead Stories did not find any verified reports of tampered medicine as shown in these videos, nor were any reports found by the international fact checkers who wrote from many countries on this topic.
Kyrgyzstan's factcheck.kg wrote about the Enterofuril video on February 17, 2021. Stop Fake in Kazakhstan published a Russian language fact check about the Enterofuril video on February 17, 2021, and debunked the Linex video on April 30, 2021. On March 3, 2021, Vox Ukraine covered the Linex claim. Boomlive.in from India, which publishes fact checks in English, Hindi and Bengali, wrote about the Enterofuril video, posted on February 28, 2021.
On March 4, 2021, Factly in India debunked a claim, which had the element of "Medicine-Jihad" added to the tampering question. On March 11 and 12, 2021, the claim was debunked in Georgian by Fact Check and mythdetector.ge. WhatsApp messaging carried the hoax to West Africa, where The Stage Media-Liberia debunked the videos on April 29, 2021. By May 23, 2021, the hoax videos had made it to Brazil and were debunked by Boatos.org.
Enterofuril with orange and pink stripe
The package with orange and pink graphics is marked in Cyrillic writing, "Энтерофурил." Enterofuril® is an anti-diarrhea drug with the active ingredient Nifuroxazide. It is manufactured by a company in Bosnia and Herzegovina, Bosnalek.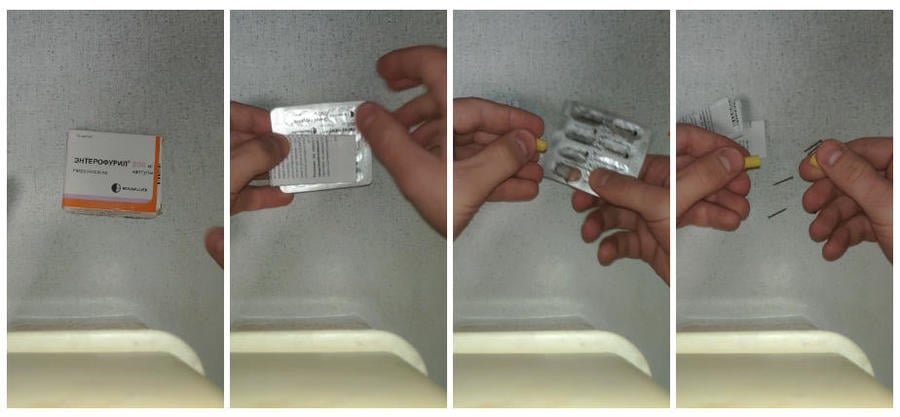 (Image source: Lead Stories composite image made with video stills from stopfake.kz taken on Tue Apr 18 22:48:31 2023 UTC)
In this video a man removes the medication's instruction sheet from a worn box along with one eight-count blister card. The seemingly unbroken tamper-evident foil is printed with the manufacturer's name and logo. A man's voice is speaking in Russian. The box is marked for 16 capsules but there appears to be only one eight-count card in the box. Without showing the other side of the blister pack, he pushes one capsule through the tamper-evident foil. He pulls apart the two halves of the yellow capsule and six very small nails fall onto the table.
Many of the edited copies of the video end here, but a longer copy archived in a February 2, 2021, fact check by stopfake.kz shows him opening a second capsule and pouring a yellow powder onto the table. The shorter versions of this video have a music track that replaces the Russian narration.
A review of the three videos follows.
Esoral in blue package
This two-tone blue packaging is labeled Esoral 20 mg capsules. The foil of the blister pack is printed with the name of the medicine written in both English and Urdu. The manufacturer, City Pharmaceutical Laboratories, is also printed on the foil. It's located in Karachi, Pakistan. Esoral is the manufacturer's name for the drug Esomeprazole, a drug that reduces stomach acid.
The screenshots below are from a February 27, 2021, video posted on YouTube. The start of the video contains a sleight of hand that may be a clue pointing to the method of tampering. As the box is first opened, the blister pack inside the box is oriented with the blister side up. Rather than remove the pack at that moment, the box is turned over so that when the card is removed the blister side will be down and out of the view of the camera. Then the demonstrator pushes a two-tone blue capsule through the tamper-evident foil and pulls the two halves of the capsule apart. A single small nail falls onto the table. As in the Enterofuril video, the foil seemed to be intact, but the hoax capsule could have been placed into the package from the blister side, which was kept hidden.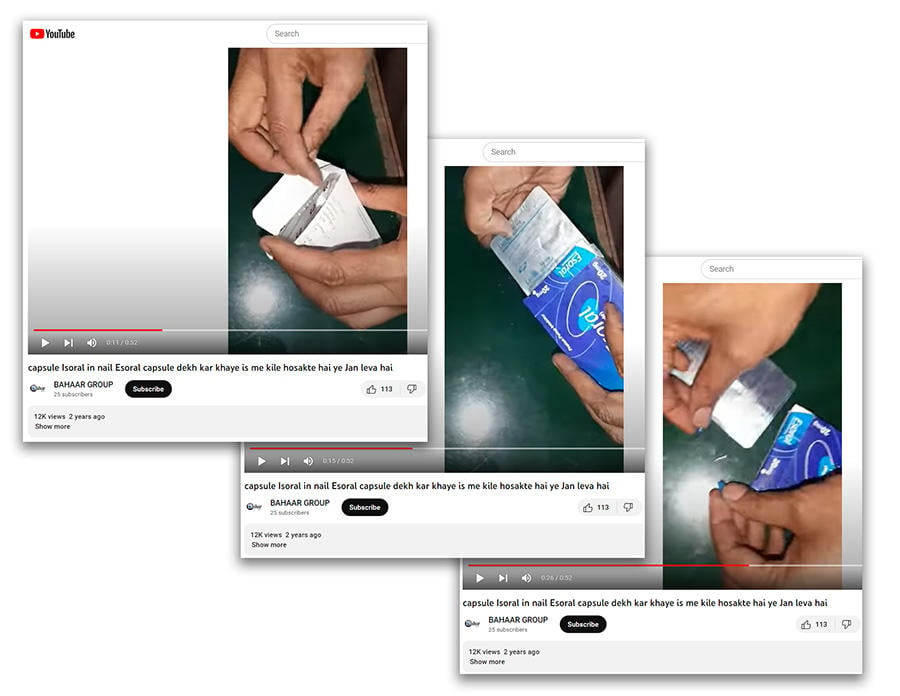 (Image source: Lead Stories composite image with YouTube screenshots taken on Tue Apr 18 18:53:42 2023 UTC)
When this video was first circulated it was frequently associated with claims that this was a "Medicine-Jihad" -- an attack by Muslims against Hindu people in India. This baseless claim is not backed up by any evidence that this product tampering ever happened, much less that it targeted specific people. Furthermore the packaging appearing in this video is a product sold in Pakistan, but not in India. The manufacturer of Esoral in India is Eskayef Pharmaceuticals Limited, in Bangladesh, and the box for those 20 mg capsules (pictured below right) is purple, not blue.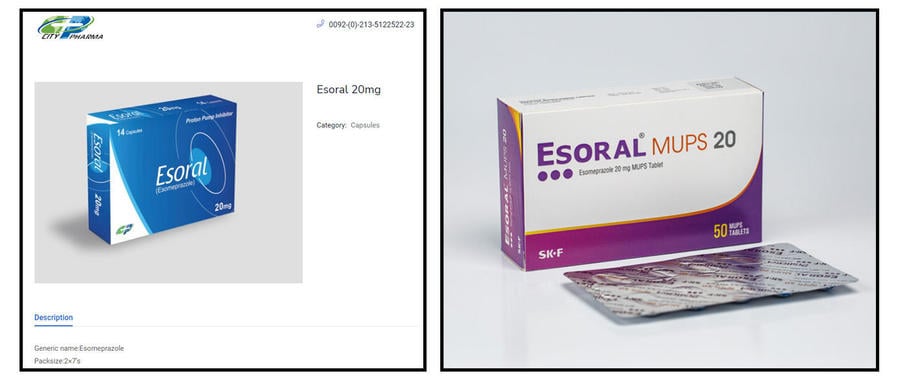 (Image source: Lead Stories composite image from screenshots taken on Tue Apr 18 19:40:57 2023 UTC)
A March 1, 2021, video on Facebook was archived for a March 4, 2021, fact check by factly.in. Like the TikTok video above, this video contains both the Esoral and Enterofuril clips. The caption of the 2021 Facebook post was written in Hindi. Translated by Google it reads:
#medicine-jihad
Be careful.
New, dirty and dangerous act of Jihadis, selling cheaply to Hindus by hiding iron nails and dangerous dirty items in branded medicines capsules etc.
Due to which more and more Hindus become patients be killed
#stay alert
Sandoz Linex® presented with no outer package
Linex (Линекс®) is a medication containing Lebenin Powder (pictured below right). It is used to regulate dysbiosis, an imbalance of the gut bacteria. Sandoz is a division of the multinational pharmaceutical corporation Novartis and is headquartered in Moscow. Linex is manufactured in Slovenia. As with Esoral and Enterofuril, there are no reports of actual product tampering or any consumers having been sickened from adulterated Linex capsules.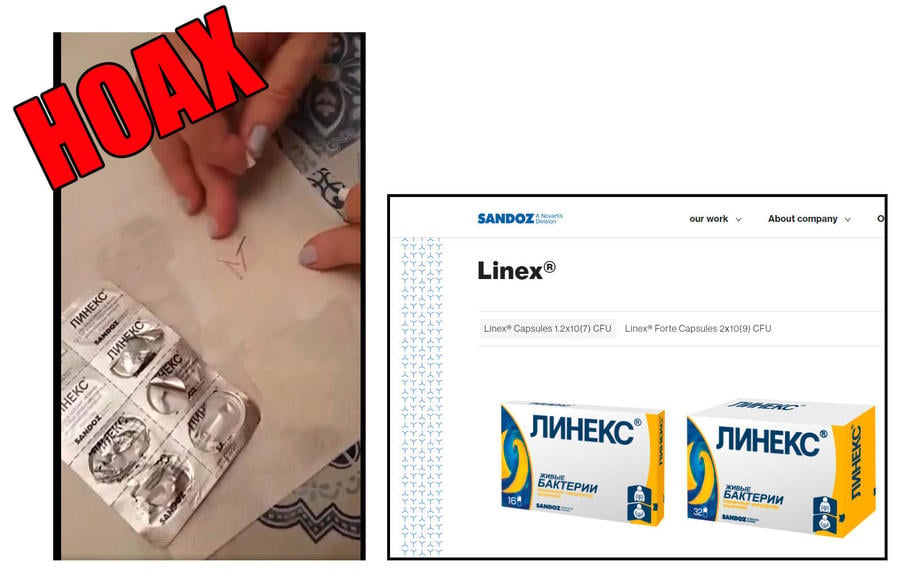 (Image source: Lead Stories composite image with Facebook and Sandoz.ru screenshots taken on Tue Apr 18 21:06:43 2023 UTC)
A third video was posted on Facebook on February 27, 2021. In this video a woman is seated at a kitchen table with a blue patterned tablecloth (above left). As the video opens she shows an eight-count blister pack with the blister side down, placed on a sheet of white paper. There is no outer box shown, but the foil is printed in Cyrillic letters "Линекс®" and "Sandoz." It appears that four of the capsules have been removed, as the foil is torn. A white capsule has been set to the side on the paper. The woman speaks and 25 seconds into the video she opens the capsule and four tiny pins fall out. This video does not have any pretense that the pins are a surprise discovery or are being produced from sealed packaging. Rather it seems to be a replay of something that purportedly already happened and because of this, would be very simple to fake.