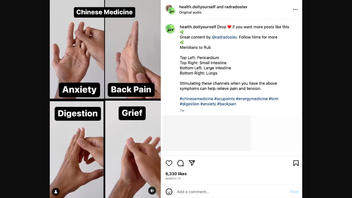 Do acupressure massages on a person's hands and fingers aid digestion or relieve digestion issues? No, that's not true: The director of gastroenterology at the University of Alberta told Lead Stories that this post reflects "inaccurate information." A UCLA medical center dietician confirmed to Lead Stories that the reflexology technique seen in this post "has not conclusively shown to help any condition."
The claim appeared in a post on Instagram on March 13, 2023. The caption opened:
Drop ❤️ if you want more posts like this
🌿
Great content by @radradoslav. Follow hime for more
🌿
Meridians to Rub

Top Left: Pericardium
Top Right: Small Intestine
Bottom Left: Large Intestine
Bottom Right: Lungs

Stimulating these channels when you have the above symptoms can help relieve pain and tension.

#chinesemedicine #acupoints #energymedicine #tcm #digestion #anxiety #backpain
This is what the post looked like at the time of writing: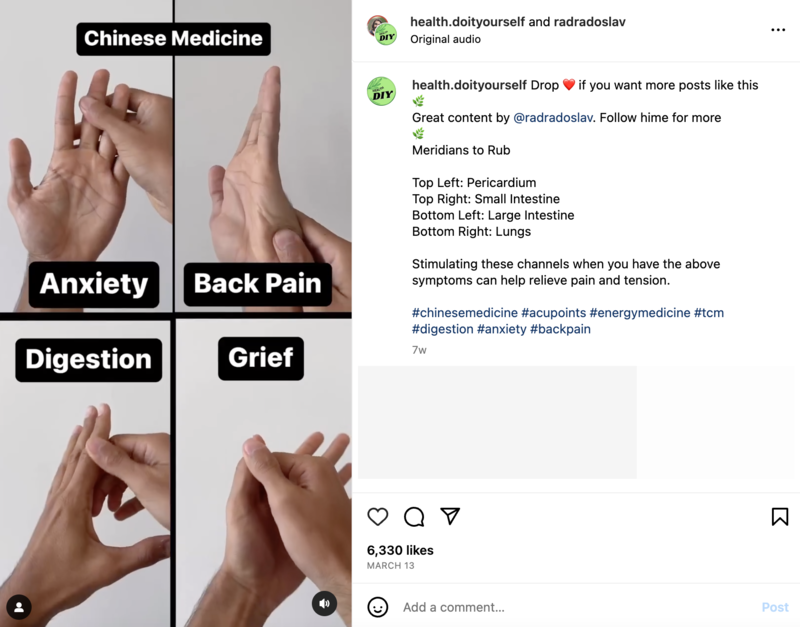 (Source: Instagram screenshot taken on Thu May 4 17:00:18 2023 UTC)
Underneath the words "Chinese Medicine," this post displays four videos showing a person rubbing different parts of their hand and different fingers. Above each video are the words "Anxiety," "Back Pain," Digestion" and "Grief."
The caption implies that rubbing these different sections of the hand and fingers will reduce other ailments in the body. The claim Lead Stories is focused on in this post is the portion that suggests that there is an acupressure point in the hand and finger that is connected to and affects the digestive system in the body.
A November 2002 article, not a study, in the gastroenterology and hepatology research journal Gut, titled "Acupuncture for gastrointestinal disorders: myth or magic" concluded that further studies are needed to assess whether or not this approach is safe to relieve gastrointestinal disorders.
Dr. Dan Sadowski, an academic gastroenterologist with a clinical practice at the Royal Alexandria Hospital who is also director of the gastroenterology division at the University of Alberta, told Lead Stories in a May 3, 2023, email that this claim is false:
The Instagram post reflects inaccurate information. The only evidence related to this is that some studies have found that acupressure can receive nausea in pregnancy.
Lead Stories contacted Dana Hunnes, a senior clinical dietician at the Ronald Reagan UCLA medical center in Los Angeles and an adjunct assistant professor in the department of community health sciences at UCLA's Fielding School of Public Health. In a May 4, 2023, email, she wrote that the video's claim is unfounded:
I've never heard of this EVER. I've heard of massaging the abdomen to help digestion, but not this.

Given that reflexology has not conclusively shown to help any condition, I doubt THIS (rubbing finger) would help either.
The technique Hunnes is referring to is known as reflexology, which the National Institutes of Health defines as:
a practice in which different amounts of pressure are applied to specific points on the feet or hands. These points are believed to match up with certain other parts of the body. Reflexology is claimed to cause relaxation and healing in those parts of the body, but this has not been proven.
A May 7, 2021, article published by the Office for Science and Society at Canada's McGill University said:
Reflexology may look like it works because it is relaxing, because unreliable testimonials are used to publicize it, and because tiny studies that lack rigour report encouraging findings ... Systematic reviews of studies of reflexology report that we cannot conclude that reflexology works for any health condition.
Other Lead Stories fact checks about acupressure can be found here.